With the ever-evolving technology and changing consumer preferences, even the most traditional businesses are investing in websites and taking their business online. And the jewelry business is no exception to this trend. No wonder the global online jewelry market is expected to reach $117.3 billion by 2027 from just $43.1 billion in 2020.
However, with thousands of jewelry businesses investing in websites, how will you ensure potential customers find your website before your competitors? Well, that's when SEO for jewelers comes into the picture.
In this blog, we'll discuss what SEO for jewelers is, why it's important, and how you can leverage it in 2023 to skyrocket your business. So, read in full.
What is SEO for Jewelers?
SEO is the process of optimizing a website and its content to improve its search ranking, visibility, and organic traffic. And when SEO is implemented by jewelry businesses/websites, it's referred to as SEO for jewellry businesses. But why do jewelers need SEO, you may ask?
Why is Jewelry SEO important?
With the increasing global internet penetration and digitization, a whopping 87% of shoppers start product searches online regardless of the industry. According to statistics, around 47% of jewelry purchases today are made online.
So, if your jewelry business is not optimized for SEO, you're potentially ignoring numerous online customers.
What's more interesting is that without jeweler SEO, you'll likely lose out on sales at your store. How? As stated earlier, the majority of shoppers start their product searches online. But not everyone purchases online, right? Consumers check and compare multiple websites and jewelry products online, and only when they're satisfied they visit the store.
In a nutshell, investing in jeweler SEO is crucial for boosting your online and offline sales. You're more likely to get noticed when your website appears on top for search queries. Moreover, stronger online presence builds trust and credibility, which is essential for driving sales.
Now that you know the importance of SEO for jewelry businesses, let's understand how you can actually optimize your website.
15 Practical Tips to Improve Your SEO For Jewelry Business!
On-Page SEO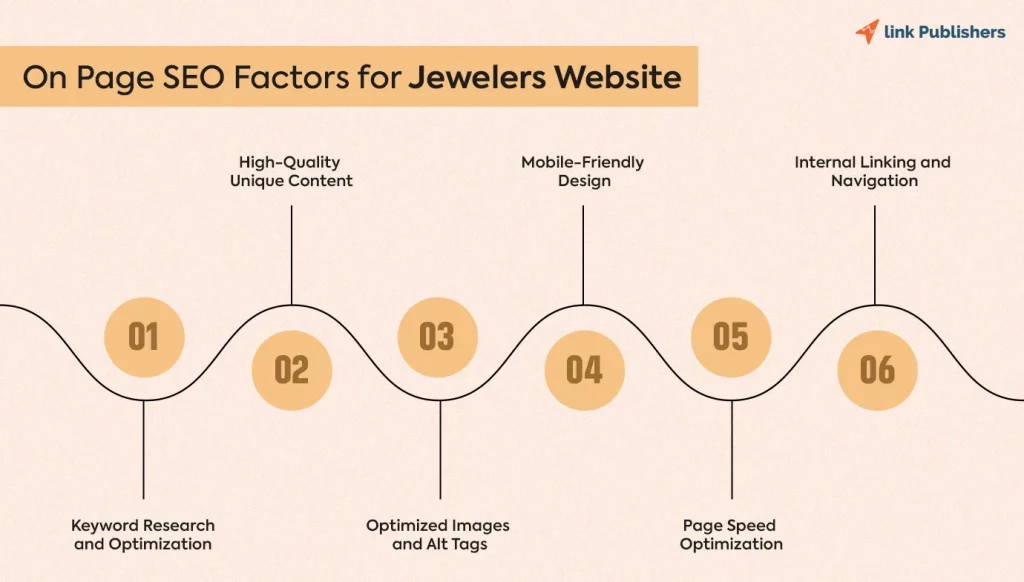 Here are the on-page SEO tactics you need to execute:
1. Keyword Research
Keyword research is the first step towards boosting SEO For Jewelers. You need to identify relevant keywords users are searching for on the internet. This will help your jewelry website rank higher for those keywords.
Also, make sure to go for long-tail keywords such as "jewelry stores near me," "jewelers near Harrisburg, PA," or "rings for women". They're more specific and are easier to rank than generic short-tail keywords such as "jewelry" or "jewelers".
A useful tool you can use for keyword research is Google Keyword Planner.
2. Optimize your Title Tags and Meta Descriptions
Meta titles and descriptions are what the users see on the search engine search results. While search engines may create their own meta title and descriptions, optimizing them allows you to add more details, which Google may choose to show in the search results. And if it does, the click rate will improve significantly.
3. Content Optimization
To leverage SEO for jewelers to the fullest, you need to create and optimize content on your website. Here's what you can do:
Ensure every page's content relates to the keywords and the page title.
Every page of your jewelry website must include relevant keywords.
Create descriptive product pages with occasional keywords.
Create a dedicated "blog" section for content marketing. However, don't forget to include keywords.
Google loves and rewards websites that regularly upload fresh SEO-friendly content. Moreover, this helps build authority in the industry, and you may start building a loyal following over time.
4. Image Optimization for Jewelry Products
High-quality images are essential to improve SEO for jewelers as they signal to Google that your website is high quality. Also, high-quality images allow users to view every intricate detail of your product, keeping them on your site for a long, increasing the chances of conversion.
However, you need to optimize the images you use.
For instance, you can use WebP format instead of PNG or JPEG format. This will help improve the loading speed. Also, adding alt text or image description would let Google and the users know what your image is about should the image fail to load.
5. URL Structure
URL is what appears in the browser's address bar. All your URLs must be simple, short, and follow a similar structure. Also, try to include the target keywords as doing this will make the URL descriptive for the users.
Technical SEO
Here are the technical SEO tactics you need to execute:
6. Website Speed Optimization
Low website speed impacts user behavior, increases bounce rate, and lowers search ranking. So, try to optimize your website. And you can do that by:
Using the Right Image Format: Instead of using JPEG or PNG, you must go for WebP format. WebP are smaller in size but don't lose quality.
Limit The Use of External Scripts: Adding scripted elements on your website that are loaded from some other resources can slow your website down. So, minimize the usage of external scripts.
Minify the Code: Minifying or removing unnecessary code elements can help reduce the size of JavaScript and CSS files, making your website load faster.
7. Responsive Web Design
Another tip to boost SEO for jewelers is ensuring your website has a responsive design. Responsive websites adjust the UI elements based on the user's viewport (mostly mobile devices). This way, visitors always get a consistent experience regardless of what device they use to visit the website.
8. XML Sitemaps and Robots.txt
Include XML Sitemaps and Robots.txt files on your website. XML sitemap contains the information about all your pages, and Robots.txt tells the search engines about the pages they can and cannot access. Basically, these files help search engines index and crawl your website, which is essential for SEO ranking.
9. Structured Data
Structured data is a way of describing your website in a way that is easily interpreted or understood by search engines.
If you use structured data, Google can understand it better and share more information with the customer in the search results. Also, structured data will change the way (enrich) your snippets appear. And this will increase clicks, which means more traffic and better rankings.
To use structured data, you can use Schema.org, a project developed by search engines. You can find the structured data markup the search engines support, copy the code, and modify it based on your preferences.
However, you can also use plugins to make your job easier. A popular option is the WooCommerce SEO plugin by Yoast SEO.
Local SEO for Jewelry Stores
Here are the local SEO tactics you need to execute:
10. Optimizing Google Business Profile (GBP)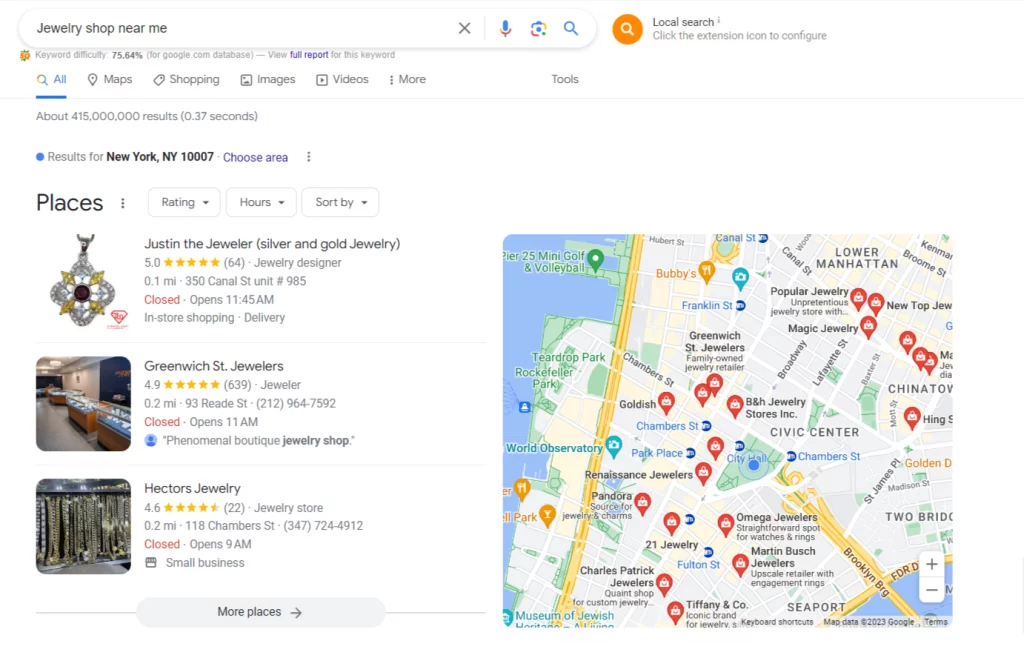 To improve SEO for jewelers, you must also focus on local SEO strategies, which include optimizing Google Business Profile.
GBP is a free tool from Google that acts like your digital visiting card. If you have an optimized GBP profile, your business can be found on Google Maps and Google Search for local queries.
All you have to do is claim and verify your business in GBP if it's already listed. If not, you can create a new profile and add your business and all the necessary details such as description, address, website, phone number, working hours, photos and videos of your products, etc.
11. Maintaining NAP Consistency for Local Citations
NAP stands for name, address, and phone number. You need to keep this information consistent (same data, spelling, capitalization) across all the local directories or social media platforms where you list your business. This is crucial for proving the credibility of your business.
Local Link-Building Strategies
Here are the local link-building strategies you need to execute to boost SEO for jewelers:
12. Guest Blogging
Link building is the process of getting backlinks/hyperlinks that redirect the visitors from a different website to yours, establishing authority and credibility. And one great way of generating backlinks is via guest blogging.
You need to find websites in your niche that accept guest posts and craft a high-quality guest post with a link to your website. And if the website owner agrees, you can publish your post and get a backlink in return.
13. Press Releases and Jewelry News
You can create press releases where you talk about the latest developments in the jewelry industry or the release of your new products. You can then contact press release or news websites and ask them to publish your story or news. However, make sure what you produce is interesting. Otherwise, you may not get backlinks.
14. Influencer Collaborations
You can contact influencers in your industry and ask them to collaborate, review/promote your product, and link them back to your website. This will get you both backlinks and sales.
15. Bonus: Guest Post Marketplaces
While the above methods do help generate backlinks, they're complex, require time, and often have a poor success rate. So, what should you do? Well, that's when guest posting marketplaces come into the picture.
Guest posting marketplaces like Link Publishers have relevant, high DA websites in your niche, allowing you to buy guest posts or backlinks. You choose a relevant site from their extensive list of websites (60,000+), upload the content piece (or get it written by the premium marketplace writers), and get your post published within 30-32 hours.
Wrapping Up
With more and more jewelry businesses entering the online market, investing in SEO for jewelers is only logical. High-quality SEO can increase your website's visibility, drive organic traffic to your website, and boost your conversion rate and, thus, revenue.
So, don't let your business get lost in the digital crowd by ignoring the importance of jewelry SEO. Follow the best practices in this blog, up your SEO game, and take your sales through the roof.
FAQs
How can I start improving SEO for my jewelry business?
To get started with SEO for your jewelry business, you can start following the tips mentioned in this blog, such as:
Keyword Research
Content Optimization
Optimize your Title Tags and Meta Descriptions
URL Structure
Image Optimization for Jewelry Products
URL Structure
Website Speed Optimization
Mobile-Friendliness and Responsive design
XML Sitemaps and Robots.txt
Structured Data
Optimizing Google My Business
NAP consistency for local citations
Link Building
Guest Blogging
Press Releases and Jewelry News
Influencer Collaborations
If you lack the time and resources to implement these tips, it's recommended you hire an outsourced SEO agency. They'll help you bring the results while you focus on your core operations.
How long does it take to see results from Jewelry SEO efforts?
The time required to see results for your Jewelry SEO efforts depends on several factors, including the quality of your website, competitiveness, and how frequently you're updating your website. However, you should know that SEO is an ongoing process, and it can take anywhere between 6-12 months to achieve results such as more organic traffic, better ranking, etc.
Do I need technical skills to do SEO for my jewelry store?
While technical skills are not mandatory to boost SEO for jewelers, they definitely give you a heavy advantage. For instance, you can make tweaks to your HTML faster as compared to a non-technical person. Also, you'd be able to better work with and understand tools like Google Analytics.
So, if you want to learn along the way, you can do SEO for jewellery business on your own. However, if you cannot spare time and need reliable results within a given time frame, hiring an SEO agency is better.