If you have tried many methods and techniques to increase your organic SEO rankings, but nothing seems to work up to that mark, you should try to work on the Meta title and Meta Description!
Yes, a well-written meta title and meta can do wonders for your content and make it to the top of Google!
How?
Search Engine Optimization (SEO) can be categorized into two categories:
As their name suggests, Off-page SEO is a backend thing that is usually about generating backlinks to your website. These links will ultimately optimize your website and help it to come in the top search engine rankings.
On the other hand, on-page SEO works at the forefront. It is mostly about including particular keywords in the right places on a website page. This includes the contents of the page, meta title tag, and meta description.
Yes, meta tags are basic but important elements of SEO. That's because Google uses meta tags to generate snippets that will help searchers click through to your website. That's why giving the right meta title, and meta description to your content is crucial!
However, this doesn't mean that you can write anything in your web page's metadata and expect search engines to display the same thing in the SERPs (search engine results pages). That's not how search engines work. It can take any text from your web page and display that in the snippet that they think is more relevant.
This is another reason why your website isn't in the top rankings of Google's first page, even after writing a great meta title and meta description. But if you don't do so, you may lose a chance to be in the top spot in SERPs.
That's why just writing the meta title tags and meta description isn't enough; you've to write the right metadata!
If you're looking into SEO as a beginner and finding a way to improve your site's rankings in Google results, you must first understand what meta title tags and meta descriptions are and how to write them correctly for SEO.
Today, in this post, we've explained everything you need to know about metatags and metadata.
In this blog, you're going to learn about the following:
What are meta tags?

What is a title tag?

Examples of meta titles.

What is a meta description?

Examples of meta description.

How to write the right meta title and meta description.
Also, we've included a brief checklist of the things that you should use while writing meta title tags and meta descriptions.
So, let's get started from the top.
What are Meta Tags?
Meta tags are a type of HTML tag which consists of snippets of text from the content of a website page. These keywords and short phrases don't appear on the page itself; instead, they're in the page's source code; hence, they are not visible to your website visitors.
Meta tags are brief content descriptors that are essential for page search engine optimization (SEO) to provide information about a web page. They will help search engines understand what a website page is about and help categorize your website.
Visitors can easily find your website through these meta tags via search engines. Searchers will not see meta tags; they will only see meta titles and meta descriptions on SERPs.
Meta tags usually consist of two HTML elements:
Title tags

Meta descriptions
Now learn about what title tags and meta descriptions are.
What is a Meta Title?
A meta title tag also referred to as a title tag or SEO title, is an HTML element that gives an idea of your web page to search engines and visitors in a concise manner. It is located on a website page's header and displayed in the SERPs and web browser tabs.
When a searcher is searching, the meta title will be displayed in large blue text as a clickable headline on the search engine results pages or SERPs.

Meta title wrapped into the <title> tags and you can add it in the <head> element of an HTML code of the webpage.
Here's how a meta title should look:
<head>
<title>Example Title</title>
</head>
Why Are Meta Titles Important?
Title tags give search engines and users a glimpse of what any given web page on your site is about. They will also help them understand what content visitors and search engine robots can find on your web page and how relevant it is to the search query.
Meta titles are crucial as they can influence the searcher's decision to click on your website or not. That's why you should always optimize this on-page element for your focus keywords. It will ultimately help you to improve your search ranking on Google for the keywords you used in the title.
Google states, "​​one of the primary ways people determine which search results might be relevant to their query is by reviewing the titles of listed web pages."
As search engines and users can see the HTML title tag as the title of the snippet in the SERP, it can affect the page rankings. To optimize this vital on-page SEO component, you can put keywords closer to the beginning of your meta title. This will help in boosting the rank of your page in keyword-based searches.
Meta titles can also help to leverage your brand or company name. How? You can add your brand name, which will display in the title tag. When you're an established brand and a trusted name in the industry, people will click more on a web page of a brand that they trust.
Meta Title Examples
Now let's look into some of the good and bad title tag examples:
1. 'best burgers in London'

Here, the keywords are best burgers in London, and all three are used at the beginning of the meta title. After the focus keywords, an appealing headline is used within the character limit of 60.
Here is a bad example of the same meta tag. You should avoid creating such meta tags:

2. 'Nike trainers'

In this SEO title, keywords are placed at the front, and the brand's name is used last. Also, both phrases are separated by pipes.
Here's what you should avoid writing:

In this meta title, there are either no keywords or may be placed at the end. This makes the title tag long, and that's why it has been cut out by Google, and it is not visible.
Now you know what title tags are, why they are important, and some examples of good and bad meta titles. So, now let's move forward to the next meta tag, meta description.
What is a Meta Description?
Meta description or meta description tag or SEO description is an HTML tag that gives a summary or short description of what a website page is about to search engines and searchers.
Meta description displayed below the title and URL of your web page and on search engine results pages (SERPs). The combined URL, title, and meta description are called a search snippet.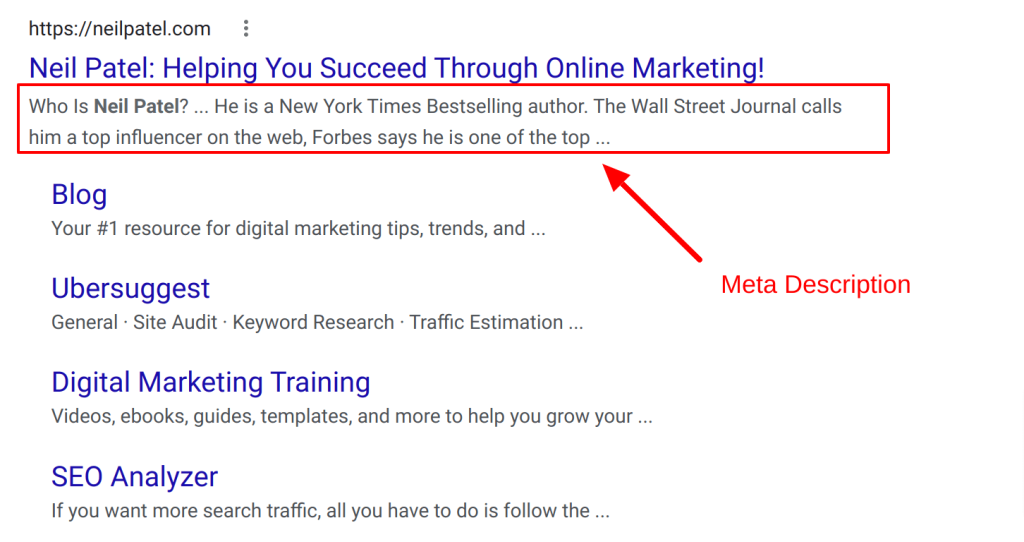 Like the title tag, it is also an important HTML element that encourages visitors to click through from the SERP to your web page. So, it is crucial to create compelling descriptions.
You should always create a meta description tag between 140-160 characters to remain visible in Google search results. Keywords should always be included in the SEO descriptions, but avoid stuffing and creating duplicate content.
Similar to meta titles, meta descriptions are also written in HTML code. Here's what a meta description tag should look like:
<meta name="description" content="Your discription."/>
Why Are Meta Descriptions Important?
Meta descriptions tag as important on-page elements for SEO. The Google algorithm uses meta tags (title tag and meta description), which indirectly helps them to be in the top search rankings for certain keywords.
As we already explained, metadata summarises and gives glances to users and search engines of your webpage content. This will impact and influence the visitor's decision to click through your website. When you have a compelling and informative meta title and meta description, there are more chances that users will click through your webpage.
Thus, you can use metadata as an opportunity to boost your SERP's ranking. Google, in fact, uses a click-through rate to determine whether a website is a good result for the searched keywords.
So, the more users will organically click on your webpage; the more Google will consider it to be a perfect result which will further boost your rankings on the Google search page.
A well-written meta description will also help to improve indexing on the SERPs. And later it will also boost your conversions and sales.
Meta Description Example
Meta descriptions are always written in a short and quick form. It should summarize your content within your page in one to two sentences, around 140 and 160 characters. You should always write a summary in a way that explains to readers and users what they can expect to find after clicking on the web page or link.
Here are some examples of how meta descriptions should be written:
1. Google
Here is what Google's own Meta description coding looks like:
<meta name="description" content="Search the world's information, including web pages, images, videos and more. Google has many special features to help you find exactly what you're looking for.">
Here the description is 159 characters, including spaces.
This is how it appears on the Google page:

Here is how it is displayed on other search engines:
In Yahoo:

In Bing:

2.Tesla

Here, the meta description of Tesla is written effectively and quickly to tell users what they need to know about the company and its values. It also fits perfectly in the SERP, and the entire meta description is visible to searchers.
How to Write a Great Meta Title Tag and Meta Description?
Many SEO professionals think creating meta tags and metadata is a simple task because they know everything about their website or webpage.
Think Again!
If you really want to create meta tags that bring the highest performance for SEO, you've to work smartly.
Let's take an example.
How do you know whether a book is worth reading or not?
By its reading, it's cover, right? This is absolutely correct because that's what covers are designed for.
Similarly, a meta title tag and meta description are the cover of your website page. They're the first impression on the searchers and visitors.
This is why learning how to write right and effective meta titles, and meta descriptions that drive clicks and improve rankings are extremely important.
Here are some of the tips to create great meta tags. Let's first start with the meta title.
How to Write Title Tags For SEO

?
1. Watch the Title Length
Try to create a meta title under 60 characters, including spaces. This is to make sure that your meta tags will appear as it is in SERP without cutting off any word or character. Apart from this, you have also to make sure that your title tag should be under 600 pixels.
There is another thing that you should be aware of: search engines can also pick a different meta title to display from the one which you selected. This mostly happens when the meta title fails to convey the right information within a page.
2. Include Keywords but Don't Stuff it
It is always best to incorporate the primary keyword or focus keyword at the beginning of the meta title.
However, make sure you don't overdo it!
You should create a meaningful meta title that users can easily read and understand while using the keyword. Your title tag shouldn't look overly stuffed and sound robotic due to the keywords you insert.
3. Create Unique Meta Titles
Add original and unique meta titles to every web page. The duplicate ones can majorly affect the visibility of your website page on SERPs. While the creatively and well-written meta titles avoid keyword cannibalization and will stand out your webpage from others. This will also attract more visitors to click on your link.
You can also use the primary language for creating title tags for vernacular and multilingual sites.
4. Utilize Your Brand
If you have a well-known, established company or brand, you can add it in the meta title at the end part. This is beneficial on mobile devices because, often, Google automatically picks up brand names and displays them at the end of the meta title.
5. Make Your Meta Title Engaging
The last thing to create a great meta title is to make it more engaging. This means you should write your title in a way that generates emotions such as excitement, happiness, or curiosity when a user reads it.
Here's how you can make your title tag engaging:
You can add benefits that a user will get after clicking on your link or visiting your site.

Use power words like "Best," "Affordable," and "Easy" in your title tag.

Include modifiers such as "Top 10", "2023 Updated", "Guide," and "Near Me." as they make the SEO title more relevant to the reader.
How to Write Meta Description For SEO

?
1. Include Primary and Secondary Keywords
Meta descriptions of a web page should always include focus and secondary keywords. Like meta title tags, this will make your meta descriptions more relevant and also improve your SEO rankings.
Apart from primary and secondary keywords, you can also include LSI (Latent Semantic Indexing) keywords which are highly correlated to your topic in your SEO descriptions.
2. Add a call-to-action (CTA)
Do you want to entice visitors to click on your site?
Call-to-action (CTA) is a great way to do this!
You can include CTAs in your meta descriptions to help users to understand what your webpage offers and what they can expect after clicking through your link. They create a sense of urgency and persuade the user to take action.
From selling a product to offering an email sign-up, there are numerous CTAs to select from. You can try adding CTAs such as "Learn More," "Watch Here," "Click Here," or "Shop Now."
3. Make It Concise
To make your meta title more SEO friendly, create an effective and short meta description that should be about 1-2 sentences (140-160 characters) long. The description of a webpage provides a quick summary of the content of the webpage; that's why it doesn't need to be lengthy. This will also encourage clicks and bring more visitors to your page.
4. Keep the Search Intent Clear
Write a meta description that clearly tells the reader what type of content the particular webpage will have.
For example, if you're talking about cars in the content, you should clear up what car-related content the page will have. Is it about how to buy a new car or sell used cars or about the Pixar movie "Cars"?
This is why it's vital to keep the intent of your page clear in your meta description.
5. Make Your Meta Descriptions Interesting
Like the meta titles, your meta descriptions should also be original and interesting. Create them as unique and interesting enough to catch the reader's attention. From using a clickbait title to answer the user's question, you can try various approaches.
You can also add eye-catching words or phrases such as "shocking," "hilarious," or "life-changing."
Final Words
You have just 10 seconds to convince a visitor to click on your webpage, not your competitor's.
You have to put more effort into search engine optimization, especially towards meta tags. Try to create unique meta titles and descriptions for each webpage. Also, meta tags aren't for search bots but for visitors who will click on your link to visit the website.
So, use the tips mentioned in this blog and create great meta titles and meta descriptions for your web pages.
Want to learn more about SEO optimization? Explore, Linkpublishers.