Top Must-Try Ecommerce Link Building Strategies for Growth- 2023
"How do I improve my ecommerce website traffic?"
Every online entrepreneur thinks of this about five times each day, if not more. After investing time, effort, and money in designing your store and launching your products and services offline and online, you should have something to show for it. Yet, here you are, scratching your head and wondering why no one is hitting you up for sales.
It is also possible you have had steady growth for the past six months or more, and all of a sudden, sales dip or disappear altogether. Or you have been using one tactic with resounding success, and it seems it is losing its effect. What you need is a new traffic-driving tactic or a bunch of them to help you drive more traffic to your e-commerce website than ever before and increase your conversion rates. One such tactic is called ecommerce link building.
In this article, we shall be considering some tried and trusted ecommerce link building strategies that are sure to boost conversion rates in 2023. First, however, let's take a look at the definition of e-commerce link building.
What is E-commerce Link Building?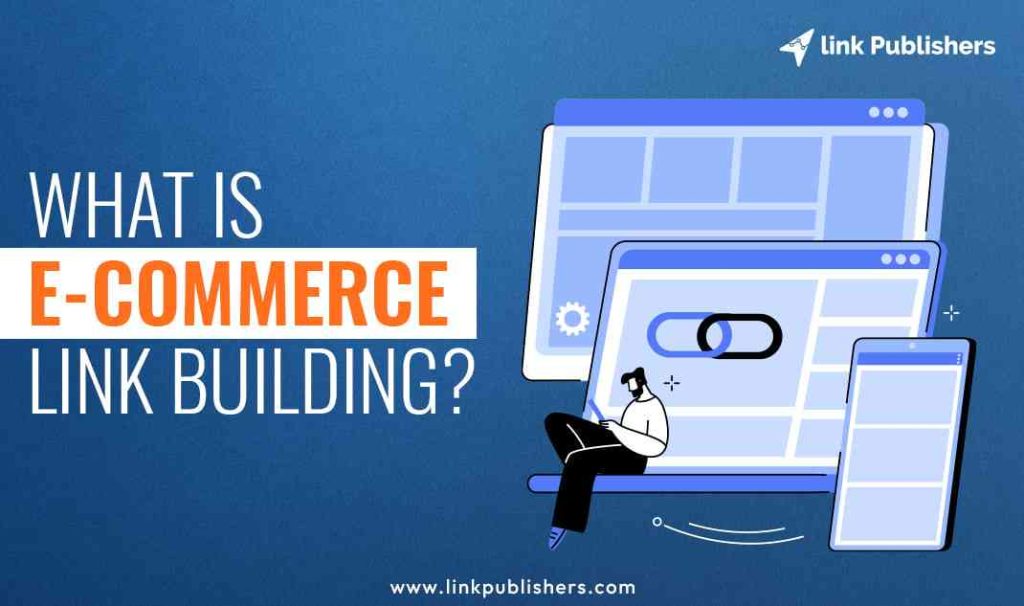 So, what is ecommerce link building?
Ecommerce link building refers to the procedure of getting an ecommerce website's backlinks through other websites. This procedure is a crucial aspect of running a lucrative online store. When you acquire links from these referring domains, site marketers and owners can increase the visibility of an ecommerce website, which in turn increases its search engine rankings. This will significantly increase the probability of higher online traffic and conversion rates.
Developing effective link building strategies and tactics for ecommerce websites is essential, all the more for small brands and businesses aspiring to outgrow the existing and other upcoming competition.  
However, developing strategies for link building ecommerce website requires a custom approach for each website. Nevertheless, there are proven ways to help any ecommerce website grow and become a force in its niche. You will get this and more as you move in this article.
Why Do You Need Link Building for Ecommerce Websites?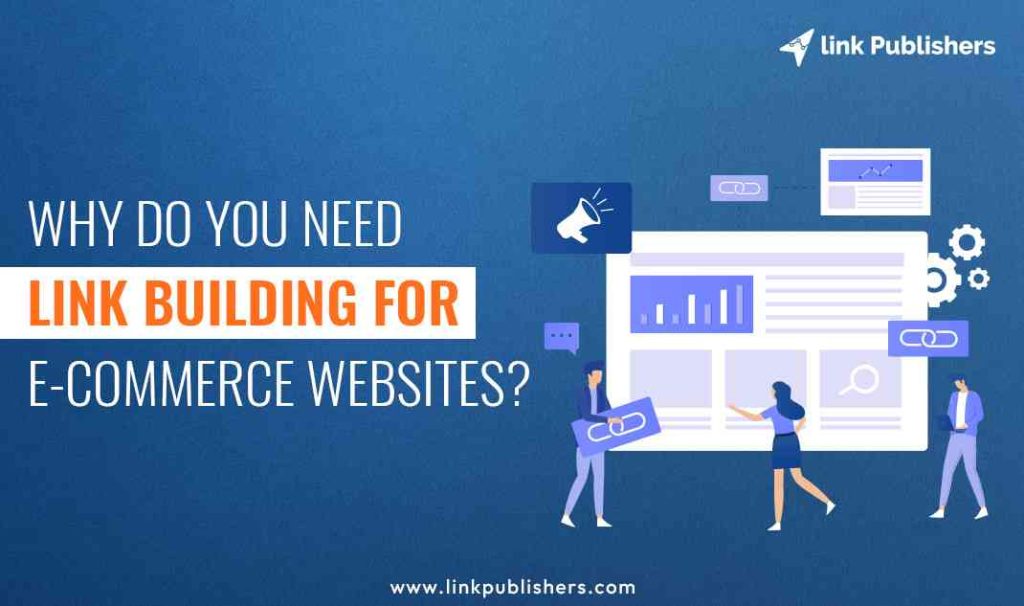 Employing link building for ecommerce websites is an excellent way of getting better backlinks to the ecommerce site, which means being among the top search results to appear when certain keywords are inputted in search engines. This is critical to gaining customers and, by extension, profits. After all, the more links you get from important websites, the higher search engines such as Bing and Google will rank you.
There is so much competition in the online space. You might have to compete harder if you do not offer a unique product or service. Everyone needs an advantage once in a while to get opportunities and scale upwards with them. Employing link building strategies for ecommerce websites is an advantage everyone should take.
It is crucial for online businesses, especially those of the dropshipping variety, to depend on website traffic, as this is the only way to generate sales.
Criteria To Implement Ecommerce Link Building Strategies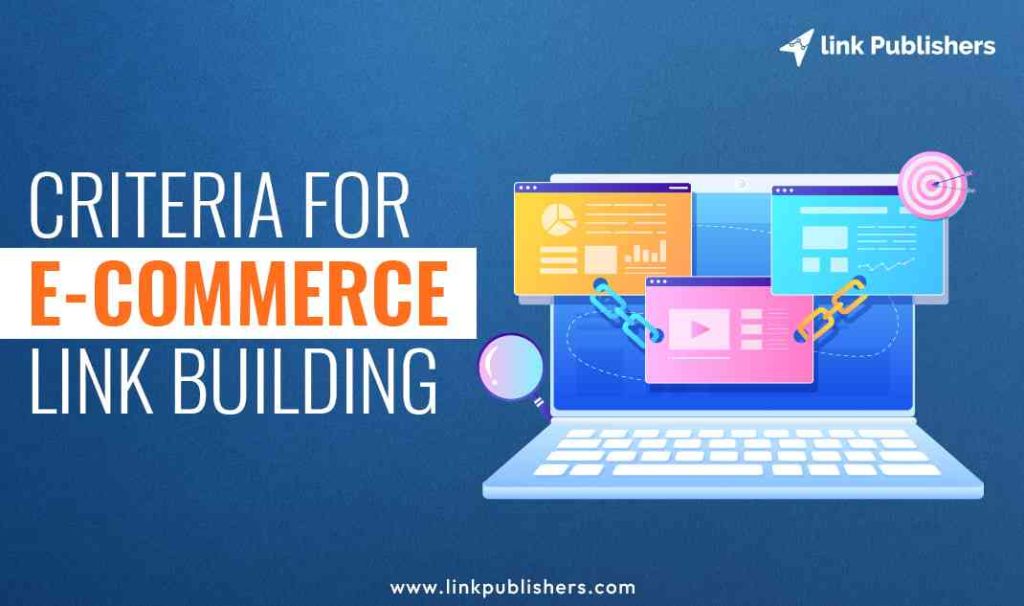 Below are the criteria for implement good ecommerce link building strategies :
– You must have a well-designed ecommerce website.
– You must have good products to offer.
– You must use anchor text
– You must consider third-party websites with high Domain Authority.
– You must ensure your page is relevant for search engine
Top High-Quality Ecommerce Link Building Strategies
Link building is the key to Internet success. Without solid and high-quality links, search engines will consider your website to be non-existent. However, with a thorough link-building strategy, you will notify search engines that your website exists and will begin to obtain higher ranks.
Below are the top high-quality ecommerce link building strategies:
Niche Edits
Niche edits refer to situations when an ecommerce business sells a particular product and ask another business for links. This business asked might be selling a different product or service but should be selling something the product is related to. An example is a weight supplement asking for links from a business that sells weights. In other words, you are, as a business, looking for a link from another business that has a product relating (not directly) in a way to the first business.
While many people affirm that links of this nature usually blur the lines between standard link placing and partners sharing links just to increase SEO ranking, data proves that all types of link partnering, such as link exchanging and reciprocal linking, when done properly, positively help rankings and does not cause penalization by Google.
A study by Ahrefs reviewed over one hundred and forty thousand domains with site traffic of at least ten thousand and found the most reciprocated links. As long as the linking abides by Google's guidelines which state that a link must be relevant contextually and provide value, reciprocal linking is allowed.
Guest Posting
Guest posting is a common practice. A guest post is an excellent choice when it aligns with and mentions all benefits listed in the guest poster. It becomes a great way to advertise for the website on which it is posted. Here are some benefits of guest posting:
– The link enhances rankings on Google.
– It targets referral traffic that opts to purchase the product or engage the service.
– It causes an increase in brand awareness and visibility across the internet.  
A guest post is a post or an article that includes a merging of what the business does or represents along with a topic or theme the usual readers that consume the customer's content will benefit from. After the links are correctly placed, the article is no longer a regular article but highly relevant and seen as authoritative due to the links placed. This is why the article must be relevant, contextual, and offer value.
Guest posts are a big positive for both businesses. The website that gets to post the article gets a first-rate article for its audience that ranks high in Google at no cost in hindsight, and the company that owns the links gets more visibility and increases its site traffic and conversion rates as a result.
Digital PR
Digital PR, otherwise called media relations, is an excellent option to help increase your brand's image in the digital world. It is a unique option that can be customized based on the company type and experience. You can use it in the form of surveys, roundups, surveys, industry overviews, and unique statistics.
You can also use it to attract media, news, and journalist attention through news and media events.
It is wise to take advantage of this unique SEO and ecommerce link building strategy as it helps increase interest in your brand with the use of unique content. However, it needs some experience due to the research involved, so if you do not have that, you can skip it.
Affiliate Partnerships
Affiliate partnerships are another tactic to increase engagement and conversion rates. Think of it as a form of promo for affiliate marketers. There are just too many affiliate platforms and marketers out there for you to avoid taking advantage of one. Affiliate marketers know that they will only get paid for selling the project. This is what makes them sell your product. In exchange, they take a chunk of the sale price as their profit. More sales mean more profits, and the results go on and on.
Influencer Marketing (Product reviews)
Influencer marketing involves the process of developing and sustaining relationships with influencers to the end that your store is exposed to new markets and audiences. It is common knowledge that more people opt for products that a celebrity or influencer has recommended or praised in the media. However, people still need to trust the usual product reviews from other consumers and close friends.
Influencer marketing entails harnessing and exploiting the resourcefulness, trust, and reach of influencers relevant to the industry. This is a surefire way to increase site traffic and conversion rates.
Below is one way to use this tactic for the best results:
Send free samples of your product to influencers
Numerous social media platforms can be efficiently utilized for effective marketing. From Instagram to Twitter, many influencers use these platforms as a way to reach their audience and watch them use complimentary samples of a product (in one video or a chain of videos). Again, using this tactic is an excellent way to increase brand awareness and site traffic. Just ensure you target the right influencers.
Also, for platforms like TikTok and Instagram, these influencers have a good knowledge of how these platforms work, so working through/with them helps you understand how the platform works and how you can take advantage of it in future media campaigns.
Lastly, they can be a channel between you and your other consumers. They report their feedback which lets you improve your products. You can check out influencer marketing platforms if you need help getting an influencer.
Below are the criteria to check for when looking for influencers to work with on any social media platform:
Brand fit
You need to be sure if they fit your brand. Check their values, thought processes, and output. Ensure it is a brand that has values that align with yours. Would they look forward to using our product and representing it as we want to?  
Engagement rate
This is why you are looking for an influencer in the first place; to increase your engagement rates. Any influencer you are gunning for must have a high engagement rate or at least better than your current rate. Engagement rate is not synonymous with followers; these two rank differently.
Unlinked Brand Mentions (Brand name without a linked URL)
Every service or product satisfies a need and has its target audience. However, not all content written about your product is linked to your website. This means that many ambassadors and sites are advertising your product without allowing people to reach the product on your website. It is also possible that the links used on that mentioned are now outdated or irrelevant to your business.
However, you need to search for these links, which will surely be time-consuming and tedious, but worth it in the end. Search your product on social media platforms, verify the links, and handle them accordingly. Do not expect all of your efforts to hit the mark, though; there will be numerous ignored messages. You don't need all that; you just need people willing to get your product and their brand the visibility it needs to grow.
Develop a Feature That Makes It Easier For People To Share Your Products
To make your product get out there, people need to push it out. So, for example, if you put your product out there, people need to be able to tell their friends about it without having to explain what they have seen. So, it is no surprise that all social media platforms have post-sharing features that enable them to share content in and beyond their platforms.
Developing features that make it easy for people to share your products and services will always be a boon to your marketing efforts.
Content Marketing through Blogs
Marketers and entrepreneurs know how hard it is to grow a business and market it without any external help. In the art of online selling, having more connections means more exposure, especially when these connections also have more connections and audiences. Connections that drive the talk and, indirectly, sales of the products you offer are vital.
This is why it is essential to have different ways to push your market out there. One of these ways is to run content marketing with blogs. When written content goes out, it stands as a form of marketing that people who want to know more about the product can engage. Written content is the oldest form of marketing, along with the use of images.
Video Marketing
Utilizing video-based content to support first-rate written content is an excellent way of getting backlinks. You can use this to follow up on the content posted on blogs, product, and category pages and, in a general way, attract attention again to your brand and products.
Also, with video content marketing, you can engage your target audience better and ensure they stay longer than usual. This helps increase a site's ranking on search engines.
However, there are some things to know when using this link building strategy for ecommerce websites:
Post quality videos always. Ensure all your videos are well-produced, educative, and informative and convey a specific message. These will make people stay longer. One blockbuster video could blow you up!
Ensure your content is relevant to your product and the audience. As long as the content is geared toward a specific market and audience, there will always be people to watch them.
Embed your video content into your website and other online spaces and add the video links to other online spaces. This is bound to increase traffic to your website along with the number of backlinks.  
Along with using your videos to support your written content, you should also ensure you upload your videos to high-quality sites that offer video hosting services. Examples are Vimeo and YouTube. This will surely increase your exposure and backlinks.
You should also share your videos on social media sites and platforms. You can do this yourself or use influencers to do this.
Benefits of Ecommerce Link Building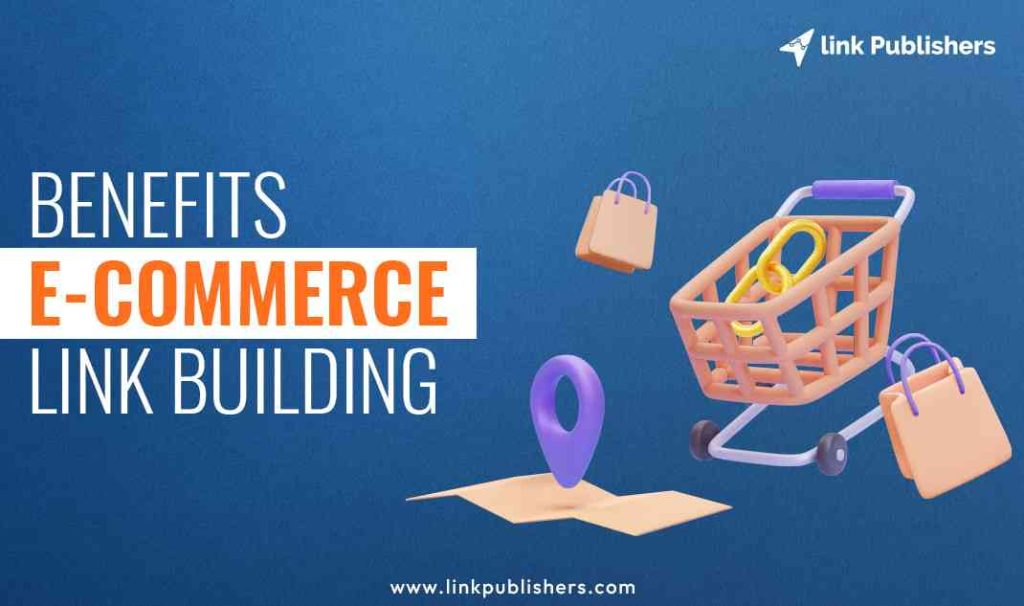 Below are the benefits of utilizing link building strategies:
It builds credibility
As previously mentioned, one major factor for Google ranking is links. Appearing as one of the first results on a SERP means Google believes you have enough value and content to stay there. This is precisely what builds your credibility with current and potential clients.
When clients find your link on a website they deem high-ranking and vital, it tells them you are also high-ranking and important. They will begin to see you as an authority in that niche. This increases the amount of time they will spend on your website week in and week out.
It gives recurring income
Businesses remain businesses when they make enough money to maintain a positive bottom line. Another word for this is a regular income stream. Getting revenue involves posting on social media channels and targeted websites, and this usually becomes a staple over a long period.
Backlinks build over time, which means their effectiveness for the ecommerce website (or any other website) can last for a very long time. Getting links means you are covered for a long time as long as the links keep bringing the audience you need.
This is also why you know the type of website to place your links on. For success, opt for websites that possess high domain ratings and authority. Also, ensure you put your backlinks on websites related to businesses with similar products or belonging to the same niche. Lastly, your website should have quality content. All of these will keep the money coming in for your business.
It increases online visibility
This is another factor that controls the amount of clicks you get. Research shows that over 28% of the total number of clicks goes to the first position on SERPs.
This implies that every effort put into developing links of value gives you a better chance of getting that first position for yourself and, of course, getting the lion's share of clicks on Google.
It boosts brand awareness
Good brand awareness shows this kind of personality a business possesses. Customers and potential clients look at this to know and recognize what you sell or do as a business. Also, building links is always sure to reap good rewards, the least of which is getting a spot in the first search pages on search engines.
When customers see your link on the first page, it tells them you possess a personality (as a business or brand) that offers them an acceptable measure of value and trust. The more effort you put into consistent link building, the more Google will place you in trending spots and tags.
Anyone who sees this knows that a lot of work has been done to generate this level of impact. The more you do this, the more you increase your following, and your bottom line will surely grow.
It unlocks more revenue opportunities
While the main goal of link building campaigns is to get the top spot on SERPs, an added feature is the revenue that comes in a while climbing the SERP ladder. Even non-profit organizations make money through donations.
Link building and top-spot page positioning attract more significant revenue opportunities. As previously said, the top and second spots on Google SERPs get 28.5% and 15.7% of the total traffic, respectively.
You know that the higher traffic your site garners determines how much your conversion rate can climb. As the second best, for example, you can work on your 15.7% to get 8% of conversions which will help increase your revenue.
It increases referral traffic
Every business linked to high-traffic websites enjoys one thing – a good portion of the visitors there come to their site also. This is the major benefit of getting linked to websites that have authority. Trust trickles down from the main website to the affiliated pages.
The traffic that comes to your website after visiting a more prominent website is commonly known as referral traffic, and it is a major advantage of having backlinks.
To get these links, you have to approach the big websites first. However, this is also methodical, as you have to consider if they belong to your niche so that there is a common sense of purpose. One way to know this is to check the feedback these sites get daily. You can also pitch in and consistently offer your expertise and what you think about the niche or a specific product that helps your case.
Doing this gives you an "industry expert" tag and makes people follow you. Hence, when you place your backlinks, you can get massive traffic when they recognize the brand or business that offers quality content.
Final thoughts On Ecommerce Link Building
As an ecommerce specialist or site owner, it is imperative you pay attention to the financial potential of backlinks and link building strategies. They can single-handedly unlock many benefits for your ecommerce site and put you in the same conversation as the top guns in the space. So get a link building strategy today for your ecommerce business!
FAQs
Should you do link building for small ecommerce sites?
If there is any business that needs to develop and utilize link building strategies, it's new and upcoming businesses. Backlinks are a trusted and efficient way to get to the top, so why waste your time?
Is ecommerce link building still working for ecommerce brands in 2023?
Ecommerce link building is one of the most effective ways to increase organic traffic to date. Why? Because when you possess more, your site traffic allowance rises, which allows you to increase your conversion rates to date.
Why do link building from relevant websites?
Relevant websites have higher site traffic. Therefore, placing your links on these websites allows you to get some of their traffic for yourself without much effort.
How do you get more traffic on ecommerce websites?
– Optimize your site for search engines
– Develop and run ad campaigns online
– Engage in online forums
– Create valuable content and make it accessible.
– Promote your website and its content on social media platforms.
– Reach out to blogs and websites in your niche to drop guest post options.
Is link building good for SEO?
Link building is vital for SEO because links are a major factor for rankings on search engines. Therefore, the better the links on a site, the higher it will rank.
---