What is SEO content writing?
You might have wondered many times thinking about it.
We live in such a smart world now where the search engine is our bosom friend, whether we are looking to purchase anything or finding an ideal destination to go for a holiday. So, you can imagine how important it is to have an online presence for your company, blog, or any other venture. This is why digital marketing has become the winning formula to take your online identity to the next level! And with that, getting organic traffic has become crucial to rank better in any search engine.
Now, what do you need to do for that?
Having a solid SEO strategy is very important. And this is not only about following some conventional on-page and off-page SEO rules for your blog or website. SEO content writing is equally important.
If you opt for professional SEO content writing services, it will ensure that you are not neglecting the user experience on your website.
And what else is more important than this? After all, page experience is one of the most critical factors you need to take care of to rank your website right at the top of the search engine.
In this blog, we will discuss everything about the role of SEO in content writing, SEO content writing tips, writing content for SEO, and much more relevant information.
So, let us first start with the basics.
What is SEO Content Writing?
Writing SEO content is all about maintaining all the parameters while writing a piece of content to pertain to the search engine and rank at the top. It includes using the right keywords organically, using the keywords in the H1 and H2 tags, having a proper meta description and meta title of your content, including more long-tail keywords, etc.
When it comes to SEO web content writing, you need to remember that Google uses 'spiders' or 'bots' to crawl your content and say what it's about. While crawling, they learn about the web page and understand its language. Based on this, your website is ranked in the search engine.
So, when it comes to SEO-based content writing, you can optimize your page with that for search engines. If your content is optimized for different SEO aspects, Google's crawlers can easily judge it, and as a result, your website will be placed on the first page of the SERPs.
However, if you don't follow the tips for SEO content writing, Google's crawlers won't find it search engine friendly, and they may not even be able to understand what your website is about. And you don't want that to happen. Right?
So, you can understand why following the SEO content writing guidelines is necessary to get noticed by Google.
What are Important Terms You Should Know about SEO Content Writing?
Now that you are clear about what is SEO content writing, let us explore different terms of SEO that you should know to the best of your knowledge.
Here are the most important ones:

Why is SEO Writing Important?
One of the best practices for SEO content writing is understanding the importance of keywords and how you can incorporate them into your content. SEO writing is the best way to rank your content better on Google in this digital marketing landscape.
And why is it important? Why is it important to rank your website on the first page of Google?
According to a study, the number of clicks a website get on Google is not only directly proportional to whether your website is on the first page of a search but also how high it is ranking on the first page.
The statistics reveal that the first page of any search result gets 28% more clicks than the other pages. It has been noticed that after the first search result, the percentage of clicks goes down with each result on the page. So, to have your website as the first result of Google according to your targeted keywords, you need to know what is SEO content writing and follow the SEO content writing best practices.
What's more, SEO-friendly content writing is also important because it is an excellent content marketing technique. It keeps going for the longest time, no matter what other marketing techniques you are opting for.
How to do SEO Writing?
If you want to do SEO-driven content writing, you need to consider some crucial factors before creating your content. This will help you rank your website at the top of Google. So, what are the factors to remember?
Quality of Your Content: Make sure your writing style is accurate, relevant to how your users want it, and crisp.
Backlinks: Try to link other valuable websites to your content. It gives authority.
HTTPS: The website for which you are creating the content is secured.
User Experience: To rank your content better in the search engine, it has to be visually appealing and informationally valuable, and also it should be super engaging!
Page Speed: Before creating SEO-driven content, you should check whether the page you are writing for is loading in less than 2 seconds.
Depth of Your Content: The comprehensiveness of your content should be much more than what your competitors have written on the same topic.
After you have confirmed the above aspects, you need to make sure you are following the top SEO writing rules that we will discuss below:
Write for Humans; Not Bots
If you want to boost your content from the SEO perspective, it is important to know the audience and write for them. Backlinking is a very important aspect of SEO. So, if you want your content to rank better on Google, it is crucial to attract backlinks from other websites. Thus, you can understand that your first readers will be a human audience. If your content sounds too robotic or keyword-stuffed, they wouldn't like to link to it.
Have Google's Algorithm in Your Mind
Make sure you understand what Google is offering in their latest algorithm. Because it is the most used search engine platform, it is important to know how you can drive traffic to your website or blog in this search engine.
Google tweaks its search algorithm regularly to ensure that only the best quality websites and pages rank at the top of Google. So, keep yourself updated about the newest Google updates and implement these in your content to ensure that your content types are at the top of Google.
Create Long Content
The Google Panda 4.1 algorithm update prefers and rewards longer content that is more informative. They don't like thin content. Hence, you should make sure each page content has at least 1,000 words of high-quality content. If you rather go for short pages, it won't suffice to fulfill the complexity of the latest Google algorithms. Moreover, if you write long content, it also allows you to serve your audience with the right information in many ways.
When you pack a lot of information about a topic on one page, discussing several methods of presenting the same, it will be helpful for your people and search engine both.
Write Appealing Meta Description
Every piece of content needs meta tags and meta descriptions. They are very important. This helps search engines to rank your content better in the search engine. You can create effective and attractive meta titles and meta descriptions with expert help from an SEO content writing company.
Make sure your title tag should not be more than 70 characters long. This is the maximum limit allowed for meta titles by Google. Moreover, when it comes to meta description, you need to ensure that it should be no more than 160 characters in length.
Use Multiple Subheadings in Your Content
If you are writing on a narrow topic, you can still break it into several subheadings. This will help you use your keywords multiple times, which drives better search engine ranking and more traffic.
Google prefers content with subheadings because they make it easier to read for people and find the exact information that they are looking for. So, always try to create easily scannable content, divided into multiple subheadings with appealing keywords.
If you provide a qualified and great reading experience with your content to your readers, it will automatically boost your position in the SERPs.
Create the Best SEO-Friendly Content with Link Publishers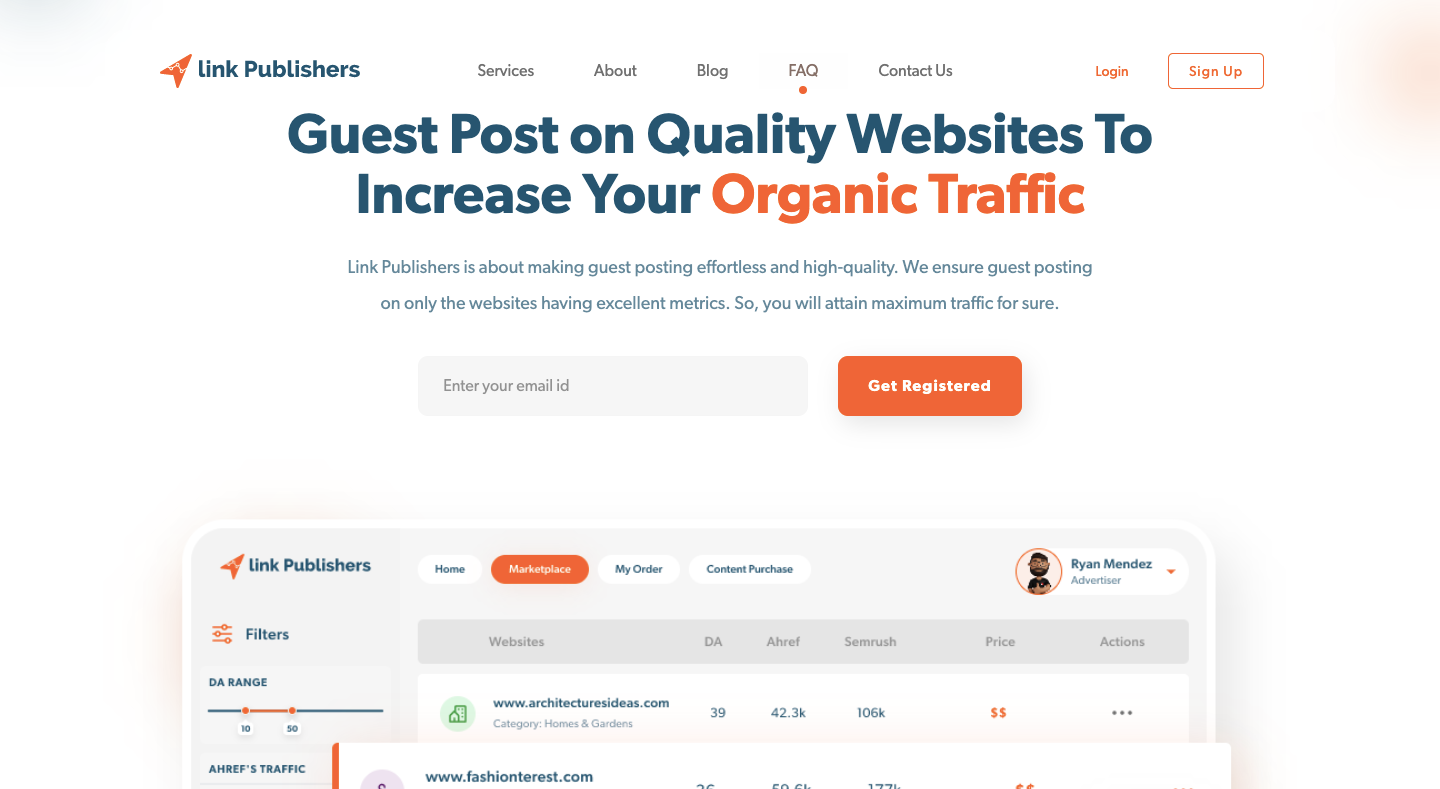 Link Publishers is the best guest post marketplace today. If you buy guest posts from us, you will yourself experience it. So, what are you waiting for? Opt for our guest post services now and boost your SEO strategy. The guest posting services of Link Publishers are crafted. All you need to do is register with us, and it's our responsibility to help you publish on the best websites of your niche with the highest domain authority.
But you might be thinking, how does it relate to SEO-friendly content?
Well, we are a top SEO content writing agency as well, and thus, we offer excellent content writing services too. So, if you hire a content writer from us and ask us to write content for you, you can rest assured that your order will be delivered after optimizing all SEO aspects. Our writers will ensure your content is completely SEO optimized before delivering it to you.
Summing Up
Writing content is great, but writing SEO-optimized content is needed in today's cutthroat digital marketplace. And we hope that after reading this blog, you already know how to create a piece of content that has the maximum possibility to rank right at the top of the search engine for the targeted keywords.
Then, what are you waiting for?
Contact us today and get started with premium-quality SEO content writing now!