Blogger Outreach Strategy: A Step By Step Guide For Guest Blogger
By Steffy Rain
2883 views
What is the difference between a brick-and-mortar store and a website? 
Apparently, you might find some differences, but fundamentally, there are no differences at all. 
Both are the selling point of your products and services. 
If you have a brick-and-mortar store, you want customers to come to your shop and buy products or services that you offer, right? 
On the other hand, when you have a website, you want genuine leads to visit your website. 
In the case of a brick-and-mortar store, you have limited options to improve traffic. 
It is not the case with the website. 
With proper blogger outreach strategy and planning, you can improve your web traffic to a great extent. 
Also, with a brick-and-mortar store, customers from other cities rarely visit your store to buy things. 
On the other hand, there are no geographical barriers when it comes to a website. Even people from different countries can visit your website and order products or services. 
However, you need a proper, accurate, and highly customized digital marketing strategy to improve your web traffic. 
Blogger outreach is one of the digital marketing concepts that help online businesses to reach out to their target audience. 
However, if you ask digital marketing experts, they will tell you that they hate blogger outreach. Sometimes, blogger outreach makes them feel like a jerk or a stupid. 
If you feel that way, there is an issue in your blogger outreach program you need to address. You can do outreach without feeling like a spammer. 
This blog is all about how to implement blogger outreach strategy effectively. 
Stay tuned. 
What is Blogger Outreach?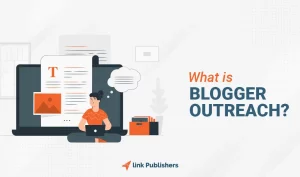 For example, you have written content or created an infographic. 
You find it very good and informative, but the problem is nobody knows about it. 
You want to promote your post and create more buzz about it. You want people to tweet your post, talk about it on online forums and visit your post to get links. 
To achieve that, you need to create a carefully planned blogger outreach strategy.
By definition, blogger outreach is a procedure to put your content or post or your product or service in front of industry-relevant bloggers and journalists. It is done by sending personalized emails. 
The main objective of blogger outreach is to convince those bloggers to talk about your offering and link to your website. 
However, it is not as easy as it seems. 
From understanding bloggers to sending them personalized emails that don't look like spam to following up, it is a tiring and annoying process. 
To know blogger outreach best practices is an altogether different game. 
Most of the time, your email will not be answered. Even if you receive a reply, it would be like "thanks, but no thanks." 
You need to convince the blogger that you are genuinely interested in creating informative pieces that help their target audience with something. 
Generic emails are a big No-No. Even you would not like to receive such spammer-like emails. 
However, most Guest bloggers end up sending such generic emails which don't serve the core purpose. 
Understand that people are not stupid, and bloggers are not. When you send such emails, they will put your email in the trash and know that you are not serious about your business. 
You don't want such a first impression, do you? 
Even though people understand it, why do they end up sending such emails?
There are two types of blogger outreach approach that you should know.
The Sniper Approach
People who follow the sniper approach are cautious when it comes to selecting their targets. They research potential bloggers and then send highly personalized emails to each of them.
They believe in the concept of giving and receiving value. They add something to their outreach strategy for bloggers and expect something positive in return from those bloggers.
Shotgun Approach
People who follow the shotgun approach don't believe in adding value to their blogger outreach strategy; they send lots of generic outreach emails to a large number of bloggers without personalizing those emails.
They are hardcore believers of the saying- quantity over quality.
Now, the million-dollar question is why businesses go for the shotgun approach when they know it is not the right approach for a blogger outreach campaign?
Because it requires less time, less effort, and it shows that you are working on something you are not.
Now, if you are playing a short-term game, the shotgun approach might work for you. If your purpose is to build links and not make long-term relationships, there is nothing wrong with following the shotgun approach.
You can send 100 emails to bloggers, and you might convince 10 out of 100 to link for you. You can send 1000 emails and convince 1 or 2% of them to link to you.
Your primary objective would be solved there.
What are the disadvantages of the shotgun approach?
First of all, there are only a finite number of high-authority websites in any niche, which might help your link-building strategy. If you burn them with those spam emails, you will end up weakening your link-building efforts to a great extent.

Furthermore, when many people click on the spam button when your email is delivered to them, Google will not trust your emails. Eventually, your emails will go to the spam folders of recipients.

 Most of the established websites have received such emails in the past. So there are fewer chances that you will be reciprocated with the email. The shotgun approach might work for those new or weaker websites that don't get so many bad pitches. 
Now that we have understood not to go for the shotgun approach, we will focus on the sniper approach and how to blogger outreach to get desired results. 
Step 1: Find the Right Prospects
When it comes to blog outreach, the first thing that plays a pivotal role in the success of your program is to find the right prospects for outreach. 
There are four main techniques to implement to find more content outreach prospects. 
Reach out to people you have mentioned in your content 
It seems obvious. If you have mentioned some valuable resources from other bloggers in your content, you can reach out to them and let them know that they have been mentioned in the range. 
Also, mentioning some prominent names in your post will increase the value of your post. Mention relevant bloggers with facts or examples, and then reach out to them with a personalized email. 
Reach out to people who have written similar articles on the same topic 
If you are writing about pets, for example. You can find other bloggers who have written about pets, and you can approach them to mention your blog link on their timeline. Also, you can find relevant websites as per your niche at Link Publishers, one of the prominent Guest post marketplaces. 
Link Publishers has more than 40,000 high-authority websites in more than 20 niches. You can publish your content there easily and seamlessly. 
There are more chances that they would be interested in reading your blog post, and if they find it informative and engaging, they will reciprocate positively. 
How to find bloggers who have written similar articles for content marketing outreach?
First of all, go to Google. Search for all keywords you have used in your content, and you will find a list of similar articles written by other bloggers.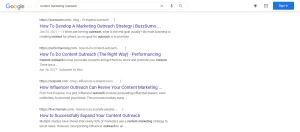 Filter your search by looking for recent posts, and you will get new results of articles written in the past month. 
Another way to find bloggers who have written similar articles is to use Ahrefs content explorer tool. It is the finest tool that is a searchable and filterable database of over a billion web pages. You can export thousands of results in just a couple of clicks.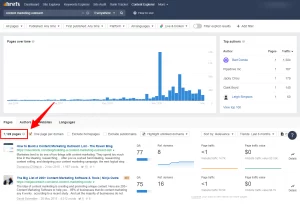 Outreaching to people who have written similar articles is good, and you will get some good results here. All you need to do is to ensure that you are approaching people who have written similar articles in the nearest past. 
People who have linked to articles on the similar topic 
Now, you need to follow the same strategy you have followed above. 
Go to Content Explorer and search for something you have written in the article. 
Now, you need to follow two steps to identify the articles with the most backlinks. 
Go for "Referring Domains" and set for show articles with at least ten websites linked to them. 

Sort the results by referring domains.

Now, all you need to do is put the URL of each article into Site Explorer and examine backlinks to find opportunities for Guest blogger outreach. 
When you do it for the first time, you might find the whole process tedious, but you will be very good at identifying the most promising outreach prospects with experience. 
People who tweeted articles on the same topic 
Another way to find the correct prospects is to search for people who tweeted articles on the same topic. 
However, not all of them are your potential prospects for blogger outreach marketing campaigns. 
Filter out people who tweet more than they publish or link to. You will not get many responses from these individuals. 
To find out people who tweeted a specific piece of content is very easy. All you need to do is to paste the link of the URL or Keywords into a Twitter search.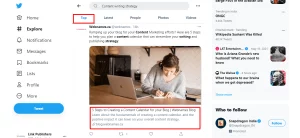 Twitter will show you the top tweets, and you know that you have found your content outreach strategy.
However, you can also click on the "Latest" tab to check out everything you have. 
Step 2: Segment the Prospects you have shortlisted
Even if you have made a shortlist of prospects, you cannot just treat everyone equally.
You need to divide the list of prospects into groups according to their level of influence. 
We have divided the list of prospects into four categories. 
The Level-1 Influencers 
The top-notch influencers are the right people for blog outreach as they are having a massive audience as followers and have some notable achievements. 
Now, these top-notch influencers are with very hectic schedules and don't have time to read your emails, especially when you are a stranger to them.
You need to be creative and outstanding while approaching them for a blogger program.
Try something unique and creative to get their attention. If you are lucky, they might look at your email and reciprocate positively. 
However, remember that it will be a real tough job to get their attention. 
The Level-2 Influencers 
These people are not as famous and popular as Level-1 influencers, but they also have a solid and large audience. 
However, they are not as busy as the Level-1 influencers, and if you approach them with a friendly, carefully drafted, personalized email, they might reply to you. 
However, please don't ask them to tweet about your content or links. It would be a silly thing. 
Instead, ask them to critique your work or give opinions on your blog. 
If they like the content you have shared with them, they might tweet or link it. 
The Level-3 Influencers 
Though these people don't have a big audience yet, they are still influencers. Their websites have just started getting attraction, and the most important thing; they are highly active. 
They are writing guest posts, contributing to niche communities, and participating in online discussions and forums to donate to get noticed. 
If you write a personalized, respectful, and value-adding blog outreach email, they will respond positively. 
Reaching out to them would be the best thing for your guest blogger outreach campaigns. 
Though you might not get much value to your business when they tweet or link your content, building relationships with them would help you out in the future. 
The Level-4 Influencers 
They have just started, but they are contributing well to the community. 
They do not have a substantial audience, but they are planning to build it. 
Even if you send an email template, they will reach out to you for a partnership. 
However, making relationships with these level-4 influencers would not do any good to you. 
You can avoid them. 
Step-3 Find the Right Contact Details 
The primary and real bottleneck is to find the correct contact details of the bloggers you have shortlisted. 
Finding emails of bloggers is a tedious and, at the same time, frustrating and time-consuming thing. Also, doing it automatedly with the help of automated tools is a tricky thing. 
Using automated tools to find emails of your prospects is not recommended. Instead, test your research skills and find their actual emails that are active. 
Even if you get emails right, it is crucial to verify them first before you outreach them. If you don't confirm, the bounce rate might increase. 
Also, you can hire Link Publishers. They offer unparalleled and quality blogger outreach services for businesses. They have a dedicated team of experts who will leverage their expertise to offer you the best results. 
Step 4: Craft Your Pitch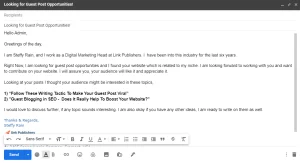 Search on the internet, and you will come up with so many templates for blogger outreach. Close that tab and don't search for such templates again. 
It is not the right way.
Though there is nothing wrong with such templates, the main problem is that they look like templates. 
Instead, write a personalized email that boosts your chances to get replies from potential prospects. 
What are the things to remember while crafting your pitch? 
Create curiosity with the subject line 
If you fail to make a good subject line, nobody will open your email, forget about reading and replying. 
Don't read articles about "Best Subject Lines." They aren't worth your time. Just imagine that thousands of people are reading the same articles and modifying their subject lines accordingly.
Where is creativity? 
The best approach is to write a subject line that represents your purpose for the email and creates some curiosity. 
It is interesting to come up with interesting subject lines that don't look more casual and still have simplicity and directness. 
Show them that you are familiar with them. 
Before you approach a blogger, ensure that you learn a bit of the person. 
It will hugely help you. 
If you know the person's interests or likes, you can also use such information creatively in your subject line or the first line of the email to get his/her attention.
Don't flatter the blogger too much. 
Yes, that extra flattery might disappoint or annoy the blogger. 
Please don't do it.
Using empty and hollow compliments is not the best way to do blogger outreach. It will not just put you in the spam folder of the blogger's email list but also affect your business's reputation. 
Such vague cliche lines are not at all needed to grab someone's attention. 
Instead, come up with something that adds some value to the blogger. 
Explain in detail the purpose of the email 
Now come to the point and explain the primary purpose of contacting the blogger. 
Don't write cliche and standard replies such as, "I have read the blog you tweeted, I have written a similar post…."
Nobody wants to read something similar to what they have written. 
"Similar article" is not a very clever excuse to get the attention of the person. 
It might annoy the person as you have not done proper research about the person you are contacting. 
On the other hand, you can come up with something like this:
"I have read your post you tweeted last week. You have detailed it nicely by covering all the aspects of the subject. How about reading a different opinion?"
It makes some sense and has some curiosity. 
The person would love to write what other opinion you have for the same topic.
End the pitch with a clear call-to-action 
Don't end your pitch with sentences like:
"Can you please add my link to your article?"
Sometimes, asking for a link or tweet makes sense, but still, it is not something to ask in the first email.
Focus more on building a relationship rather than just asking for a link bluntly.
All your efforts should be directed to start a conversation rather than getting a quick tweet or link. 
Come up with the questions as the call-to-action sentence such as:
So, what do you propose?
What are your views on that?
Would you like to share your thoughts?
Such call-to-action sentences might do the trick. 
Why hire a blogger outreach agency?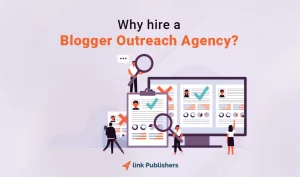 First of all, manual blogger outreach is a tedious job and sometimes frustrates you when you don't get results. 
It is time-consuming too. If you don't have an in-house digital marketing team, you might struggle to get good results. 
On the other hand, when you hire a blogger outreach agency, you can leverage their expertise and experience to get results faster and efficiently. 
Rather than draining out your resources, the best way is to hire an agency offering blogger outreach services. 
The blogger outreach service provider you hire must have a dedicated team of professionals who are masters in the domain and should have completed blogger outreach projects in the past. 
These agencies know how does blogger work and how to approach him/her to get attention.
They will leave no stones unturned to offer you desired results and serve the core purpose brilliantly. 
From doing all the research and foundation work to approaching bloggers for outreach, the agency will take care of everything. 
Apart from it, most of the agencies give regular work to bloggers. So, bloggers don't want to ruin their relationships with agencies. 
Furthermore, you don't have to invest in costly SEO tools as these agencies have them. You can save money. 
Why go for Link Publishers? 
Do you want to get quality backlinks from more than 40,000 high-authority websites? 
Do you want to outreach to your industry-relevant websites? 
Link Publishers is the answer to all questions. 
Developed by a digital marketing expert team, it is the finest Guest post marketplace to build high-quality backlinks through guest posting sites. 
We all know how difficult and frustrating it is to negotiate and finalize the bid for guest posting on high domain authority websites. 
Sometimes, even if you do all types of SEO activities such as blogger outreach and other link-building activities, but still fail to get quality backlinks. 
Link Publishers makes it easy for digital marketers to get quality backlinks. 
It is a common Guest post marketplace for people who want to guest post on their industry-relevant websites and people who want to sell their space for guest posting. 
Link Publishers has 40,000+ high domain-authority websites, covering 20+ industry niches. 
You will get the finest and high-quality guest posting services from Link Publishers. They also offer refunds if you don't get quality links for your post. What else are you looking for?
You can sell or buy guest posts on the platform quickly and effortlessly. 
In addition to that, if you are looking for content writing services, they have a team of expert writers who cover almost all niches. 
You can hire a content writer for your particular content writing needs. 
Overall, Link Publishers is a one-stop destination for all guest posting services you are looking for. 
Wrapping Up 
So that is all. 
Blogger outreach is not rocket science but a slow, steady, and logical approach to get what you are looking for. 
All you need to do is not rush into things. Instead, learn and understand blogger outreach first and then implement blogger outreach strategy.
Outsourcing your blogger outreach campaigns to a blogger outreach agency might be a good thing to save your valuable time and money. 
---