The banking industry is one of the most competitive in the world. Every bank is trying to pull and claim as many users as they possibly can. I have seen this by simply asking a banking question online and having numerous banks pop up to answer the same question and try to convince me to choose them over the others.
Why Is SEO Important For Banks? SEO is important for banks for the same reason it is important for any business. 90% of all users will choose a result that appears on the first page of the Google SERP without any thought of going further. For this reason, SEO for banks remains an important topic in the search for clients.
To ensure the success of your banking institution, I have done some deeper digging and research to better understand the SERP process and how SEO is an important part of the banking industry. In this article, I will share some deeper insights into how SEO works and what you could do as a banking institute to enhance your business.
Importance Of SEO For Banks
Banks are heavily dependent on their clientele, and each bank tries to win over the hearts and finances of all their clients. Additionally, many people prefer searching the internet when it comes to banking and finding the best place for their finances. This means it will be overlooked if a bank does not feature on the SERP.
SEO for banks remains one of the most important parts of the banking industry, especially in the modern era. Since it helps the banks rank higher, it will help generate more leads and ensure a favorable result for the bank compared to other marketing industries. Keep in mind that other marketing strategies are still important.
Why Should You Do SEO For Banks?
Clients and leads! Two of the main reasons why you would invest so much time and effort into your SEO are to generate more leads and garner more clients. However, clients can be hard to come by, and these often need to be converted through the assistance of leads, which gives you a clue of where to start looking.
I could sum this up by giving an example of myself:
Whilst searching for a bank to put my funds in, I had numerous options and almost no knowledge of the banking system. Being a normal person, it was best for me to turn on my computer and search for the "best banks for an investment". Google spewed out a few results, and this narrowed down my search. However, if your bank had appeared on the first page, I would not even have noticed it.
Another example is if you search for the keyword "banks around me", you will notice that most banks will pop up in your local area. However, this specific keyword gets about 5000 searches per month, and if you have not ranked for this keyword, you are missing out on plenty of clientele.
By taking up some of the most basic SEO practices, you should be able to ward off such issues. Yes, this does mean you will need to put in some research, but the payoff would certainly be worth it when we get to the end of the month. Fortunately, many great SEO agencies like Link Publishers can help with SEO best practices for your institution.
Basic Banking SEO Concepts You Should Know
Once you understand the importance of SEO for banks, you will need to get yourself informed on the best practices and basic concepts. Since I have worked with SEO for the past 7 years, I have learned a few important tricks and basic concepts to keep in mind. Here are some of the basic banking SEO concepts you should know:
On-Page SEO
On-Page SEO is exactly what the name implies and refers to the practice of optimizing the content found on a specific page to help search engines. You will be integrating things like internal links, title tags, URLs, and optimized content, which helps the SERP pick up the page and improves the ranking when someone searches for something specific.
Off-Page SEO
Many people can confuse on-page and off-page SEO. However, they are completely different. As the name would suggest, off-page SEO refers to the optimization of your website by using things that do not happen or appear on a specific page. Examples of good off-page SEO practices include backlinks from authoritative websites.
Off-page SEO is one of the hardest parts of making sure your website is fully optimized and will utilize numerous other outlets. One of the best ways to increase off-page SEO would be things like reviews, content marketing, social media interactions, and even podcasts from YouTube that link back to the page of your bank.
Creating quality guest posts would help to ensure backlinks from some of the top websites, by driving traffic and possible leads to your site.
In essence, it is anything you can do to go viral and drive traffic or leads back to the website!
Technical SEO
Finally, you have technical SEO, which might be a bit more complicated for many people to understand. This is one of the special techniques that people often forget about, but it can drive tons of leads and traffic to a website.
Technical SEO often involves things like site speed and structuring data in an easy-to-navigate way for people to find. Canonicalization is also an important practice involving converting data to a standardized format, which can often be complicated for many new to the SEO world.
Finally, you will need to make your website compatible with mobile devices and improve the XML sitemap. Nowadays, most people search the web on their mobile devices, and if your website does not make it easier for these individuals to find what they are looking for, it could lead to many missed leads and clients.
Best SEO Banking Strategies
Once you gain a bit of an understanding of SEO and how it works, the next logical step would be to shift your focus to SEO strategies. There are numerous solid SEO strategies that banks can use when it comes to search engine optimization for banks. These financial SEO practices should make life that much easier for the institution.
Keyword Research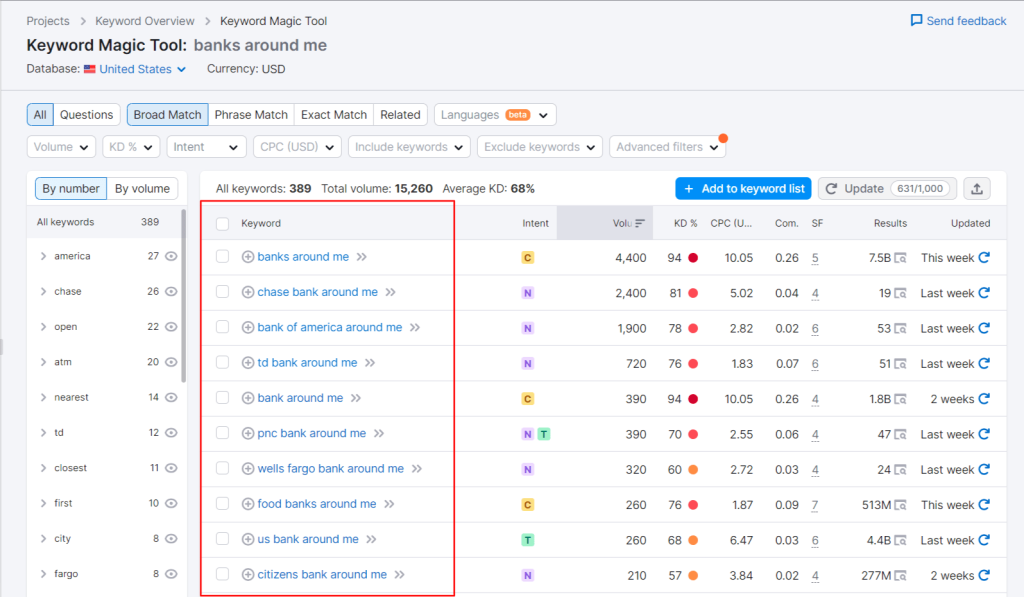 The first and arguably one of the most important parts of SEO is to focus on the keywords. As I have mentioned earlier, terms like "banks around me" get about 5000 searches each month, and if you do not tap into this, you will be missing out significantly when it comes to leads.
For keyword research, you will need to do a lot of audience research to find out what your target audience is searching for and what you can do to get that specific audience to visit your website.
Content Optimization
Once you know the keywords your target market is searching for, you will also need to optimize the content to provide REAL VALUE to the reader. This means you should provide unique insights into a specific topic that might have never been touched on.
I would suggest answering a few of the most common questions of the banking industry. Additionally, you can also provide some valuable insight and tips that help users manage and improve their financial situations.
Link Building
If you are new to SEO, you might have never heard of the term link building or never fully understood the true meaning of the term. However, you want to link to various sites, including some of the different pages that your website might have. This can also include backlinks from other websites.
Backlinks are one of the best ways for you to ensure your content does provide actual value. Websites won't link back to mediocre or poor content, which also serves as a nod of approval from the website that your content is worth reading.
You should focus on things like guest posts to improve your backlinks. This will ensure that authority websites can help you drive traffic to your site. These authority web pages will also increase the way in which SERPs see your website.
Mobile Optimization
I have also touched on this, but most people searching the internet will do it from their mobile devices. Whether this is a tablet or a mobile phone, you will get most of your traffic and leads from these types of websites.
When it comes to internet traffic, it is estimated that around 92.3% of all internet users will access the internet from their mobile devices. Keep in mind that this is from the 4.32 billion people worldwide that use the internet.
Local SEO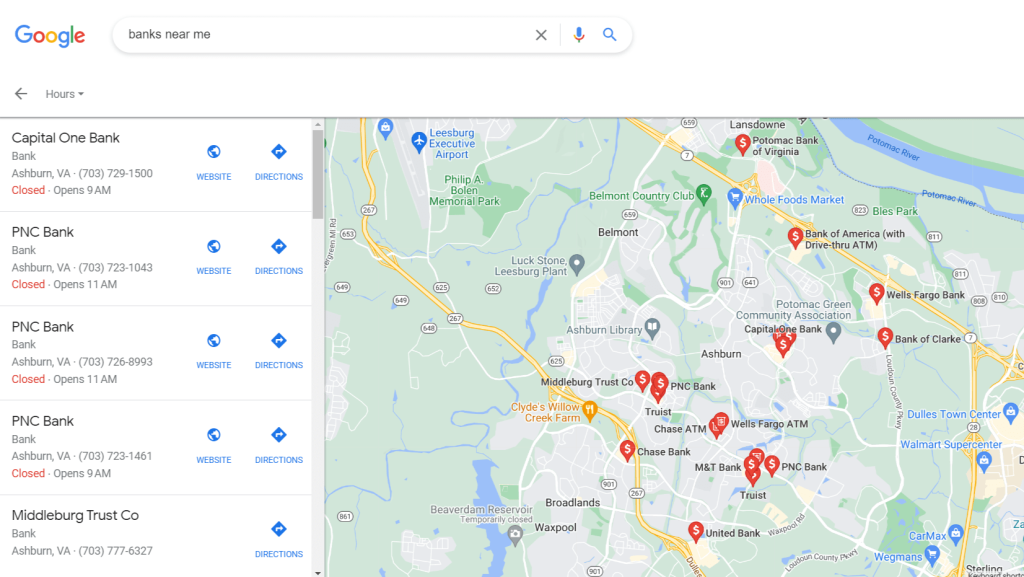 As a bank, you will first be targeting users close to you. This means that you will often want to rank high in your local area. It will ensure you can grab as much local traffic as possible. Focusing on local SEO will be one of the priorities.
Local SEO practices are the same as standard SEO practices. However, you will mainly be targeting the keywords of the surrounding area.
User Experience (UX)
Now that you have some traffic coming to your website, you will also need to ensure that users come back. The only way to ensure users come back is to give them a great experience. This is very similar to a high-quality restaurant. They would focus on providing clients with the best user experience to ensure they return.
Analytics And Tracking
Finally, analytics and tracking will give you insight. How hard is it to guess what you need to improve when you are constantly in the dark? Using tools like Ahrefs, Ubersuggest, and SEMRush are excellent tools that will keep an eye on the user activity for your website. These tools will give you the information you need to make sure that you understand client behavior thoroughly.
I suggest focusing on these to help determine the correct keywords. It helps influence traffic coming to your site and potentially affect the behavior of individuals that are visiting.
Challenges Of SEO For Banking
Unfortunately, SEO is not as easy as it might sound. When it comes to financial institutions, there are a couple of challenges that should not be overlooked in the industry. Here are some of the possible challenges of SEO for banking:
Poor Digital Governance: Since financial institutions have various departments that manage various aspects of the bank, there is often a lack of cohesion, leading to inconsistent pages.
Broken Links: Since many financial institutions have numerous links coming to and from them, an audit that helps to fix some of these broken links is often neglected.
Inconsistent Interlinking: Another big problem is in the form of consistency. Banks can often scramble to put content and pages out there without making sure of consistent interlinking.
Keyword Salience: There are a few set terms and phrases in the world of financial institutions. However, the way banks refer to a term might not be the same as the general public. This often leads to miscommunication.
Lack Of International SEO: So, you have decided to focus on local SEO, but many banks often forget about the international aspect and international SEO. You might have one of the best banks in terms of services, but without international SEO, many people won't find you.
These are a few SEO practices that many banks struggle with when it comes to improving their visibility. The help of a good and reputable SEO agency would often help to resolve most of these problems.
Wrap-Up
Banking SEO or SEO for banks is one of the most essential parts of drawing in leads and generating traffic. Leads and clients are the lifeblood of any bank and are important for the sustainability and survival of the institution. By focusing on bank SEO, you should see a massive spike in your clientele.
We would love to see some of your feedback. Or better understand how SEO for banking has helped you grow your financial institution.
Frequently Asked Questions:
By now, you should have a solid understanding of SEO in the banking industry. However, I have done some research by looking at only a couple of banks and their web pages. Here are some of the most commonly asked questions when it comes to SEO banking:
How Does Local Bank SEO Play A Role In The Banking Market?
Before you even think of international SEO, local SEO should be your priority. Most people don't want to be on the phone with the bank and can prefer walking into the institution. This means that the largest part of your clientele will often be within driving distance.
What Are The Key Strategies For Improving Banking SEO?
If you want to change your SEO banks immediately, you should focus on local SEO first. Once you have local SEO done, creating valuable content is next. It helps with, drawing in the clients with optimized content would be the next step.
How Does Social Media Impact SEO For Banks?
With the rise of social media and digital marketing, it is certainly one of the things you will need to tap into. A good digital marketing strategy for banks would ensure you can draw in some of the clients and leads from social media outlets. Let's face it; most people have access to social media in the modern era.