With over 65% of law firms spending their marketing budget online, it's only logical to invest in online marketing tactics such as SEO.
Otherwise, you may not be able to compete online, considering the fact that every 1 out of 3 people start their attorney search on the internet. And this blog is there to help.
Below, we'll discuss, top ranking factors for a lawyer's website, and a detailed guide to help you leverage SEO to take your business to new heights.
What is Lawyer SEO?
Lawyer SEO is the process of optimizing a lawyer's or law firm's website so it can rank higher for specific keywords. The motive here is to enhance search engine visibility, boost organic traffic, and close more deals.
Why is SEO for Lawyers Important?
One of the primary reasons why lawyers need to invest in SEO is the increasing number of people searching for lawyers and related services online.
As stated earlier,1/3rd of the users start their attorney search on the Internet. And without SEO, you cannot expect to appear in the search results of those individuals, leading to a direct loss of customers.
Another reason why SEO for lawyers is important is because of the organic traffic. SEO is a long-term strategy that helps build organic traffic over time. And organic traffic gives you returns for several years, i.e., as long as your website keeps ranking.
Moreover, SEO helps you build trust among your potential clients by posting quality content. When people get answers to their queries from your website, they'll trust you more and consider you a thought leader. And this improves the chances of converting visitors into paying customers.
Top Ranking Factors for Lawyer SEO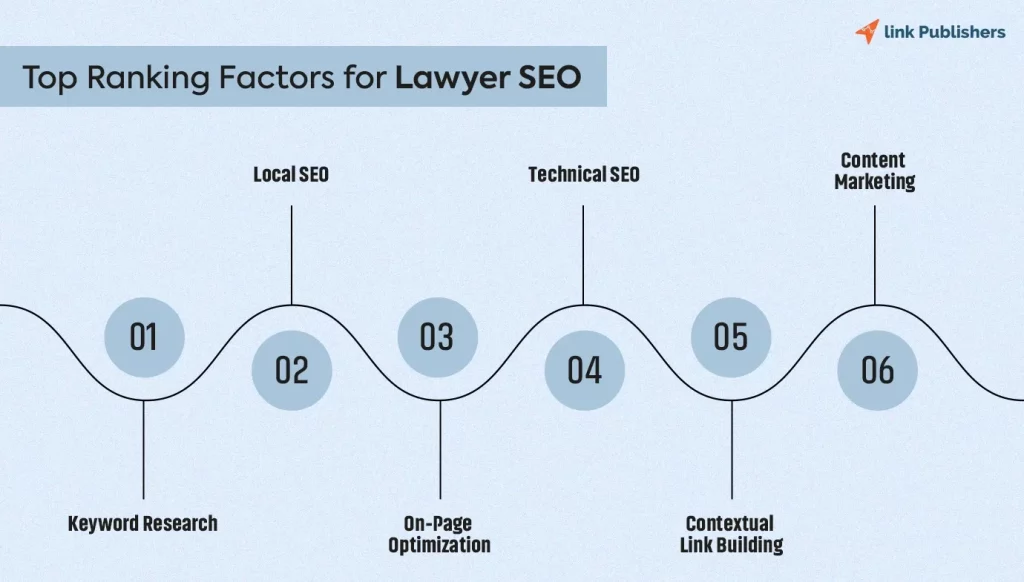 Here are the top-ranking factors at play for SEO for attorneys:
Technical SEO
Technical SEO involves the optimization of technical factors such as site speed, schema markup, sitemaps, etc., that impact the performance of your website.
Keyword Research
Keyword research is an essential ranking factor. If you don't target the right keywords, your website won't rank for the right search queries, leading to poor conversions.
Local SEO For Lawyers
Local SEO is all about optimizing your law business to appear in local searches. This involves optimizing content for local keywords, GBP (Google Business Profile), etc.
On-Page Optimization
On-page SEO involves optimizing your website's content and HTML elements. The focus is on the content, site structure, metadata, internal and external linking, etc.
Link Building for Lawyers
Link building is an important ranking factor for SEO for lawyers. When you get backlinks from high-authority websites, it sends positive signals to Google, boosting your website's authority and credibility.
Content Marketing
Content marketing involves creating & promoting content to educate, inform, & entertain your target audience.
Let's now learn how you can leverage SEO for law firm websites.
Best Ways to Implement SEO For Law Firm Websites
1. Advanced Keyword Research
Keyword research is the foundation of legal SEO campaigns. After all, only if you identify and target the right keywords can you attract the right traffic to your website and make sales. Primarily, you need to target two types of keywords:
Short-tail keywords
These types of keywords are usually 1-3 words in length. Examples include "criminal lawyer" and "divorce lawyer". However, these keywords are quite broad and are likely used by most of your competitors, making them hard to rank for.
Long-tail keywords
Long-tail keywords are more specific and long. Examples include "criminal lawyer for drug offenses" or location-specific (highly effective for local SEO), such as "criminal lawyer in South Carolina".
Pro tip: You can use a combination of long and short-tail keywords to narrow your focus and get targeted traffic to your website.
Common tools that you can use for keyword research include:
Once you're done with your keyword research, the next step is to identify the intent behind the searches. This is important as people with different intents use different search queries or keywords when searching online. For instance, someone may want to:
Deeper their understanding of the law.
Hire a lawyer for consultation.
Determine if their case is even worth filing.
Compare multiple law firms or layers within a region.
When you know the intent of the readers, you can create content that meets their requirements. And when you deliver exactly what the reader is looking for, you build trust, and the chances of conversions increase.
However, if you don't keep the intent in mind and blindly use keywords, your content might still rank. But this will only lead to frustration when readers won't find what they're looking for.
2. On-Page Optimization
Here are the aspects of on-page optimization you need to focus on:
Content Creation
Content is probably the most important aspect of lawyer SEO. Without content, no matter how well you optimize your website or research the keywords, you won't get any traction. After all, the majority of keywords go into the content that you create, which in turn helps people find you in SERPs.
So, once you're done with keyword research, start creating content for your law firm's website. You can start with your web copy, including the home, service, about, and contact page. Make sure the content has the relevant keyword and is optimized for your target audience.
Then, you can go for the blog section. Your content should be a mix of trending (breakdown of recent cases) and informational topics ("how to find the right attorney") that entertain and educate your potential customers. The goal here is to deliver value and build customer trust and credibility.
Pro Tip: Don't stay limited to blog content. Create visually appealing infographics and even videos, as they're more captivating.
Meta Title and Description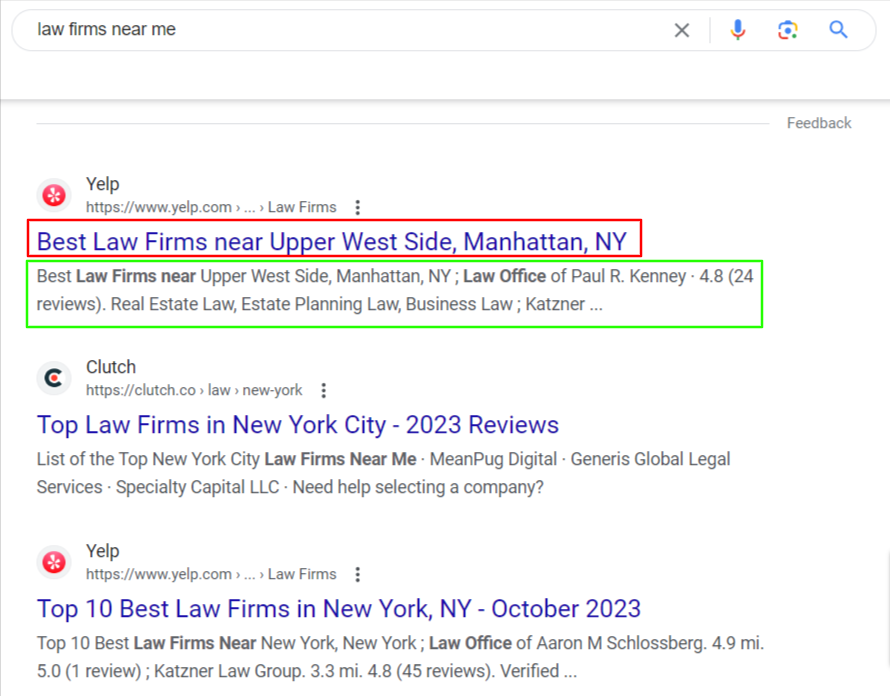 Basically, meta titles and descriptions are what the users see in the search results. While meta titles and descriptions may not be a direct ranking factor, they still impact your click-through rate, which in turn impacts your organic traffic.
The text in red is the meta title, and the one in green is the meta description. If this information is engaging, more people will click through. So, make sure to create meta titles and descriptions for all pages of your website.
Note. Although the content you write for metadata may not necessarily appear in the SERPs, as Google makes this decision, it significantly increases the probability as opposed to not having metadata at all.
Here are a few things to keep in mind when creating meta titles and descriptions to increase the click rate:
Always try to include a keyword.
Include your business name and the service you offer.
Add the state of the city where you do business.
Try to use action words.
Respect the word limit. (up to 60 characters for meta title and 130-150 for meta description)
Site Structure
Site structure is how you organize different pages on your website. Everything from how the pages are ordered or connected to what naming conventions you choose comes under site structure.
Your site structure determines how the user experience will be, which is essential for ranking. Here are common site structures to choose from:
Linear: This is a simple linear structure that offers a decent UX. The user lands on your website, sees the service, and books it.
Hierarchal: This is a little complex but is good for law firms with a lot of content. There are multiple categories on the homepage, like criminal law and family law, which further have subcategories.
Webbed: In a webbed or network structure, every page is connected to the other page. This structure is the most uncommon for law firms.
URL Structure
The URL is what appears in the address bar of a browser. You can optimize your URL for SEO by adding a keyword, making it short, memorable, and, most importantly, relevant. Also, use hyphens to separate words.
Internal & External Linking
Internal linking is the technique of linking one page of a website to another page of the same website. When some pages on your website are not linked to any other, they're termed orphan pages, which are hard to discover for Google and readers.
However, if you link pages of your website internally, you can get rid of orphan pages and improve the discoverability of the pages. Also, by linking two pages of your website, you can transfer the link juice or link value, which improves the ranking.
External linking is about placing/acquiring links from high-authority external websites via link building. When you get backlinks from high-authority websites, it helps build trust as link juice from high-authority pages gets transferred to your website, improving your domain authority and SEO ranking.
Note: The link juice or value from a high page transfers to another only if it is do-follow. While no-follow links don't transfer link juice, they have indirect SEO value.
3. Technical SEO optimization
Here are the aspects of on-page optimization you need to focus on:
Website Load Speed
A slow-loading website can ruin the user experience (UX). And Google penalizes the websites that impact the user experience negatively. Also, if the website doesn't load within 3 seconds, there is a high chance the user will bounce off, which, again, will send a negative sign to Google about your website. So, focus on improving your website speed. Here are some tactics you can use:
Optimize images: Try to optimize images by using WebP format instead of PNG or JPG. This makes your images lighter without losing quality.
Minify Code: Remove all the unnecessary code that is just increasing the size of your CSS and JS files and impacting loading speed.
To test your website's speed, you can use PageSpeed Insights or GTmetrix.
Sitemap & Robots.txt
Make sure to include Sitemap and Robots.txt files on the website.
Having a sitemap is essential for crawling and indexing your website. It lists all the pages that you have on your website. Robots.txt files tell which URLs search engine crawlers can access, allowing you to limit the request on your website.
Schema Markup
Schema markup is the code that helps search engines understand different elements of your website better. Using schema markup, search engines can show better results to users also known as rich snippets, leading to more clicks.
Here are some common types of schema:
Local Business Markup: Local business markup picks the elements on your website that include information like your business address, contact information, etc. This information is displayed on the location business panel, placed on the right of some SERPs. The motive here is to give correct information to searchers and boost local traffic.
Sitelink Markup: This schema allows Google to display other navigational links to your website in the SERPs. This way, instead of directing users to HomePage, you can give them the option to view other pages (service, blog, or other pages) directly.
FAQ Schema: This schema marks up FAQs and answers. It shows up as FAQs, increasing clicks to your website.
Review Schema: This schema helps display reviews or star ratings in the search results under your meta description.
Broken URLs
Broken URLs are the ones that redirect the users to a page that is either inaccessible or doesn't exist. This is an important issue to fix as it leads to a poor user experience, which impacts the lawyer SEO ranking. So, examine your site for broken URLs and fix the same. You can use SEMrush's Broken Link Checker to find broken URLs on your site.
4. Local SEO For Lawyers
Here are the aspects of Local SEO you need to focus on:
Optimize Google Business Profile (GBP)
Google Business Profile is a tool by Google that helps your business get found for local search queries. GBP is like your digital visiting card that contains all the important information like law firm location, working hours, contact information, website, and details about your service, etc.
With an optimized Google Business Profile, you may also get featured in the Google 3-Pack. Google 3-pack is the set of top 3 results Google shows for local search queries. Here's an example: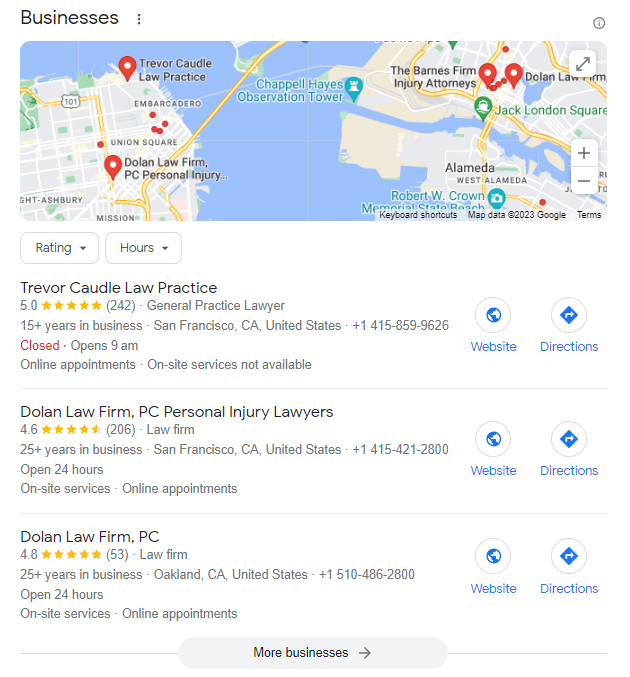 Here's what you can do to get started with GBP:
Create or claim your business profile on Google.
Add all the necessary details, such as:

Business Hours
Website URL
Contact Details
Photos of your firm
Firm's logo
Business description (include relevant keywords).

Get high-quality, genuine customer reviews.
Enable messaging
Complete all the information, even if some fields are not mandatory.
Local Keyword Optimization
You need to optimize your website content and GBP for local keywords. So, make sure to include location-based keywords when doing research. Common examples include "lawyers in Fort Lauderdale" or "attorneys in the Bay Area" Include such keywords in your website copy, blogs, and even in the description of your Google business profile. This will help Google understand which business to show for a particular location.
Online Reviews and Reputation Management
Every review left by anyone who's done business with you or has worked with you will appear on your Google Business Profile. While some negative reviews don't ruin your law business' reputation, they can have a negative impact if you ignore reputation management.
The best approach here is to gather as many positive reviews as possible from your genuine customers. Secondly, you can address the negative reviews respectfully and address their questions. This will show your potential customers the work you're putting in.
5. Link Building for Lawyers
To make the most of SEO for lawyers, you need to leverage link building. Link building is the process of earning backlinks from high-authority websites. Basically, a content piece on a high authority website redirects users to your website, passing the authority to your site and improving your ranking.
Here are the aspects of link building you need to focus on:
Guest Post
Guest posting is an effective way to build backlinks. You simply create quality guest posts, find relevant law firms' websites' and ask them to publish your blog in exchange for a backlink. If they agree, you can get your backlink and build better authority over time.
Pro Tip: To supercharge link building for lawyers, you can buy guest blog posts from guest post marketplaces such as LinkPublishers. You just need to sign up as an advertiser, choose a website in your niche from 60,000+ websites, select anchor text, upload the content piece, and get your link within 30-32 hours.
Even if you don't have an article, you can rely on Link Publishers' native writers. They'll help you with as many high-quality articles as you may need.
Press Releases
Whenever there's something newsworthy, such as a major change in your law firm or a win, you can prepare a press release and send it over to organizations that cover law firm press releases, such as NPR, the Washington Post, The New York Times, Wall Street Journal, etc.
Legal Firms Directories: Another impactful way of building links is by getting listed on high authority legal firm directories such as:
Avvo
Foursquare
Localize
FindLaw
Martindale-Hubbell
Justia
All you've got to do is register on these directories. However, make sure to keep the information consistent across all platforms.
6. Content Marketing
Content marketing is all about strategically using your content to increase interest among your potential customers. One of the best strategies of content marketing is promoting relevant content among prospects based on the stage of the buyer journey they're in.
Here are some examples for every stage from top to bottom:
TOFU (top of the funnel)
For visitors in the TOFU stage, you can create and promote content that resolves their basic queries, such as "How to find the best lawyer" or "Ultimate guide to divorce law". You can create detailed blogs, eBooks, and even webinars.
MOFU (middle of the funnel)
For visitors in the MOFU stage, you need to nurture your leads and convince them to consider your services. So, content pieces such as comparison guides wherein you explain why your law firm is best or your case studies and customer testimonials can help.
BOFU (bottom of the funnel)
At this stage, you want your audience to take action. So, you can create discount offers or offer free consultations to convince them to take action.
7. Social Media
Social media is also an impactful channel for law firm SEO. However, you may not see results as quickly as you would in the case of optimizing your website and content, as Google doesn't directly consider social media as a ranking factor.
Nevertheless, you can still improve your brand recognition and attract organic traffic to your website by promoting your content and services on social media. Popular platforms include Facebook, LinkedIn, X, Instagram, YouTube, and TikTok.
Pro Tip: Make sure you're careful while creating social media campaigns, as the bar association can also see them. So, always respect the ethical standards and the privacy of your clients when sharing content.
Final Thoughts
While SEO may not be the first thing that pops into your mind as a law firm owner or lawyer, it has the potential to drive growth for your business. Law firm search engine optimization has multiple benefits, from improving your search ranking and brand recognition to building trust & credibility among your potential customers and driving more organic traffic and conversions.
So, what are you waiting for? Follow all the pointers mentioned in the above guide and take your search engine optimization for the lawyers game to the next level. However, if you want amazing results but don't have in-house SEO experts, you can hire a reliable white-label SEO company specializing for your law firms such as Link Publishers.
Link Publishers has dedicated SEO experts with years of experience in working with companies in multiple domains, including law firms. Moreover, they're affordable and have proven SEO tactics under their belt. This way, you can ensure quality results while aggressively working on your core tasks.
FAQs
How can I improve my SEO law firm website?
Improving SEO for your law firm website is easy. You need to focus on these factors, and you can see a gradual improvement in your SEO performance:
Advanced Keyword Research
On-Page Optimization
Technical-SEO Optimization
Local SEO
Link Building
Content Marketing
Social Media
However, you can refer to the above blog for an in-depth understanding of these concepts.
Why is SEO important for lawyers?
Here's why SEO for lawyers is important:
Improves online presence.
Drives organic traffic.
Ensures long-term returns.
Builds trust and credibility.
In a nutshell, SEO helps lawyers capture customers from both online and offline channels and boost their revenue substantially.
What are the most common SEO mistakes lawyers should avoid?
Here are some common SEO mistakes lawyers or law firms need to avoid:
Ignoring the power of local SEO for lawyers.
Guessing keywords instead of researching.
Stuffing keywords.
Using black hat tactics for link-building
Not tracking the KPIs
Expecting quick results.
These mistakes can be a serious roadblock to lawyer SEO. So, make sure you avoid them when implementing SEO for your business. Or you can hire a dedicated SEO expert in USA like Link Publishers to help you ethically improve your search ranking and boost revenue for your law business.