Content marketing is an impactful marketing tactic used by countless industries. And the manufacturing industry is no exception.
Don't believe us?
Here's a stat to prove the fact,
85% of marketers in the manufacturing domain are using content marketing. And out of the remaining 15%, more than half say they plan to launch a content marketing strategy within 12 months.
If you're a manufacturer and haven't yet started using content marketing, this blog can help. Below, we discuss what content marketing for manufacturers is and why it is so important. You'll also find a list of elements your content marketing strategy must-have for the best results. So, read in full.
What is Content Marketing for Manufacturers?
Content marketing is an effective marketing strategy that aims at attracting, engaging, and educating the audience about a brand or its products via content creation and distribution. And all this happens without sounding sales or promotional, mostly.
Take a company "X" for example. This company manufactures cushions for cars. However, no one knows this company right now. They start creating and sharing blogs, articles, social media content, case studies, videos, tutorials, etc., that are truly valuable for their ideal customers.
After a few months, people know exactly what the brand "X" does and trust them enough to buy from them.
This is what content marketing is all about. And when manufacturers leverage content marketing in their favor, it's known as content marketing for manufacturers.
But why is it so important?
Let's find that below!
Why is Content Marketing for Manufacturers Important?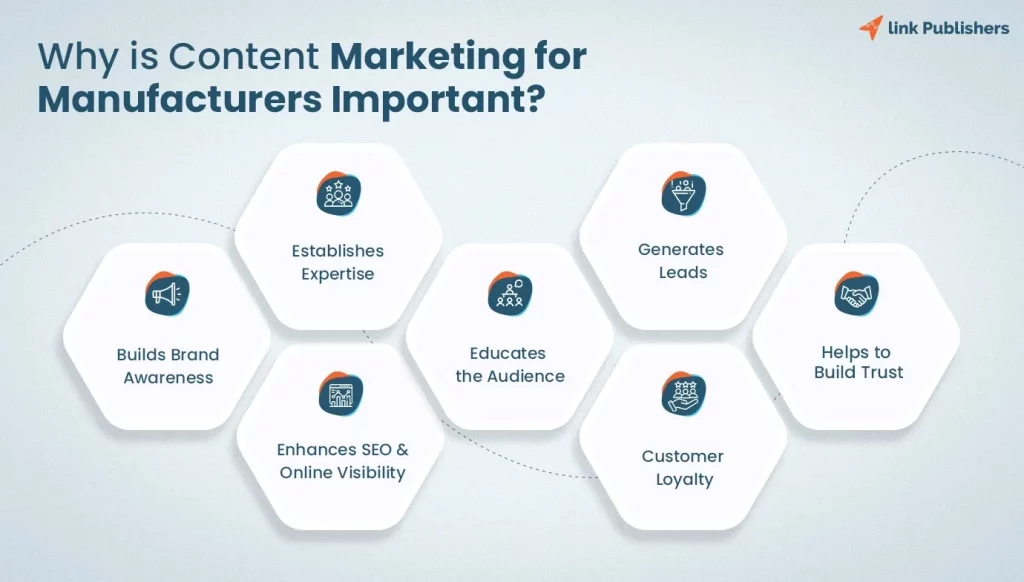 Here's why content marketing is important for manufacturers:
Helps Build Trust
If customers don't trust you, they won't buy from you. Even stats say so. Edelman, an American PR company, states 67% of consumers need to trust a brand before they from them. And content marketing helps you with this.
When you create content around your brand, products, and services, your customers trust you more. And this enables you to make more sales.
Establishes Expertise
The manufacturing industry has complex processes and products. So, customers are always looking for more knowledge, which comes from content.
So, companies should create content that explains what a product/service does in an easy-to-understand manner. This will help establish brand authority and expertise in the market, further boosting sales.
Boosts SEO
Online presence is essential for any business regardless of their domain. According to statistics, 81% of retail shoppers conduct online research before purchasing. And if your business isn't present online, how will customers know your brand is an option, right?
Content marketing helps you produce and distribute content essential for your online presence. It also improves your SEO, boosting your search rankings, visibility, and thus sales.
Customer Loyalty
Not only content marketing helps you reach new customers, but it also helps you retain existing ones. After all, if your existing customers see your content everywhere, they'll be more likely to stay with you and purchase more.
Provides Competitive Advantage
Content marketing is the last thing several manufacturing companies focus on. If a company plans to leverage content marketing, it can have a huge competitive advantage and can capture a wider audience. And this can help them boost their bottom line and expand their business.
What Does a Strong Manufacturing Content Marketing Strategy Looks Like?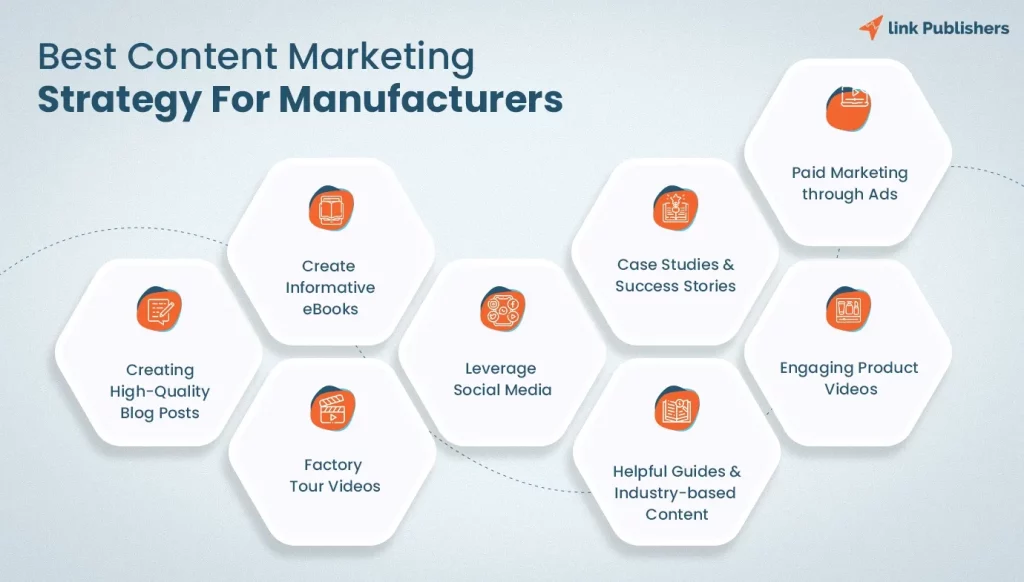 While content marketing brings numerous advantages for manufacturing companies, you must have a practical strategy. And it should have the following aspects:
Creating High-Quality Blog Posts
Blog posts are a common form of content marketing. They're easy to create and can serve multiple purposes.
For instance, you can introduce your brand or product via a blog post. Or you can explain the application of your product through a blog post. This way, you can promote your brand/product without sounding promotional.
Pro Tip: The type of content you choose should be based on the step of the customer journey your visitors. If your potential customers are at the top of the funnel, introductory blogs will go well. Also, make sure the blogs are high quality. Otherwise, you might ruin your brand reputation.
Create Informative eBooks
The manufacturing industry is quite complex, as stated earlier. For potential customers willing to learn, you can create detailed eBooks. They can be about anything from how your product is manufactured or assembled end-to-end to its applications. The purpose is to deliver value.
In addition to offering value, you can use eBooks as a lead magnet. You can ask for an email for free access to your eBook and then run email marketing campaigns. This way, you can educate and target your potential customers more effectively.
Factory Tour Videos: A Captivating Journey Behind the Scenes
Videos are one of the best marketing ideas for manufacturing companies. Manufacturers can also leverage videos by offering high-quality factory tours. You can also showcase how your products are manufactured, the processes you follow, and other things that make you unique.
Videos are more interactive, entertaining, and captivating to the users. So, creating videos can help you engage your audience for longer, which is good for your business.
Pro Tip: Any factory tour video you create should be on your website's landing page. This will help you leave a good first impression on your customers.
Leverage Social Media
Several manufacturing businesses ignore social media when it comes to marketing. But you shouldn't commit this mistake. Because with billions of combined users, social media can give your brand major exposure. So, incorporate social media in your content marketing strategy.
You can create short videos for YouTube and reels for Instagram, among other things. However, identify your audience and push relevant content based on the platforms.
For instance, an audience on LinkedIn may not want to see what they'd expect in their Instagram feed, right?
Case Studies and Success Stories
Case studies and success stories are for the audience that knows about your product. The purpose of case studies is to help customers understand your product even further.
Let's say you are a backpack manufacturer. You can showcase a customer success story wherein they managed to carry an immense wait without damaging anything. This is a great way to demonstrate your product's true ability and build trust.
Comparison of Helpful Guides and Industry-based Content
When customers are doing their initial research, they likely have multiple options to choose from. It's during this time you need to convince them that your product is better. And the best way to do this is by creating helpful comparison guides.
In comparison guides, you can explicitly show why your product is better than the competitors. You can create a list of pros and cons and flip the coin in your favor.
In addition, you can create industry-based content. Let's suppose you're a computer manufacturer and target government agencies. Now government agencies are particular about security and pricing. So, you can create landing pages that prove you use quality parts that are secure and affordable at the same time.
Engaging Product Videos
For an industry as complex as manufacturing, creating product videos can help customers understand your product better. You can create high-quality videos to show specific use cases and target specific audiences. Also, you can create tutorials on how your product works, dos and don'ts etc.
Pro Tip: Hire a videographer to record and edit product videos. If the videos are not high-quality, potential customers may not watch them. And this defeats the whole purpose.
Optimize for Search Engine
When you're creating and distributing content, keep SEO in mind. Otherwise, there'll be poor visibility, and not enough people will engage with your content. So, here's what you can do:
Research your competitors.
Find relevant keywords they're using in their content pieces.
Craft high-quality content that Includes those keywords.
Create search-friendly URLs.
Optimize meta titles and descriptions.
When you optimize your content for search engines, search engines push your content upwards. And this improves visibility which further leads to more traffic.
Paid Marketing through Ads
Organic content marketing can be tiring. And if you have never done it before, it can take a lot of time. So, in addition to your organic efforts, include paid ads in your marketing strategy. This will help you exponentially grow your reach and put your content in front of more people.
You can opt for
Pay-per-click ads
Social media ads
Influencer marketing
And more…
That's what a successful content marketing strategy looks like.
But how do you get started?
Let's find out.
Who can help you with Content Marketing?
Well, there are two options:
The first option is to train your resources or hire in-house employees.
The second option is outsourcing content marketing to an industry expert.
Several companies choose the first option, which is quite effort intensive and expensive. Also, results in this case will take a lot of time and won't be effective.
The second option is more affordable, fast, and can bring you amazing results. Here's why:
Content marketing companies are quite versatile. A single company can help you with the following:
Blogs
Articles
Press Releases
Case Studies
Emails
Guest Posts
White Papers
And more.
This way, you need not hire or train multiple in-house employees to get the work done.
Marketing companies do content marketing for a living. They know the dos and don'ts and the strategies that actually work. So, instead of using a hit-and-trial method, they deploy practical strategies. And this helps achieve better results quickly.
Often, content marketing firms have expertise and tools you may not know about. By hiring such organizations, you can access their expertise and tools and achieve a competitive advantage.
The content marketers are already trained and know their craft. You need not pay for their training or salaries. Just pay for the work done, which makes it more affordable.
Content marketing companies like Link Publishers have quality content creators in place. These creators produce high-quality content that matches your brand's tonality and voice. And this help portrays your brand as a thought leader in the industry, boosting your reputation.
Final Thoughts!
It's not essentially bad if content marketing doesn't come to your mind the first thing. However, knowing about its benefits for the manufacturing industry and ignoring them is. So, create your content marketing strategy considering the essential elements we listed above.
Wait, do you have too much on your plate already? Is creating, implementing, and monitoring a content marketing strategy overwhelming? Well, if that's the case, you can contact a content marketing company such as Link Publishers.
Link Publishers is a full-service content marketing company that can help you create, launch and monitor a content marketing strategy. They cater to all content formats (case studies, white papers, blogs, articles, web copies, etc.) and have quality writers for content creation. And the best part, they can customize the strategy specifically for your business and thus bring you better results.
So, sign up with Link Publishers now and take your manufacturing company to new heights.
FAQs
Why should manufacturers invest in manufacturing content marketing?
Be it manufacturing businesses or any business in general, content marketing brings numerous benefits such as:
Building Brand Authority
Increasing Trust and Customer Loyalty
Competitive Advantage
Better Online Presence and SEO
More Revenue
What are the essential elements of a content marketing strategy for manufacturers?
Elements of a content marketing strategy vary with domains and business requirements. However, a typical content marketing strategy should have these four elements:
Well-defined goals.
High-quality content.
Targeting marketing.
Dedicated teams for content creation, distribution, and monitoring.
What role does social media play in content marketing for manufacturers?
Social media offers a lucrative avenue for marketing to manufacturers. No wonder 85% of manufacturers use social media as a part of their content marketing plan/strategy. Popular platforms you can leverage include:
YouTube
Instagram
LinkedIn
Facebook.
Make sure to understand the audience before posting, as the needs change when you switch platforms. Also, it requires a lot of patience before you see the results. So, be consistent with your efforts.
It Might Be You Like It: Content Marketing Vs Digital Marketing