Are you a qualified electrician but find it hard to get clients and generate leads? Electrician SEO might be the answer to all your problems. Find out how you can elevate your website and increase website traffic by making a few website changes and implementing a few tips and tricks.
What Is SEO Important For Electricians? Much like any other industry in the world, the internet has become one of the best places to market yourself. Recent estimates suggest that 90% of all people searching for an electrician would not go past the first page of Google, which means that ranking high is important for business opportunities and generating leads.
Whether you are a local electrician or prefer dealing with clients from out of state, your ranking on Google will matter. My experience in dealing with SEO has shown that people who put in the effort to rank high on the Google SERP tend to be far more successful. So, if you are an electrician and you want to generate more leads and clientele, this article is perfect for you.
What Is Electrician SEO?
SEO or Search Engine Optimization is a way in which companies leverage specific keywords to increase their ranking on the Google SERP. As an electrician, it would help you climb the rankings in Google, placing you above your competitors and boosting traffic to your website.
I have already mentioned that most people choose a company or product on the first page of Google. With local SEO for electricians, you can outrank your local competitors when someone searches for basic terms like "electrician near me". Generating more leads would lead to a bigger client base and more business growth.
Importance Of SEO For Electricians
Electrician SEO is no different from SEO for other businesses and heavily relies on SEO best practices. The main goal of implementing adequate SEO for your electrical business is that you would want to improve your ranking in the Google SERP.
I have noticed that targeting keywords locally makes it a bit easier than competing with national corporations. You will have to focus on specific keywords directly aimed at helping your business grow through the local market. If you want to improve leads and clientele, you should focus on improving the SEO for your electrician company.
If I share my process of selecting an electrician, it might help you:
Let's say there is an electrical fault or malfunction somewhere in my home. The first thing I am thinking of is whether or not I am competent enough to fix the problem. However, most of the time, it is better to have a qualified electrician assist me with the problem.
Upon entering Google, I would first search for the specific problem I am encountering, and this enables me to see if I can fix the problem myself. However, an electrician is often recommended to ensure that I don't make the problem worse.
I would search for an electrician by entering my location and the word electrician, from which Google would spew out a few local electricians and companies. I never go to the second page, which means that I would choose one of the first companies that pop up. For this reason, SEO is important to make sure that you rank high and that people get to see your name.
How To Optimize Your Website For Electrician SEO?
As an electrician, the last thing you are thinking about is the SEO aspect of your website. You want to generate as many leads as possible, convert them into clients, and simply do what you are good at. However, those with no interest in SEO or no knowledge of how it works should consider the following to get them started:
Local SEO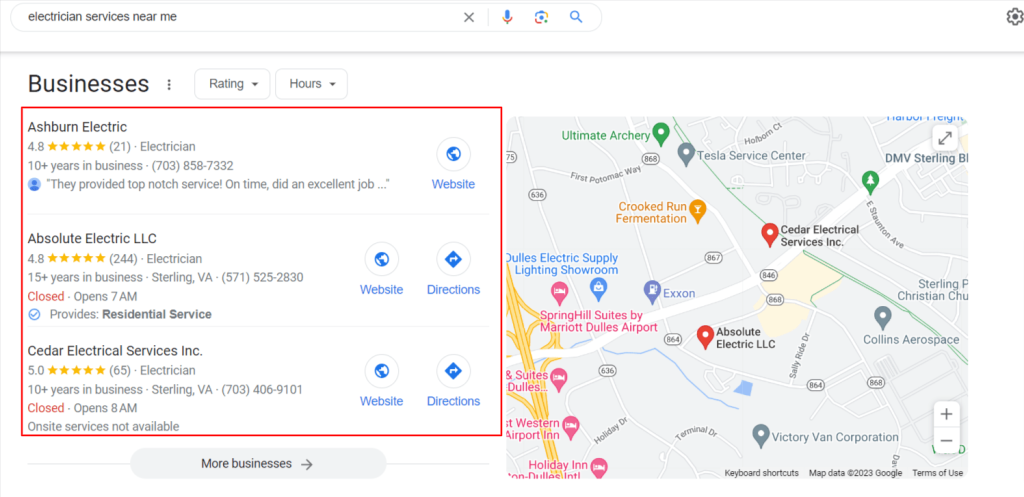 If you are looking for an electrician, you probably have a problem that is causing some distress. Most people want the problem solved as soon as possible, which means asking for an electrician that is 200 miles away does not make sense.
One of the most important things you can do is to target keywords of areas in a 50-mile radius or local SEO for electricians. This means that once you get a call out, you can act rapidly, and you should be able to arrive at the location quickly. I would suggest targeting the city you are living in, for example, "Boston Electrician".
Keyword research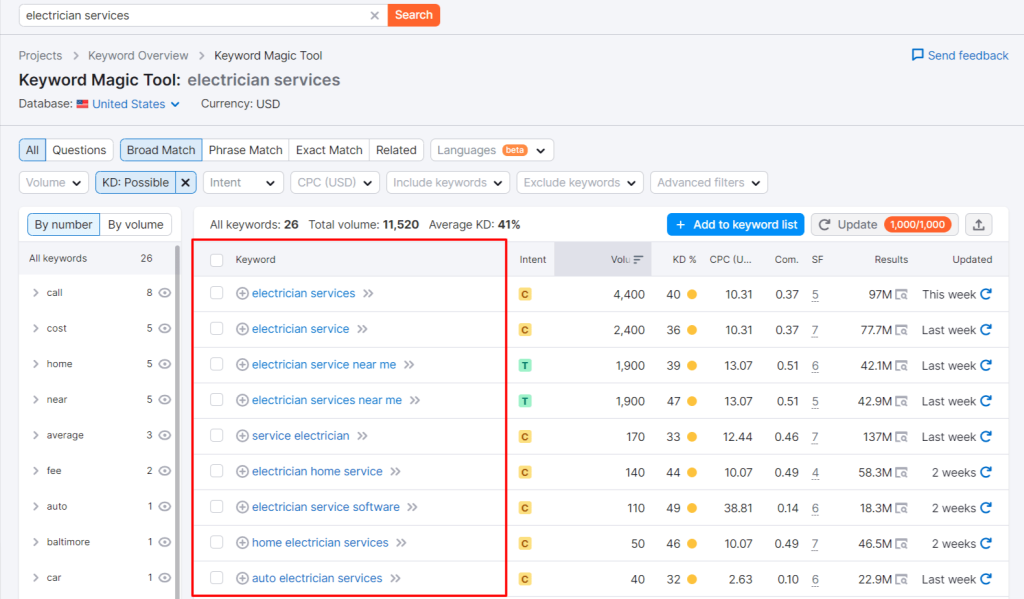 The great thing about catering locally is that you don't need specific tools to help you find keywords. You will get a general idea of which keywords pop up frequently by simply entering a few words.
However, doing keyword research would help you find those keywords no one else is targeting. Search terms like "Electrician Callout Fee" are unique keywords that are searched for often and could help get you leads. You can also scout the websites of your competitors and find out which words they often use to boost their rankings.
Most Popular Electrician SEO Keywords
[table id=21 /]
On-Page SEO
On-Page SEO is one of the easier parts of the SEO process, and you are the one with complete control over this. As the name implies, it refers to making sure the content on the page meets SEO standards. This can be things like keywords you are using, the URL, internal links, title tags, and more.
However, having optimized content is probably one of the most important parts and means that people would be directed to certain pages you want them to land on.
Off-Page SEO/ Link Building
Off-Page SEO is the trickier of the two, and this is often where you would need an SEO specialist like Link Publishers to help you understand the process. Off-page SEO refers to improving the SEO of your page without making physical changes to the specific page.
The process can involve things like reviews posted on Yelp, social media interactions and paid advertisements, social media interactions, and even using podcasts to market your company. You can easily use podcasts to share your skills and direct people back to your website through a guest link.
Speaking of guests, guest posts are a phenomenal way of improving your SEO. The process involves targeting websites with an established reputation. You will create an optimized post and ask the person if you can post it to your website. The process would allow you to link back to your website, and this is what we refer to as link building.
If you are unsure where to start, Link Publishers offer a solid guest posting platform, getting your skills and expertise in front of millions of people. This will not only accelerate link building but improve SERP rankings.
Read Also : Backlinks Vs Referring Domains
Technical SEO
Technical SEO is where you might need an SEO expert to assist you with the process. Technical SEO involves things like the speed of your website and how the data is structured. To put it bluntly, I don't like navigating a website for 20 minutes before finding what I am looking for. Canonicalization would be your best friend in converting the scattered and unstructured data into a standardized format.
I also suggest to many clients that they improve the XML sitemap of the website, which makes it much easier to get to where you want to go. However, mobile optimization could truly make or break your website. More than 80% of people use their mobile devices when searching the internet. This means that your website should be fully optimized for mobile use.
Content Marketing
While not all niches can choose to use content marketing, an electrician SEO company has no excuse not to use it. Being an electrician means being physically competent and fixing and doing things related to electricity. Content marketing is one of the best methods to use to improve SEO for electricians.
If you have social media, which we suggest you tap into, you can start creating videos. Many companies have grown into major success from people posting videos on YouTube to help people. Additionally, you can post many tips and tricks related to electrical jobs and fixes.
Not only will this improve electrician local SEO, but the content can contain keywords that target electrical SEO. Someone sitting in Europe might be able to see your tips and tricks and get to know your company. People would also reshare these tips and tricks.
If you manage to go viral on any media platform, you will see an increase in traffic and clientele. For this reason, SEO services for electricians should always include a way of trying to make them go viral. You could even go as far as marketing electrician SEO services and helping other companies grow. This combines your skills as an electrician and marketer to generate a second income stream.
Top Electrician SEO Ranking Factors
If you have chosen to go the route of SEO for your electrician company, you need to know what factors influence this. Here are a few of the most important factors that would help you improve your SEO ranking on Google SERP:
Valuable And Optimized Content
One of the most important aspects of ranking well has to do with the kinds of content that you are producing. Since there is already plenty of content on Google, you will need to find something unique and share your insights. Aside from using the right keywords, your content needs to add value to the internet.
Mobile Optimization
I have already mentioned that most people use their mobile devices when searching for something on the internet. If your website is not functional enough to work on mobile devices, you will miss out on plenty of people searching for electricians.
Technical SEO
Technical SEO would help solve all the technical problems of your website. These issues can quickly drive away possible clients. Some of the important aspects of technical SEO that need to be solved include the following:
Website speed
Site mapping
Mobile-friendliness
Content structuring
Website Pages Indexing
One of the best ways to increase your website rank is to show people that others trust your website. Gaining backlinks is a way of showing that other people trust your website enough to associate with it. This links back to providing quality content and getting that nod of approval from other sites.
User Experience
Finally, users need to have a good experience when using your website. This means that intrusive interstitials can be frustrating. These page overlays, which are often related to marketing, are heavily found on bad websites. They can be constant advertisements and opt-in pages. You should try to minimize this to reduce causing user frustration.
Mistakes Of SEO For Electricians
Whilst you can do everything I suggested, you could still face a few challenges. Knowing which challenges could be causing your website harm is important. Here are a few of the top mistakes you should avoid:
Broken Links: You might have a few good links in 2023, but it is important to audit them as they could break down over time. It is important to do a regular audit of the website and make sure all the links are functional.
Lack Of Interlinking: It is important to link pages to one another if it is relevant. One of the biggest mistakes is that people often forget to interlink to different pages. Once again, an audit would help rectify this issue.
Keyword Salience: Much like any specialized field, there are a few specific important terms. You must understand these terms in the electrical niche. This could make it much easier for people to find you.
Lack Of Expertise: Google always gives experts some form of advantage, and you should focus on leveraging your years of studying. Not showing off your expertise could make you look like a beginner.
Electricians might not be heavily inclined to do SEO, but these are some of the most common mistakes I often see. A good audit can often rectify them. However, you will need to make sure that you have a basic understanding of SEO to succeed.
How Do Electrician SEO Services Help?
As I have just mentioned, you are probably an electrician and you want to do the things you are good at. Dealing with SEO might not be one of your best skills. However, electrician SEO services can significantly improve the website without you having to study the concepts of SEO.
If you are willing to spend a few bucks, you can consult with an SEO company, which will help you. The company would often do an audit and make a few suggestions. Yes, it might seem expensive, but you will certainly see the payoff.
Conclusion
Few things beat good SEO when it comes to ranking on Google. SEO for electricians would help you outsmart your competition. You would be generating far more leads and traffic for your website. The traffic and leads you generate are among the most important parts of making money.
I would love to see what you think of Electrical SEO and if you have given it a shot. Make sure that you let us know in the comment section if you see electrical SEO as a way of improving your ranking.
Frequently Asked Questions
Hopefully, you now have a better understanding of electrician SEO services. However, there are still a few questions I found from some of the curious electricians:
How Does Electrician SEO Work?
SEO services for electricians work by increasing the keywords and other important SEO factors of your website. The aim is to have someone searching for a specific keyword land on your page. This gives you a slight competitive advantage.
Can Electrician SEO Help Increase Website Traffic And Lead Generation?
Yes, if you can outrank some of your competitors, you will see a noticeable increase in traffic. More people would land on your website and opt-in as well. This would significantly improve the lead generation aspect.
How Important Are Online Reviews For Electrician SEO?
Any industry that provides a service is heavily reliant on reviews from previous customers. You can build up trust in the community with good reviews and help Google see your worth. It is always important to deliver a quality service that satisfies the client to improve SEO through online reviews.