Do you often look for potential guest blogging opportunities?
Well, you are not alone! There are many such writers and marketers out there who frequently have questions like how to submit blogs, how to find blogs, how to search blogs, what are the good blog submission sites, what are the Benefits of Guest Blogging, etc. perplexing their minds. So, probably there are a lot of questions about this topic that exist around us.
There might be many blogs that accept guest posts but unfortunately, all are not worthy enough. You need to look for the best blog submission sites to find the right place for your blog. All that you need to do is just stick to their guest post guidelines and that's it!
An effective Guest Post Marketplace like Link Publishers can be of immense help in such a scenario. With 15+ years of extensive experience in identifying and accomplishing excellent guest blogging opportunities, we have proven to be a one-stop solution for how to submit blogs on high-authority websites.
In this blog, we will discuss how to guest post successfully so you can make the most out of it. But before that, let us find the answer to what is guest blogging?
Explore…..
Guest blogging, also known as guest posting, is the process of writing a blog or article for the website of another company. If you want to submit a blog for guest posting then you need to contact a blogger within your niche first. Typically, for those who want to do guest blogging, their main objectives are attracting traffic to their website, improvising the domain authority by gaining external links to high-authority domains, increasing the brand credibility and awareness, and building good relationships with their contemporaries in the industry. So, the benefits of guest blogging are amazing! Aren't they?
How To Find Guest Posting/Blogging Opportunities ?
Now, let's dive in to know how can you find amazing guest posting opportunities for you?
According to SEMRush, 76% of editors aim to post 1-10 guest posts in a week.
So, if you are not doing it already, you are missing out on something important. Get started!
Google Out Your Search Terms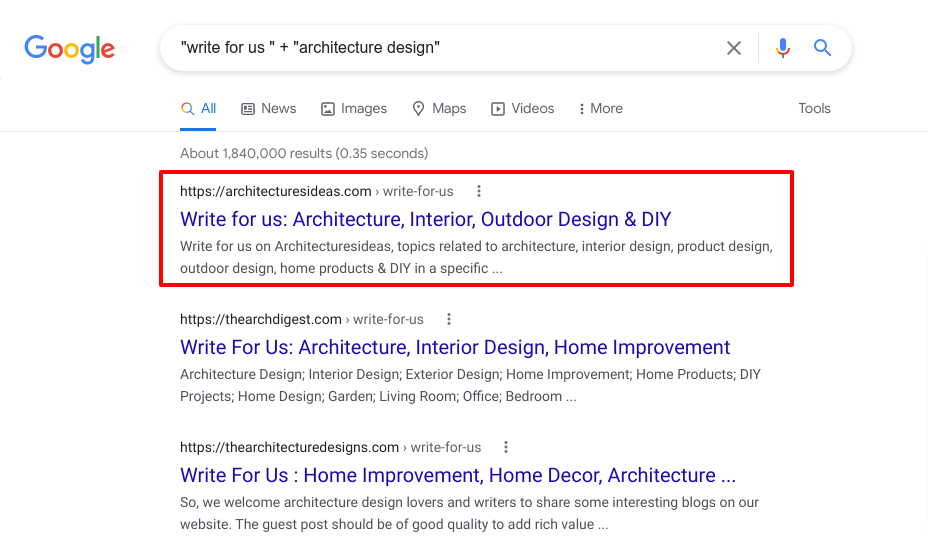 One of the primary ways you can easily find the best guest blogging website is by just trying to find your search terms in Google. Mostly, people find blogs that accept guest posts with different common search terms for submitting a blog. All that you need to do is use the right keyword as per your niche. For instance, if you are looking for promotional blogs, the combinations of keywords that relate to marketing will be beneficial for you. You can use 'digital marketing', 'online marketing', 'content marketing', and so on as your search terms while exploring in Google.
But wait!
How To Find Guest Bloggers ?
To make your search effective, you need to search for the above keywords in combination with the search terms like + "Write For Us", "+contribute guest post", "become a guest blogger", "+contributor guidelines", etc.
"write for us"

"guest post"

"submit post"

"guest post by"

"bloggers wanted"

"writers wanted"

"submit guest post"

"submit a guest post"

"submit blog post"

"become a guest blogger"

"guest post guidelines"

"submit an article"

"become an author"

"become a contributor"

"guest bloggers wanted"

"contribute to our site"

"become a guest writer"

"submission guidelines"

"The following guest post"
Here, an expert tip would be checking out multiple pages of your search result and not just the first couple of pages. There is a huge possibility that you can find great guest posting opportunities even on the 10th or 12th page! So, be patient and consistent with your search.
Do a Reverse Search for Guest Blogging Websites
One of the yet other effective ways to look for good blog submission sites is to see which websites they had chosen in past for finding the probable Guest Post Opportunities. So, you can easily make a note of them and approach such websites to submit a blog.
While you are in this process of following the well-known blogs in your niche, you might notice that certain names will appear in front of you again and again. So, these are the names of some of your competitors who guest blog on popular websites relevant to your business. You need to understand if this is a strategy they have been using frequently.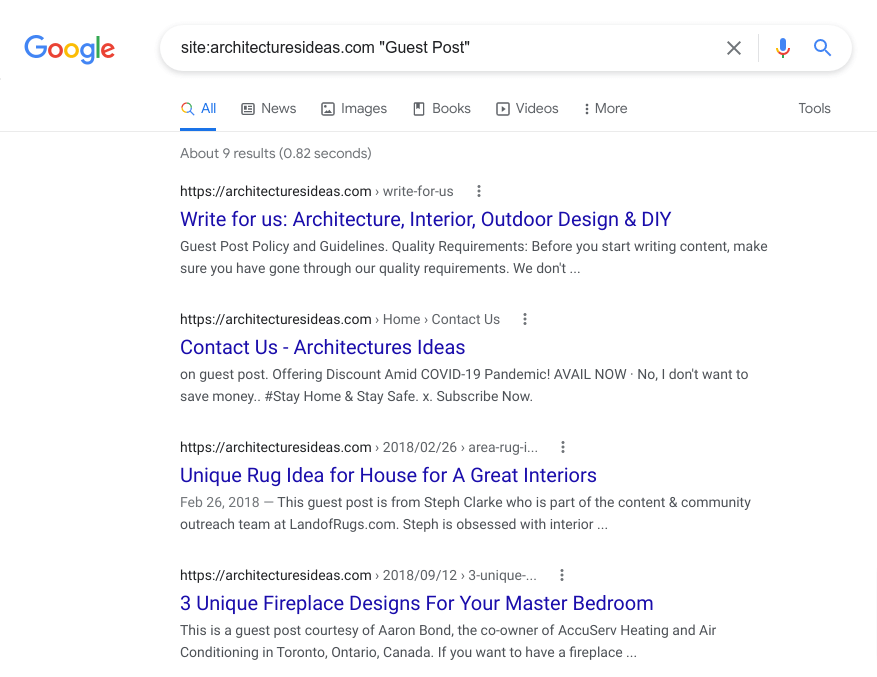 You can use the search queries like site: domain.com "guest post" and site: domain.com "a guest contribution by" for doing this research. Thus, you will get a list of names. Now, what you can do is use a backlink tool to see what other backlinks these websites have. Probably, all of them will not be guest posts, but if you find quite a few guest blogs submitted in the blog submission sites, you will surely get some more.
Once you have found their website with which they have linked their guest post, you can use a backlink checker like Monitor Backlinks to simply explore their list of backlinks to find the ones that they have guest blogged.
Read Also : Backlinks Vs Referring Domains
Make a List of Blog Submission Sites
To find the best guest blogging opportunities, it is important to explore a comprehensive list of such high-authority websites from all niches or your niche (if you write niche-specific content). You can categorize them based on topics and their domain authority. It will help you find the best opportunities effortlessly.
A quick google search of 'list of blog submission sites, 'blogs that accept guest posts, or 'list of – your list of keywords- blogs that publish guest posts' can help you get access to several high-ranking Guest Posting Websites.
However, it is still important to research and check with them whether they are welcoming guest posts at the moment. Also, make sure you are checking the websites' DA to make sure that your guest posts are getting great views and the highest rankings.
Use the Right Tools to Explore the Best Guest Posting Opportunities
Last but not the least, leveraging various effective tools while doing your research for finding the best guest blogging opportunities is one of the yet other important ways you should opt for. There are a variety of content research tools, social listening tools, and audience overlap tools out there.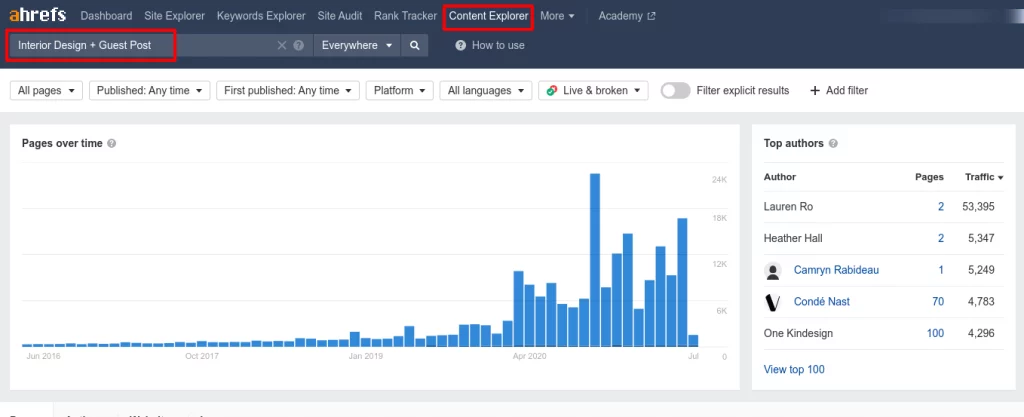 When it comes to content research tools, one of the biggest names that appear in our minds is Ahrefs. To do your research, you can simply look up by typing in your topic keywords + guest post or guest post by. While doing so, you will be able to find relevant blogs to your niche that are readily accepting guest posts. You need to keep in mind that some of the Blog Submission Sites might not even have a 'write for us' page but you can find a guest post published on their blog. In this kind of scenario, you need to ask them just in case they are accepting guest posts now.
Coming to social listening tools, there are many such names available that help you explore the entire web that includes blogs, forums, social media, forums, etc. Also, you can find some other social listening tools that only monitor social media. Whatever option you opt for, both can yield amazing results.
Wondering how to use such social listening tools?
It's easy! Just like how you look for something on Google. Although, it is true that each social listening tool has its way of doing things and does monitor searches. For instance, we know about Boolean search. Right? It allows you to explore much more than a simple keyword search as you can add different modifiers to your search with this.
Another effective way for searching for good guest blogging opportunities can be with the help of a tool that can let you find websites that share an audience. For instance, if you consider Alexa (we are talking about the marketing software, not the virtual assistant), you will find that two different tools can help you with this. Like this, there are two other popular names like Find Similar Sites and Audience Overlap which can help you find similar websites like yours and share the same audience.
Although the above tools were not developed to find guest posting opportunities, fortunately, they are very useful for your search. So, if you have not been using any of these tools yet for figuring out the best guest blogging opportunity for yourself, you are not on the right track!
Link Publishers: Your One-Stop Solution for Amazing Guest Blogging Opportunities
Do you want to make guest blogging effortless for yourself?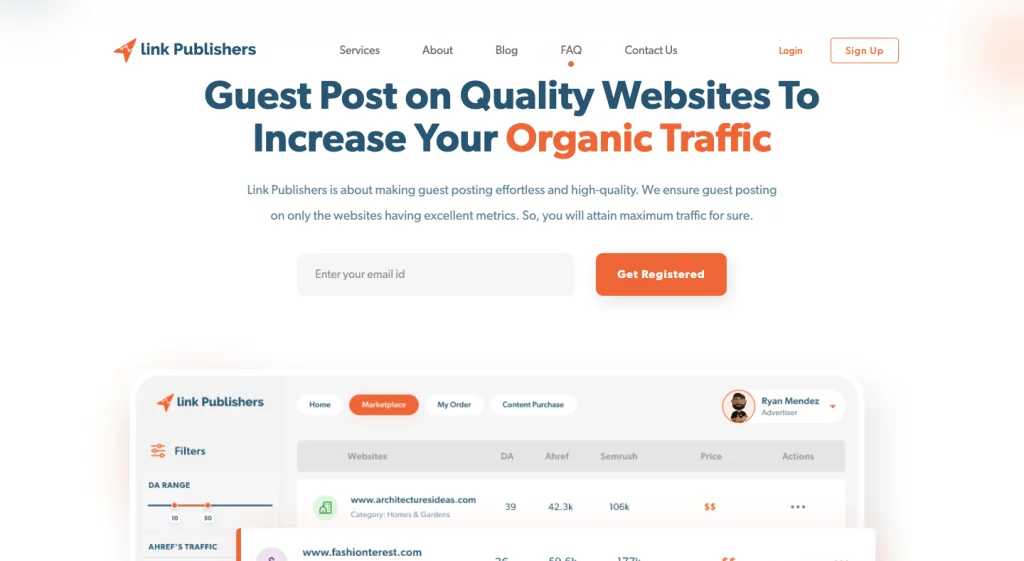 Link Publishers has more than 20,000 high domain authority websites listed up for them which belong to 50+ industry niches! So, you can be sure about enjoying some incredible Guest Posting Services with them.
Contact Link Publishers now! I can vouch for this high-end guest post marketplace because I had a remarkable personal experience of leveraging their extraordinary guest post services. I placed orders for guest posting with them and I must say, it was an incredibly effortless experience.
The comprehensive list of high authority guest posting websites that they have really made my work easy. They have covered almost all niches. I just signed up and submitted my content on the Link Publisher's website according to my niche and my article reached exactly the right place (one of the premium guest posting websites that I was wishing to publish on for a really long time!).
And within just a short tenure of time, I got the published live link of my post. So, no outreach emails, no waiting for a long time, and no more strenuous episodes of finding the right guest posting website for your content. With Link Publishers, guest posting is super easy. It's just about placing your order and getting your post published!
Either you can buy guest posts from Link Publishers like how I discussed above or you can even hire a content writer from them as they have full-fledged Content Writing Services as well. With a team of professional and efficient writers, Link Publishers serve their customers with creative and well-researched copies.
In a Nutshell
Finding the right guest blogging opportunities that exactly meet your needs is easy. All that you need to take care of is that you are being organized, hiring a professional agency to work smoothly for you, googling out the search terms perfectly, doing a reverse search of the blog submission sites successfully, leveraging the best tools, and keeping a list of potential guest blogging websites handy.
What are you waiting for?
Get started and fetch the best guest blogging opportunities now!
FAQs For How To Find Guest Blogging Opportunities ?
What is guest posting opportunities?
Guest post opportunities refer to the chance for individuals or businesses to create and publish content on someone else's website or blog. This can help the guest blogger gain exposure and increase their own website's traffic, while also providing valuable content to the host website.
How do I find guest blogging opportunities?
There are multiple approaches to discovering guest blogging opportunities:
Search for websites or blogs in your niche and look for guest blogging guidelines or submission pages.
Use Google search operators such as "write for us" or "guest post" along with your niche keywords to find potential opportunities.
Network with other bloggers and website owners in your niche and inquire about guest posting opportunities.
Join online communities or forums related to your niche and look for opportunities to guest blog.
Can we earn from guest posting?
While guest posting may not directly earn you money, it can have indirect benefits such as:
Driving traffic to your own website or blog
Increasing your brand exposure and credibility
Establishing connections with fellow bloggers and website owners who operate within the same niche as you.
Potentially leading to paid writing or consulting opportunities
Can you get paid for guest post?
It's not common for guest bloggers to get paid for their content. However, some websites may offer compensation for high-quality content or allow you to include a link to your own product or service in the post. It's important to always follow the guest blogging guidelines and ask about compensation before submitting any content.