Have you heard of the term niche edit but aren't sure what it means, how it works, and why it is important? If your answer is a yes, you've come to the right place. Niche editing is a link-building tactic wherein you can acquire backlinks for your website and boost your authority, visibility, organic traffic, and search ranking.
Below, we'll discuss niche edits in detail: what they are with an example, how they work, how you can leverage niche edits for SEO, and more. So, read in full.
What Are Niche Edits?
Niche edits are a popular link-building strategy wherein the SEO expert adds a link to existing content on a web page instead of publishing fresh content.
Let's say you sell payroll software. And you know, a website that regularly publishes content about payroll software solutions. If you manage to get a link back to your website from one of their existing content pieces, you can call it a niche edit backlink.
But why do SEO experts opt for niche edits? Because the published pages have been indexed and crawled, they tend to have higher authority on Google. When you get a backlink from such pages, the page authority or link juice transfers to your website, making your backlink profiler stronger. And this further boosts your search ranking, visibility, and organic traffic.
How do Niche Edits work?
Niche edits work in a pretty simple manner. You need to find websites that post content relevant to your product/service. Once you have a list ready, you can approach the website owners (multiple follow-ups may be required) and request them to add a link to your website. And after they agree, you can have your backlink.
But why would a site owner allow you to place a link on their website, especially when they know how valuable a link is? Well, there can be several reasons for this:
Fresh Content for Free
While you need not create new content for niche edits, you still have to add some value to the already published content.
Let's say you sell an accounting SaaS tool. Now, you can approach publishers who've created blogs on the top 10 or top 5 accounting SaaS tools in the market. You can ask them to include your product (with some new content) in the list. This will offer fresh content to the publisher (that Google likes) without making any effort, making it easy for you to get a backlink.
Paid Tactics
Some individuals own multiple websites in multiple niches. As they know the value of a backlink, they offer backlinks in exchange for a hefty fee.
Now, you might be thinking, is niche editing a black hat practice or a white hat practice? Well, the answer is both. Let's dive deeper and learn more.
Types of Niche Edits
Here are the two types of niche edits services:
Black Hat Niche Edits
While niche edits are a link-building tactic, securing niche edits is quite complex. After all, there's very little value for the website owner to update a page on their site. Because of this, SEOs offer site owners money in exchange for a backlink. As making payment for acquiring links is against Google's guidelines, this makes niche edits a black hat SEO practice.
There's another way niche edit SEO falls into the black hat category, i.e., through the use of PBNs (private blog networks) Website owners often create multiple websites just to offer backlinks in exchange for payment. While using PBNs to generate backlinks is more affordable and quicker, it can land you in a lot of trouble.
So, it's recommended to avoid black hat niche edit tactics and opt for white hat techniques. Let's learn about white hat niche edit tactics you can deploy.
White Hat Niche Edits
White hat niche edits are way more time-consuming and have a substantially lower success rate as compared to black hat tactics.
You'll have to identify relevant websites in your niche to target and then approach them with your request. The majority will not respond, and those who do will require multiple rounds of communication before they agree to your request. But why would they agree? Here's why:
Broken Link Building
The links that lead users to a page that throws a 404 error or no longer exists is known as broken link. Now, no website owner would want their users to land on a page that doesn't exist. Taking advantage of this, you can approach broken web pages similar to yours and ask the website owners to replace the link with your page.

As the site owner gets a working link for free, they'll be happy to offer you a backlink, improving the success rate of this method.
Brand Mentions
Several publishers or journalists cover and mention innovative products, businesses, or industry leaders on their websites. However, they may not add citations or a link back to your website. You can identify such websites and ask them to add a backlink to your website.
To identify such websites, you can use Google Alerts or Ahrefs Content Explorer.
Resource Page Link Building
Several websites offer resources to a niche audience online. For instance, G2 crowd lists software solutions in almost every domain. You can approach such a website and look for a list that mentions products similar to yours. After that, you can ask them to include your resource in their list and add a link to your website.
The chances of acceptance in resource page link building are higher as your listing can enhance the value of the resource page and keep it fresh.
Guest Posting Vs. Niche Edits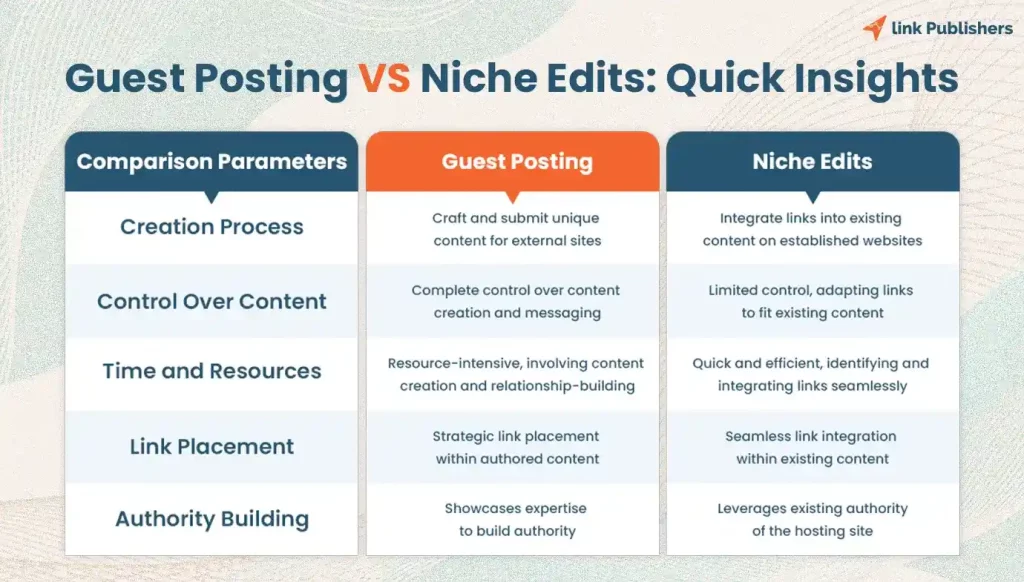 Both guest posting and niche edits are link-building techniques. While they have the same motive, their approach is what makes them different. Here's how:
Guest Posting
In guest posting, you need to create a fresh content piece whose word count varies with the website you want to publish it on.
This method is resource-intensive as you have to write content from scratch. And if you're approaching high DA websites, the effort required increases further as such sites expect premium quality content.
The conversion rate is better when it comes to guest posting, as the value of your guest post acts as an incentive for the website owner. This means the probability of getting a backlink with guest posting is higher than niche edits.
Niche Edits
Niche edits, as stated earlier, don't require you to create fresh content pieces. All you need to do is approach the right website and ask them for a link in exchange for some value. Also, niche edit links require less time as you don't need dedicated writers for content creation.
However, the success rate in niche edits is lower as there's very little benefit involved for the site owners.
What are the Risks Associated with Niche Edits?
Here are the top risks with niche edits:
Penalties
One of the biggest risks associated with niche edits is the penalties it can attract if not done right. For instance, if you go for too many non-contextual links, Google might detect them as a link-building scheme. In such cases, your link might get ignored, or you may get penalized by Google.
No Control Over Content
When you publish a guest post, you have full control over the content. You know what your audience will like and where to place the link contextually. However, you don't get this privilege with niche edits.
Overdoing the Process
Niche edits are an easier method for acquiring links. And it's common for SEO experts to overdo link building using niche edits. However, this makes your backlink profile look unnatural.
To avoid penalties or risks involved with niche edits, businesses must follow white hat practices only.
Top Ways to Get Niche Edits Links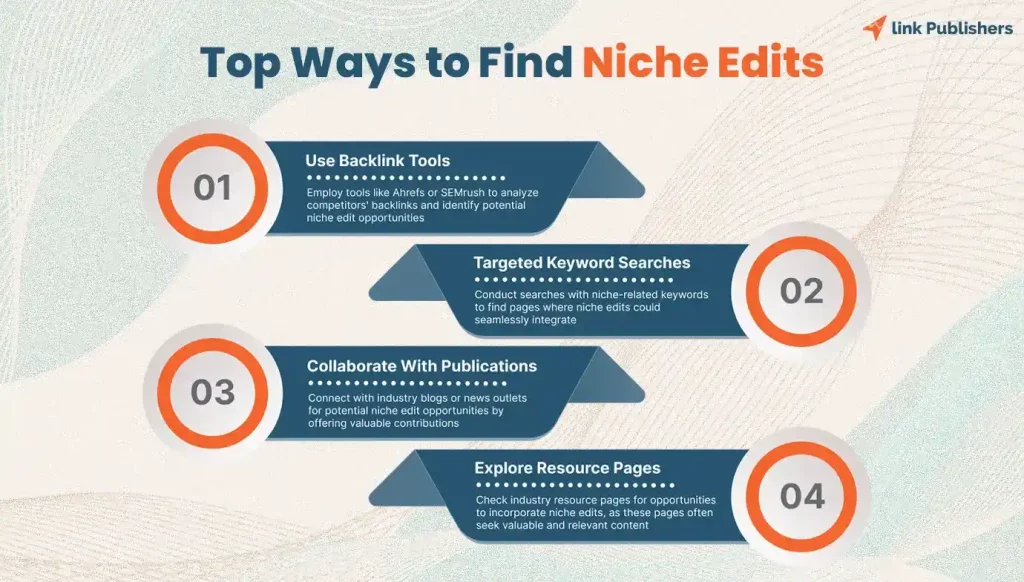 Here are different ways by which you can get niche edit backlinks:
Purchasing backlinks from webmasters. (black hat)
Pitching resource page owners. (white hat)
Identifying unlinked brand mentions. (white hat)
Approaching webmasters with broken links. (white hat)
Best Practices for Improving SEO with Niche Edits
When creating niche edit backlinks, you need to keep these things in mind for the best SEO performance:
When researching websites for niche edits, always focus on the ones that are high quality. By high quality, we mean high domain authority, page authority, and websites that are old enough.
Find websites that post content relevant to your niche. If the context of the content matches with your link, the chances of viewers clicking it will increase, meaning more organic traffic. This also increases the time visitors will spend on your website, increasing conversions.
Try to develop and nurture relations in your niche. This will help you identify relevant opportunities for niche edits and make the process of acquiring links easier.
While niche edits don't require you to create entire articles, you still have to add value. For instance, if a blog talks about the advantages of payroll software (supposing you sell a payroll), the webmaster will approve a niche edit if the content you're adding adds value to the reader. Otherwise, you might end up getting no response from the website owners.
Don't rely on niche edits alone. Diversify your strategy and deploy multiple link-building strategies for a more impactful link-building strategy.
Niche Edits Vs. Other Link-Building Techniques!
There are multiple strategies other than niche edits to help you with link building, such as:
Guest Blogging
As mentioned earlier, guest blogging involves writing a fresh piece of content and publishing it on a relevant website in your niche. You identify high DA websites, create content, pitch your request, and if you're lucky, you get a backlink.
Pro Tip: Guest posting is one of the most common link-building techniques. However, it's quite resource intensive. So, instead of following the conventional method, you can simply find a guest post marketplace such as Link Publishers.
Link Publishers has a pool of 60,000 plus relevant websites for you to buy guest posts from. You choose a high domain authority website, upload a content piece, make the payment, and have your backlink (within 30-33 hours).
Even if you don't want to invest time writing content, you can get your backlink. How? Well, Link Publishers has dedicated writers who can help you craft quality guest posts. Just place the order and get your high-quality content piece delivered. Once you have it, you can upload the content and get the backlinks.
Podcasts
Podcasts (video-based) are becoming extremely popular these days. You can approach YouTubers who host CEOs or high-level executives on their podcasts. Once the podcast is live, you can ask them to link it back to your website.
Press Releases
You can approach news websites and ask them to publish a press release about a new product, service, or event at your organization. If the press release is interesting enough, the news website will be happy to publish it and offer you a backlink.
Influencer Marketing
You can approach influencers in your industry and offer a free trial of your product. Or you can simply ask them to review your product in exchange for payment and link the video review back to your website.
Creating Valuable Assets
You can create valuable content pieces such as eBooks, infographics, whitepapers, and videos that your TG will like. Assets like these can automatically generate backlinks for you over time.
Final Words
Niche edits are undoubtedly an effective link-building strategy that can help you boost your search rankings. However, to make the most of this technique, you need to be careful and follow white hat tactics only. Otherwise, you might end up inviting unnecessary penalties from Google.
Also, it's recommended you use a mix of multiple link-building techniques. This will help you diversify your backlink profile, which is valued by Google. However, if you lack the time, resources, and skills for link-building, it's best to hire a link-building company such as Link Publishers.
Link Publishers is a guest post marketplace where you can buy guest posts and, thus, backlinks from high DA websites. By relying on Link Publishers, you can get multiple backlinks from high DA websites using white hat tactics without arousing any suspicion from Google.
FAQs
Are niche edits safe?
Yes, niche edits are a safe tactic for link building. However, you must follow ethical or white hat practices, as mentioned in the blog. While black hat tactics might sound lucrative, they can land you in trouble, as Google will sooner or later catch and penalize you.
Pro Tip: If you buy niche edit backlinks, always go for high DA websites. Also, buy too many niche edits, as Google might identify this pattern and penalize your website.
Can niche edits improve my website's rankings quickly?
Yes, niche edits can improve the ranking of your website pretty quickly. And this is possible because of two primary reasons:
No Content Creation: Content creation takes a lot of time, especially when you want to publish blogs on websites with high DA. However, with niche edits, you need not create full blogs or articles, making the ranking process way faster.
Already Established Websites: The websites you're getting niche edits from are already established and trusted by Google. Because of this, the link juice travels faster to your website, improving your website's ranking faster than other methods.
Can niche edits help with both new and established websites?
Yes, niche edits can help boost the ranking of both new and established websites. This happens because you are generating a backlink from a reputed/old webpage that already has value. This value or link juice will transfer to your domain regardless of whether it is new or old.