How to write a white paper?
If you are into content writing or the content marketing profession, this question might have confused you at some point in time. Right?
White papers are one of the most powerful and important tools for content marketers.
They are one of the key ways to position your brand as a thoughtful leader in your business niche, to generate leads, promote informative and useful research and information about your products and services and so on.
In this blog, we will discuss everything in detail, from white paper format to how to write a business white paper and how it is possible to make white paper marketing a crucial addition to your content marketing strategy. But before that, let's first understand the white paper meaning carefully.
What is a White Paper?
A white paper is nothing but a research-oriented report that eases out the complicity of any topic and depicts the author's perspective or authority about that.
The primary focus with which people or organizations create a white paper is to give its readers a comprehensive understanding of any issue, which further helps find a solution to any problem or make a decision.
So, if you had a question like what is the purpose of a white paper? Hopefully, we were able to clear that. The term 'White Paper' first originated in Britain, where it referred to a certain type of document issued by the government. But with time, the concept of the white paper has evolved. It is mainly created now with a marketing aspect. Thus, we will discuss today what is white paper in marketing.
However, if you have ever come across a question that says a white paper report, don't think twice. The white paper is often referred to as a white paper report. It is crafted in a deeply researched report format on any particular topic, which provides detailed information on how it can solve a problem in any industry.
What are the Key Features of a White Paper?
Are you not sure what content is important to include in a white paper?
Well, we have an answer for you.
According to the white paper experts, including Gordon Graham, the major characteristics of a white paper are:
A document having a descriptive text
A content that is a minimum of 5-6 pages in length
A document that is created in a portrait format
The focus of this document in marketing should be used before the sale and not after that
A white paper must be empowering, informative, actionable, practical and useful. It should not look like a sales pitch.
A white paper is a document that provides facts, figures, and information and not just some ideas and opinion
It must include an interactive introduction relevant to the topic and a summary from the executive level.
So, if you want to create a white paper, you must ensure that it has all the above features. Without that, it won't be called a white paper.
Who Ideally Reads a White Paper?
Before a decade or so, white papers were only meant to be created by governmental agencies, NGOs, research institutions, financial institutions, etc. White papers were mainly used to produce their findings for any ongoing research in a compact format.
But we have seen a growth of different smart content marketing strategies that showcase that non-promotional content is useful for any business to generate their audience's interest. And over time, white papers have become very common in the business world because of this reason.
A business that belongs to any industry can create white papers with prospective and existing clients in mind. It helps them discuss their products and services effectively.
How Many Types of White Paper are There?
A business/brand may like to publish different types of white papers. But mainly they belong to two important categories. We have discussed below:
The first type is called

Backgrounder

. In this type, the advantages of any product, service, strategy, or methodology are discussed in detail.

The second type is called

Problem-Solution Provider

. This kind of white paper helps its audience figure out the solution to a common problem in the industry they are interested in.
Apart from these two, there are various other types of white papers. They represent a concise summary of important data and information about any specific industry or niche.
You might be interested in any of the above types of white papers; you need to remember that your white paper must be able to reciprocate your expertise in any given business niche or industry.
In short, the contents that you will include in your white paper should showcase that you are an expert in your genre.
Things to Consider for Creating a Great White Paper
Whether you are thinking about how to write a technical white paper or how to write a white paper for business, there are some very important things to remember.
Well, some people might call anything white paper. But this doesn't state that you should also do so. There are certain boundaries of what can be ideally called white paper and whatnot. You will eventually lose your audience and credibility if you don't follow them.
Do You Want to Create an A+ White Paper?
Here's what you should know:
White Paper Length
An up-to-the-mark white paper would be a document with a minimum of five or six pages that have charts, graphs, references, illustrations, etc. If the topic of the white paper demands so, it can be as long as 50 pages long.
White Paper Structure
The structure or format of a white paper should consist of a title page, table of contents, introduction, and a short and precise executive summary. There should be multiple pages that educate the readers about a certain problem, different pages describing a solution, some pages about a brand or company that has already leveraged that solution to generate results, and a good conclusion with a call-to-action.
White Paper Density
A proper white paper should be denser than a typical eBook. Well, white papers are not very easy to read. Readers mostly need to read them twice or thrice to comprehend every morsel of information.
White Paper Format
A white paper should always be published in a PDF format, with an ideal size of 8.5″ by 11″.
White Paper Style
The writing style in a white paper must be professional, serious, well-discussed, and edited properly. Getting the page layout, images, fonts, and colours used in a white paper designed professionally by a graphic designer are always recommended.
So, you have a clear idea of the parameters to check for creating a perfect white paper. Now, do you know what is a white paper example? Let's check out:
White papers are an amazing resource for your sales team and prospects. They can help you build an immense level of trust with your readers. A white paper gives your readers an idea about the credibility of your business.
According to the statistics, people who download whitepapers from a company's website often become a part of the customer buying cycle.
So, with that as a reference, you can create the below two types of white papers for maximum benefits:
A Technical Case Study
What is a case study? It is a story of the success of a brand's customer's journey to accomplish a goal because of their partnership with another business. This success is depicted through specific metrics in a white paper. The potential customers of any company would want to see in a white paper how effective service they will receive, based on which they continue their buyers' journey.
Hence, a case-study-based white paper is a wonderful way to demonstrate your expertise on an intricate topic with a real-time example of how the same concept helped someone else get the benefit.
A Reference Guide
A white paper of this type is nothing but a reference on any product or service that businesses create for their leads, something that they can use to solve a solution. Ideally, the more they will like the answer, the higher chances they will stick to the business that has given them the white paper.
Now that you know a myriad of information about white papers, it's time to understand how you can create one. Right? So, let's explore that.
What are the Steps to Write an Amazing White Paper?
Here you go:
Understand the Needs of Your Audience
Of course, you know how to write a white paper, and you are the subject matter expert of that. But while you are about to write a white paper, you should aim to provide such content to your audience that they want—information on something that can solve a problem in their personal or professional life.
So, it is very important to create a buyer persona while writing a white paper. You must put yourself in their shoes. Next, consider the types of information they will like, understand how they would like to use it, and how it can solve their problem or any paint.
Do an Extensive Research
As we have already discussed, white papers are informative. The author of a white paper, a business, would decide how to provide the information so that the readers don't go elsewhere.
But whatever might be the way of depiction, doing thorough research about the topic of the white paper is very critical. Writing a research-based white paper starts with three major factors.
They are:
Run a unique study or survey that belongs to your company
Combining multiple special case studies in a white paper
Discussing an out-of-the-box project or process.
Moreover, one important thing about a research-based white paper is that the statistics you will include should be all cited. It is crucial to reveal their sources to your audience.
Craft an Outline
White papers are long and detailed. So, if you create an outline before writing one, it will be easy. Make sure you are considering sketching the outline of your white paper in the below format:
Summary and Introduction
This should be the first and foremost part of your white paper. In this part, you need to introduce your audience to the topic of the white paper. Here, you should explain why the content of the white paper is important for the readers to know and how the whitepaper is going to provide the information, convey the message, or solve a problem for the readers.
Overview
Next, you should have an overview of the white paper. It should describe some key terms and terminologies that you are planning to use, different parameters that are involved with the topic of this white paper, and finally summing up what will be your topic of discussion in the white paper.
Body
In the main body of the white paper, you should discuss all the key points and highlights of the topic.
Conclusion
This part should have the conclusion, which will explain the primary takeaways of the topic from the white paper's body and any associated actionable items for the readers.
Make Use of Imagery in Your Content
White papers are all about deep research and analysis. So, it is crucial to use attractive visuals like charts, graphs, and tables in a white paper to describe the information that you want to display in a visually appealing way. This makes your white paper easy to read.
Take Care of Formatting and Design
White papers are not supposed to be too flashy, but they must have good colours and imagery. All these go a long way to making your whitepaper look attractive and amazing.
So, now you know how you can write a great white paper that can fetch you maximum traffic and a great audience.
Anything else?
We have already covered all of the major aspects of how to write a white paper flawlessly. But do you often wonder how to write a white paper in one day?
Well, the steps are the same as above, but if you have a specified deadline to complete your white paper in one day; first, you need to be an experienced writer who has all the insights of what you are writing and next, you have to manage your time well. That's it!
Link Publishers: Get Outstanding White Papers Written by Us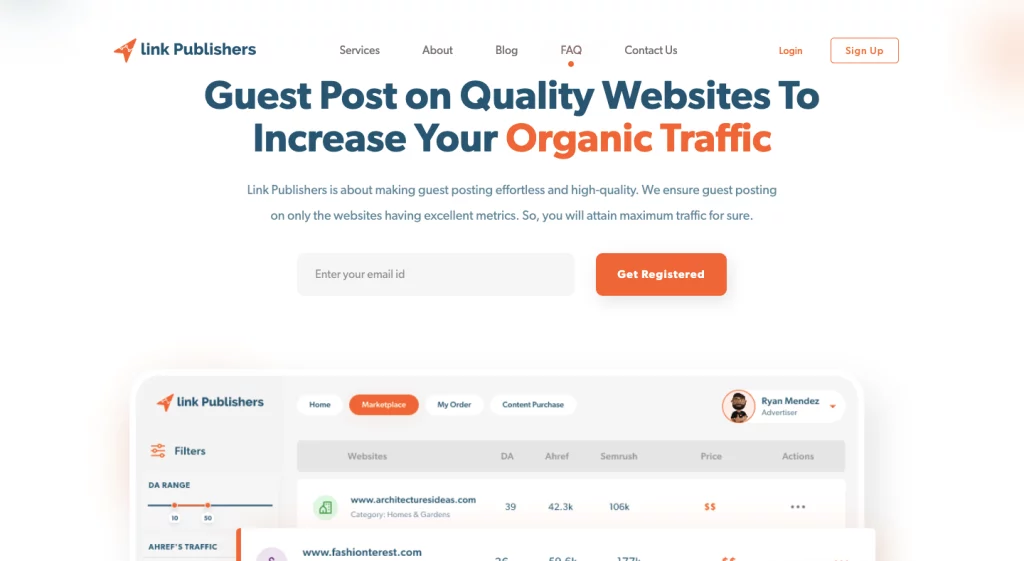 Link Publishers is the #1 guest post marketplace with excellent guest posting services. You can buy guest posts from us; our guest post services will surely leave you happy and satisfied. We have an extensive database of 20,000 + websites with high domain authority to publish your content to get maximum organic traffic and high search engine rankings.
But our services don't end here. We have an amazing content team with professional editorial expertise. So, you can hire content writer from us and explore our fantastic content writing services.
Along with all other types of content, our team has expertise in creating high-end white papers for you. We have a good record of consistently delivering long and informative white papers to our clients which are completely aligned with their brand image.
The Bottom Line
Do you want to get a white paper written for your company?
Don't wait anymore! Contact us today, and we will surely help you in the best possible way.
Get in touch for insightful, well-structured, professional, and visually appealing white papers from us.