Do you want to rank your business at the top of Google? Then don't just aim to pump out a lot of articles every week and hope that your website will magically jump to the first page of the search engine. It will not work; neither will you generate any organic traffic, nor can you convert them into sales.
Rather, you should leverage the power of content gap analysis. From an SEO perspective, if you think mass publishing of blogs and articles will do good for your website, it's not right! The web is already filled with amazing and worthy content. So, the scope for generic articles is not much! What's more, you should also keep Google's crawl budget in mind and act accordingly. Because this budget is mostly limited, it's important to consider that.
If you are a savvy SEO professional, you know that advanced content gap analysis is an effective way to stay ahead of your competitors and rank on the first page of Google.
This article will be all about comprehensively understanding content gap analysis. But before we dive in, let's explore the basics first.
What is a Content Gap?
A content gap is defined as the void space between what users want to know from the web and the results they receive. As the definition says, it is a gap in the market that must be filled to fulfill the search intent. And an analysis of this gap to understand the content need of the hour is known as the content gap analysis.
Do you want to perform an SEO content gap analysis? You have ended up in the right place – Link Publishers. We can do an excellent content gap analysis SEO for you.
Why Do You Need to Fill Content Gaps?
There are two significant reasons why it is considered important to find and fill any content gaps. It is the process of enabling any website to gain insights into how successful its marketing or SEO strategy is.
With a perfect content gap analysis, you can boost your dwell time, cut down your bounce rate, and increase conversions. This, in turn, enables the buyers' journey. If you can successfully fill content gaps, the website is potent enough to drive away traffic from its competitors.
So, are you filling up the content gaps of your website?
Are There Any Tools for Content Gap Analysis?
There are different tools out on the web which can help you do an effective content gap analysis. The most effective ones include SEMrush, Buzzsumo, Ahrefs, check my links, etc.
Mapping Your Content to Buyers' Journey is the Winning Formula
You don't believe that all visitors who visit your website will be ready to buy from you. Right? They are mostly searching for information, waiting to compare your products with others, and doing price-shopping to find the best solution.
You need to understand that if you don't want a content gap in your website, you should understand the above fact clearly and create content accordingly. So, one of the most crucial content gap analysis tips is to create content for every stage of the buyers' journey. Irrespective of whether they are aware of the problem and the solution or at the final stage of their purchasing journey, your website should have relevant content for each one of them.
A lot of brands focus on creating insightful content in blogs and articles to attract a wider audience and develop 'money pages' to make sure those users are converted into buyers. They create such content and start expecting great results. But this system often creates some gaps as the audience can't find exactly what they are looking for.
Thus, it is crucial to perform a content gap analysis. With this kind of analysis, you can know precisely whether you are creating content for the Awareness, Consideration, Decision, or Success stage of the buyer funnel.
So, what do These Four Stages Mean?
Awareness
:
The pages created on your website with an awareness objective target specific keywords that are relevant to a problem that the audience is facing. This content is created to offer an answer to the customers' issues with a valuable solution.
Consideration:
Readers compare different solutions to their problems at the consideration stage. They are more interested in reading reviews, comparison guides, or 'best of' posts at this stage.
So, if you don't want any content gap to exist here, make sure you are creating content as per the requirement; it will be ideal for publishing content that compares your service/product to your competitors or posts such content in which the story revolves around posing your company as one of the many good solutions to the audience's problem.
Decision:
This is the stage in which you can fill your website with 'money' pages. These can be either your sales page or service page. It should act as the final point before any user contacts you or buys from you. The decision pages of your website should be more branded than the above two types.
Success:
This part of your website should finally ensure your customers that there will be no obstacles in achieving their desired outcome if they stick to you.
There can be a diverse array of topics that you can cover at this website stage. It can be as simple as a Thank You page or as complex as a follow-up email sequence page which can connect your audience with the ongoing support of your company.
If you conduct a content gap analysis, it will help you identify if you have content at each of the above steps of the buyers' journey. You will not like your users to fall through the gaps. Right?
How to do a Content Gap Analysis?
Content gap analysis is quite an extensive process; it is not just reviewing the blog posts on your website to check if you are missing out on any significant content ideas.
Rather, it is a step-by-step process to find the clear gaps in your content and fulfill the loopholes in your content strategy.
Here are the steps of content gap analysis:
Understand Your Buyers' Journey
What steps should your target audience take to shop from your website? Do you know them? If not, you are missing the boat!
What's more, it's not enough to only know that. Rather, you need to ensure that you make the process effortless for your users. You need to start with taking some time to write or draw out your audience's primary questions literally. Whether it is a call-to-action that they like or different options, you should consider everything. Once you have an in-detail idea, start creating a strategy for how you can implement all of them.
Do an Extensive Market Research
One of the most effective ways you can incorporate such ideas in your content strategy that completely align with your audience is nothing but asking them what they want to see. If you conduct a market research survey like this, it will help you answer your audience's most trending questions and better understand their pain points, goals, and needs. Their feedback can craft your website's content strategy in the best possible way.
Some of the most prominent questions that you must include in your survey are:
Where do you struggle the most when it comes to XYZ topic?

Do you have any questions about the XYZ topic?

Have you tried any solutions in the past?

Why didn't your solutions for a specific problem work?

Where do you want to find the services/products more on the website?
Research a Lot
Just sourcing a statistic for your content is not enough. You should know how to find the original study and ensure that you are not linking to anything outdated. For instance, if you are linking to a study that dates back to 2018, it's quite impossible to attain authority over the content piece. You should rather find something latest.
So, make sure you are finding worthy statistics and sources for your website content. This will help you bridge the gap between you and your audience; they will be more attracted to your business as they will find you more authentic.
In today's cutthroat business environment, statistics and facts are considered one of the most crucial buying factors modern consumers consider when purchasing from a company. So, are you including relevant latest statistics on your website?
Understand Premium Quality Online Content
What does great online content look like? Do you know that? Do you have the ability to identify it quickly?
If you know that, it's perfect! But if you don't, you might be missing out on something crucial. You can't become popular in the content marketing industry for a long time if you don't practice your content recognition skills.
Being a modern brand of recent times, you can't be lenient with content quality. You should ensure your content marketing team is producing high-quality content. So, make sure you're creating good content like web pages, social media posts, product descriptions, etc., across different social media channels.
High-End Content Gap Analysis with Link Publishers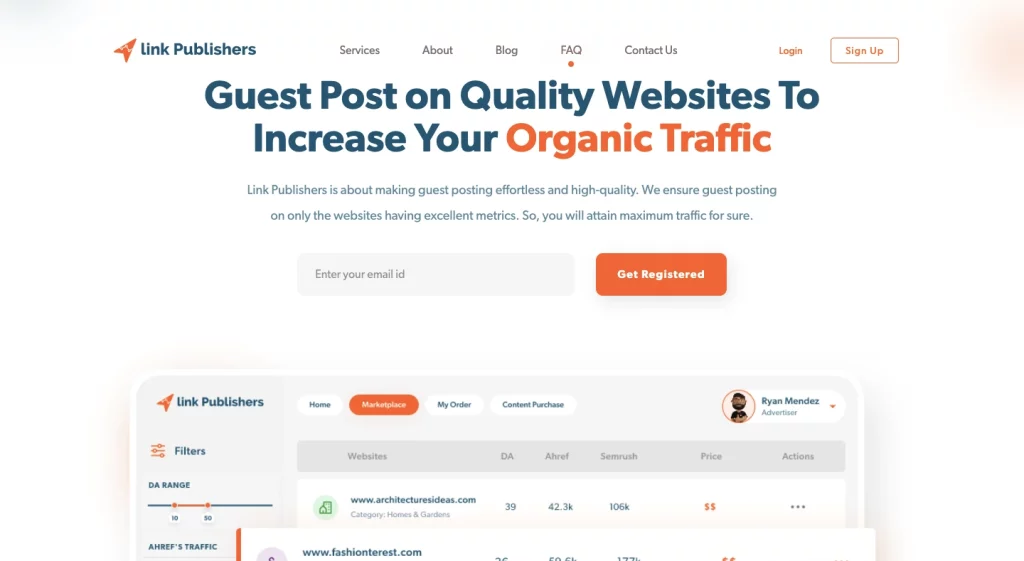 Link Publishers is the #1 guest post marketplace. But we not only help you with premium quality guest posting, but we also help you take care of your SEO and content marketing services, which include content gap analysis as well.
Moreover, if you have not tried our guest posting services yet, make the right move soon and buy guest posts from us. Our guest post services are comprehensive and comprise in-detail content gap analysis as an inclusive package. Also, if you want to get your content written by us along with content gap analysis, hire a content writer now!
Summing Up
Haven't you started content gap analysis for your website yet?
Don't wait anymore! Start with proper keyword analysis and find out the potential keywords that your competitors rank for. Gradually, identify the loopholes in your content marketing strategy with the above effective tricks, figure out the best solutions for that, and do a successful content gap analysis to take your online business to the next level!