In the era of digitalization, you cannot win a war without all the weapons necessary for fighting. We are not talking about just swords, shields and machine guns here. We are talking about digital marketing approaches such as Search Engine Optimization, Social Media Marketing, and Pay per Click advertising, and content writing services.
These approaches help you build an authoritative online presence that will lure customers to come to you when they look for relevant information about your industry. These digital marketing approaches have produced some unparalleled benefits and results for businesses across the globe.
Content is king, as they say. No matter which digital marketing approach you practice, you will need a content writer who can produce high-quality, SEO-friendly and original content that engages an audience and offers them the highest readability.
If you practice SEO, you will need content writing services for web content, guest post marketing, Meta titles, and descriptions and blogs.
If you are running a PPC campaign, you will need an SEO content writer who can develop highly engaging advertising content that instantly encourages users to click on ads.
If you are doing social media marketing, you will require a professional content writer who can develop creative social media content that makes a difference.
So, what is content writing? Why do businesses need to hire content services? What are the benefits? What is the ideal way of writing content?
In this post, we will answer each of these questions in detail. Just go through this blog, and you will understand that if digital marketing is a crown of a king, content writing is the diamond that makes the crown radiant and beautiful.
What is content marketing?
If you have to give a standard definition of content writing, it merely refers to creating catchy, original, and industry-relevant content for online marketing purposes. Engaging content helps businesses get more visibility online, drive traffic on their website, and boost their sales and revenues.
In addition to that, genuine content writing practices improve your brand's authenticity and authoritativeness. Your audience will turn to you when looking for some information or want to purchase something you offer. The best content writing services help you to push your target audience down the sales funnel to take desired actions.
As per the research, 87% of marketers use various types of content to guide and train their prospects through different buyer journeys. Whether it is to create awareness of your brand or motivate them to make purchase decisions, businesses use content to lure the audience.
Now, let's address the elephant in the room.
As the competition is high, the target audience is the same; you will need high-quality, original, ideally-targeted content to stay ahead in the contest and cut through the clutter. You can go to sponsored content Marketing, or you establish a team of content writers on your premises.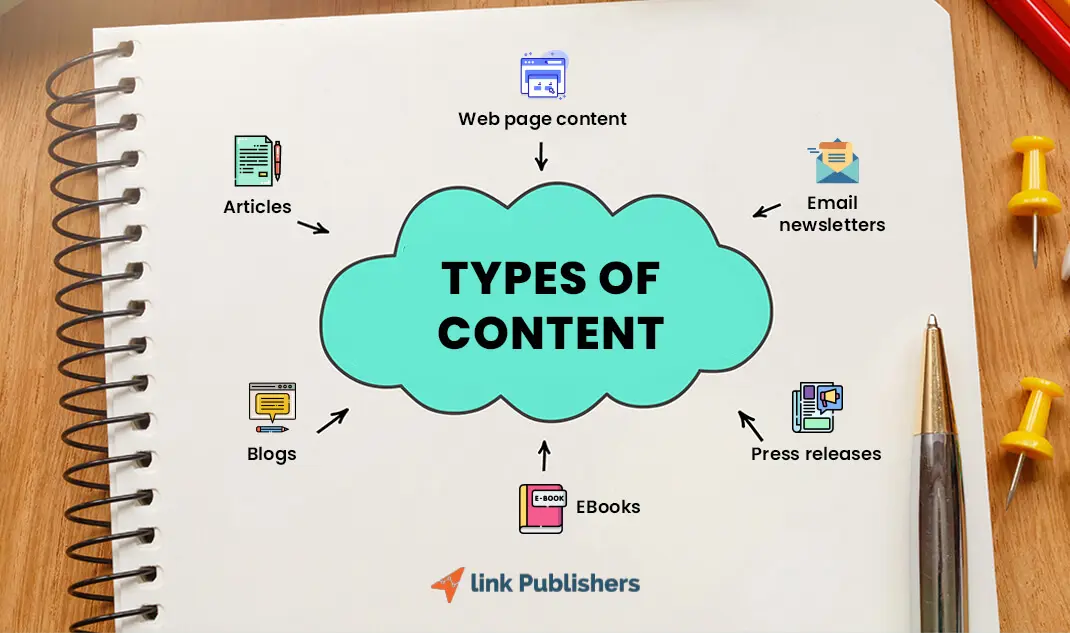 What are the types of content?
There are different types of content businesses produce to serve various purposes. In the text-based format, there are different types of content, such as:
Articles

Blogs

Product descriptions

Meta titles and descriptions

Web page content

Email newsletters

Press releases

White papers

Case studies

User manuals

E-Books
Some other types of content are innovative images, videos, infographics, and others. However, this blog is about content writing; we will stick to text-based content.
All these types of content mentioned in the list above can help you lure customers into taking desired actions at different sales to funnel stages. Some content formats are used after the sales deal is done, such as user manuals.
Irrespective of the content type, every digital marketer or content writer needs to understand that the primary purpose of writing content is to educate or inform your audience.
Most digital marketing agencies also offer content writing services. They have content writing teams that take care of the content part.
You can always build an in-house content writing team in your organization, but it will be a long and tiring process, from recruiting your team to training them.
On the other hand, when you hire a content writer or a content writing team, you will have the best brains in the market in your service. They will come up with the best content that fascinates your audience and brings desired results.
When you hire SEO content writing services, ensure that the company has served clients in the same domain and has adequate experience and expertise in your domain.
Search on the internet, and you will find plenty of content writing or blog writing services providers. You can choose one as per your preferences and budget.
Though every text-based content requires different expertise, there are some standard writing guidelines and rules that everyone has to follow.
Now, let's understand how to write unique, catchy, engaging, original content that serves the core purpose.
Stages of Content Writing :
There are a total of three stages of content writing.
Research

Planning

Writing
Research
A content writer does not start writing once he has got the topic and keywords. It does not work in that way. Research plays a crucial part in content writing as your content must reflect factual, research-based information that educates your audience.
If you provide information that is misleading or false, search engines might penalize you. In the worst-case scenario, your target audience might stop trusting you. It might affect your sales and revenues, too, not to forget your brand reputation.
As per Hill Holliday's research, 59% of consumers would stop dealing with a brand that generates fake content about their offerings. On the other hand, 64% of consumers said they would love to engage with the brand again if it offers the right and truthful information.
Whether you hire an SEO blog writing service provider or have a content writing team, ask them to research the topic first and then write. A research-based content will establish you as an authority in the industry. It will also offer you the best ROI on your money and efforts.
Business Goals
What are your business goals? What is your purpose for writing content? Which writing style would serve your purpose? What is your business goal for each piece of content? These answers would help you with your research.
For example, if you want organic traffic on your website, you need to focus on high-authority keywords that rank well. Incorporate those keywords in your content, and you will see good traffic on your website.
When your business goal is defined, it would be easy for a web content writer to focus on that direction.
Buyer Persona
An SEO content writer also must understand your target audience. Who they are, where do they spend time, what are their interests, and what do they do? These questions will help them to create a buyer persona. Get qualitative and quantitative data from the market or conduct competitor research to get such data.
Apart from getting data from various sources, you can also define your customer personas through other activities such as creating online customer surveys, customer interviews, discussing customer impressions with your sales staff, using forms on your website, and using social media to build a buyer persona and others.
When you have a clearly defined buyer persona, content writing services providers will generate content with the right language and style. Apart from fighting in different directions, focus on the most relevant audience that would likely respond. You will end up saving your time, money, and efforts.
Search Intent
Not all users who search on search engines want to buy something. They have different expectations when they use a search engine. Search engines such as Google emphasizes more about how to understand what your target audience is looking for when using other queries with keywords.
Some users want some information. Some users are looking for a specific page or website. Some users are looking to buy something but need some information first, and some users want to purchase something.
When you decide to go for a content writer for hire, ensure that the writer understands how to write while understanding the search intent. To understand search intent, you need to focus on the keywords you have targeted in your content piece.
Keyword Research and SEO
Search engine optimization and content writing go hand in hand. You cannot think of one without the other. They are closely integrated in a manner that the absence of one will affect the other. Search engines rank websites that have quality content on them. This is the most critical ranking factor for search engines such as Google, Bing, or Yahoo.
To rank on search engine result pages, the SEO content writer must offer content that is properly optimized and designed in a manner that renders your business relevant for specific keywords used in the searches.
Websites with generic or scraped content will serve no purpose. It might end up in penalties from search engines.
SEO is also about proper communication with clients. So, choosing the right topics and keywords also play a vital role there. What your audience is expecting to read? What are their queries and concerns? Addressing these concerns might serve the core purpose, and you may get traffic on your website.
This is how you can develop blog or article topics that communicate optimally with customers to achieve your goals.
There are powerful keyword research tools available in the market to use. You can go for keywords that are highly relevant and have an excellent search score. Use those highest-value keywords based on their search volume, keyword difficulty, and average CPC.
In SEO, you can also go for latent semantic index-type keywords. Google appreciates such efforts, and it will also help search engine crawlers to crawl your website more easily.
Content Strategy
Do you know that the topic you have selected is the same one your competitor is writing about? How do you outperform their marketing efforts and engage your audience more effectively and smartly?
To achieve these objectives, you need to have a comprehensive content strategy. An ideal content strategy clearly defines your content marketing services plans, such as where and when you want to publish your content (business websites or social media), the content format (articles or blogs or PR), and the channels you will publish through (guest post marketplace, your website, other channels), content construction (who will write it, whether to go for a professional content writer or write in-house), and content performance (who will analyze the content performance).
Topic Research
Now, you need to decide the topic of content. Conducting thorough topic research is recommended here to get robust, strategic and competent ideas for content that can drive sales or serve other purposes.
Keep these things in mind while conducting topic research:
What are the pain points of your target audience? Go through online reviews, questions and Quora articles to know about these points. When you know their pain points, you can choose any one of them to write about.
You can also run a survey on social media. Ask your followers what they want to read.
Which keywords you are not using, but your competitors are? Do your competitors outrank you for those particular keywords? Creating a content gap analysis might help you to identify potential keywords that you can use.
Also, conducting competitor analysis might help you to understand what is performing well for others. You can focus there and generate content that is more valuable and actionable.
You can also use content ideation tools to research topics. What topics are trending right now, and you can write on that to rank higher.
You can also communicate and discuss with other teams such as marketing managers, product managers and customer support representatives who might have insights about what customers are looking for. You can design your topic accordingly.
If you have hired content writing services, topic research is not a headache anymore. They will conduct it and come up with exciting content topics to work on.
Planning
The next part is content planning. Once you have defined your goals, topics, formats, marketing channels, and other crucial parameters, you need to design a content calendar.
Most SEO content writing services providers offer it. An ideal content calendar helps content writers, digital marketers, and SEO professionals to establish a clear view of their tasks, such as how to develop quality content in advance, how to create a communication channel between different teams, whom to assign specific content writing tasks, how to establish consistency, and others.
Make an excel sheet with a content planning calendar with columns such as your business goals for the post, marketing channels you want to use, content type, topics for each content, deadlines, publishing dates, and people involved in the process.
If you have hired professional content writing services, ask them to design a content calendar and share it with you. Having an editorial calendar that correctly serves the core purpose of planning is a must thing when you have multiple clients.
It will improve communication among teams while creating, publishing, and marketing, sharing, and updating content.
Also, there are ready-made content calendar tools available in the market that you can use.
Writing
Once the planning part is done, you have to write content. You can hire a professional content writer or ask an in-house writer to write for you.
Choosing an SEO content writer has many benefits. First, he understands the know-how of SEO content writing. Second, he will leverage his expertise and experience to offer you the best copy that drives more traffic to your website.
A blog content writing services provider will have a consistent tone of voice and goal-oriented language. He also knows how search engines look and function. It will help them to establish content that is well-received by your target audience.
Let's discuss some SEO content writing tips that might help your content writer come up with impressive, relevant, and superior copies.
When you go for a

content writer for hire

, discuss the goal of the content. It will help the writer to start writing in the right direction.

Go for titles that are enticing and engaging. Your content title should be catchy enough to draw your audience's attention. Keep titles short and sweet but clearly defining the topic.

The introduction paragraph is very vital. The first paragraph must hook your audience right away. Ask the

content writing services provider

to come up with the right section that discusses in detail what the content is all about.

Use subheadings, bullet lists and other points to help readers to skim nicely. Most of the users go for skim read. It will help them to scan the whole document in just one go.

Using visuals such as videos, images, infographics and other presentations to communicate with your readers effectively.

Having a consistent brand voice is vital to fuel audience connection. It will also help to create a brand personality that is uniform across all channels.

Have a fresh perspective that no other content piece can offer to your audience. Something that directly engages users in a few seconds.

Storytelling is a fascinating way to write content. Being an

SEO content writer

, use your creative sides to tell a story that inspires, motivates and encourages your users to act. Remember, you want your users to act.

Using data and facts in your content will improve its credibility.

Adding a call to action (CTA) to your content is crucial, especially if you are writing web content. Ensure that the action is easy to carry out.

Proofread your content at least twice to ensure that there are no grammatical, spelling and punctuation errors. Remember, a content piece with such mistakes is a big turn-off for users.

When you go for a

content writer for hire

, select a native writer who has the best native writing skills.

If you are writing a guest post to get backlinks, check out the

guest post "write for us"

section to read the guest posting guidelines. Write accordingly.

Link Publishers

is one of the top-notch guest post marketplaces that allow businesses to write high-quality content on their websites. You can check out other high-authority websites as well.
Conclusion
So that was it. Content is one of the most crucial aspects of digital marketing. The sooner you understand it, the better. Hire content writer or content writing agency that has a proven track record and good reviews.
Content writing is a form of art, and you need an artist who can understand your business goals, target audience, competitors, business needs and other aspects. When you choose an SEO content writing service provider, discuss such details in length.
If you want to buy guest posts for your website to drive good traffic, Link Publishers is a guest post marketplace for high-quality guest post websites You can register to know more.