In the world of content marketing, you can take two important stances on your content. One is a guest post and another is a press release. Understanding what is a press release and what is a guest post in a real sense has been a confusing aspect for many for a long time.
But it is very crucial to remember that they have different objectives, and different formats and should be sent to different kinds of websites. Posting press releases and getting press release backlinks is yet a matter to comprehend and leverage for thousands of marketers.
Not everyone has a good idea of it! It is not only important to have a basic idea of press releases but also you should know how to send a press release to local media, and lucrative press release sites, how to do effective press release distribution, and last but not least benefits of a press release.
You might be wondering why we are talking about press releases more and not guest posts as of now. Well, it has been observed in different surveys that the number of people who are aware of guest posts, how to buy guest posts, etc. are much more than those who have an exact idea of press releases.
Now, moving forward, we will discuss in this blog how press releases differ from guest posts and how they have unique uses when it comes to brand/individualistic promotions.
Let's read on
We will talk about press releases first.
What is a Press Release?
Press Release is nothing but a formal piece of content, just like how we craft a business letter. When you write a press release, you need to avoid having a conversational tone like how it is done in a guest post or blog post.
Press releases are typically created to empower people on a specific topic, something that is worth enough. You can enjoy press release benefits to promote your brand successfully. You can have a press release for any topic, from announcing a new product launch to delivering informational content on the local climatic changes.
While posting press releases, you should keep in mind that even if the topic doesn't seem to be worth making public, it can be important for the community of people that you are planning to approach through the submission of the press release.
How to Make the Best Use of Your Press Releases?
Unlike guest posts, you don't have to pitch for a press release. They are mainly prewritten. So, all you need to do when it comes to press releases is just send them to the required website. After you do so, the site will decide what they would like to do with it.
There are many possibilities. They can publish it in bulk, they might prefer to do their research on the topic that you have written on and write on their own, or if your luck doesn't favor you, the website might ignore you altogether!
This is one of the biggest disadvantages of press releases. A website might publish your press release or it can just fetch one or a couple of paragraphs from it to post in a journal. Also, they can just copy certain portions of it to create a blurb review of your product or company. This will depend on what's the industry and the purpose of the press release.
Are Press Releases Good or Bad for Your Business?
Press releases are designed in such a way that they can be copied across a variety of websites. Thus, it creates a somewhat tricky issue when it comes to SEO.
As the same content is published on many websites, it can lead to different content penalties or link penalties as well. This is the reason why the majority of mid-range websites are very cautious about publishing press releases directly. So, it depends on the intent of your business whether you should go for a press release or not.
If the primary objective of your business is awareness and coverage, you can publish press releases. But if you want to rank some exact keywords or wordings and also want a link, a press release is not your thing!
Why we mentioned mid-range sites are often perplexed about publishing a press release is because when it's about small businesses, they end up publishing whatever they want and don't care about the SEO aspects. And the large websites are resilient enough that if they have a few content penalties, it won't hamper them so badly.
Now, it's up to you whether you want to include press releases in your marketing strategy or not. Understand your requirements and post or don't post press releases at your convenience.
How to Write a Perfect Press Release?
A Press Release is one of the most conventional types of journalism that has existed for the longest period now! An ideal press release should directly answer the basic 'wh' questions like who, what, when, where, why, how, and who cares. So, if you are writing a press release to promote your business, make sure you are answering these questions.
Press Releases Distribution
We already mentioned above that a press release is distributed after writing it. This is different from what we do in the case of a guest post. In the case of a guest post, we pitch a topic to a site in the first step and then we create it only when the topic has been accepted. Another primary difference between a press release and a guest post is that the press release is usually shared with a different website, whereas the pitch of a guest post is sent to many websites but the guest post is shared with only an individual website.
When it comes to acceptance of press releases, it is not as wide as guest posts because those websites that are concerned about duplicate content don't end up accepting press releases. This is another major difference between press releases and guest posts.
There are mainly two ways you can make your press release stand out. One is your niche and another is using different worthy press release distribution networks.
So, this was all about press releases and how they are different from guest posts. Now, we will explore what guest posts signify and how they are different from press releases.
Let's dive in
A Basic Idea of Guest Posts
A guest post service is nothing but an individual, customized blog post for a website and an audience that is a lot more diverse, extensive, and unique from yours. Here, the difference between a press release and a guest post can be understood in this perspective as a mailer in bulk from your favorite supermarket with monthly coupons and a handwritten letter just for you from your father in your mailbox. Do you get the difference now?
Interestingly, there is a wide array of guest post marketplace now. You can buy bulk guest posts from there. They have lucrative guest post packages which are a vital part of their guest posting service. Link Publishers is a premium name among all of them. Try us now!
How to Create a Guest Post?
You can create a guest post effortlessly. The story begins with creating a pitch. It's all about approaching a guest post selling website and saying that you are interested in them. The next step is you explore more with the editor to identify the right topic. Finally, you write your post when the decision is made.
So, did you notice one thing? There is a huge difference: Guest posts involve single processes for a single post. Press releases, on the other hand, are a single way of information. Press releases are open to returning conversation but it is not always expected to happen like that. If people want some more information from you, they can be open to calling you.
What is Better: Guest Post or Press Release?
So now that we have explained some major differences between a guest post and a press release, it's time to understand which one is better. Well, there is no specific yes or no to that! It depends on your priorities.
If you are interested in link building outside of your common network of sites, guest posts should be your thing. This is the ideal way you can make your name and identity public. This will also help you gain a lot of attention as an expert on your topic.
Moreover, guest posts can help you build cordial connections with specific websites. And the best part is that you can create awesome guest posts easily through lucrative guest blogging services and blog posting services that the best guest post marketplaces like us offer. Many premium places sell guest posts efficiently.
However, press releases are a unique concept. Though Panda and other Google algorithms have made press releases less important and less valuable from the SEO perspective, they do wonders if you just want to create a good extent of awareness and hype. For instance, if you want a lot of eyes on a new launch or product of your business, a press release is the best option.
Create Awesome Press Releases and Guest Posts with Link Publishers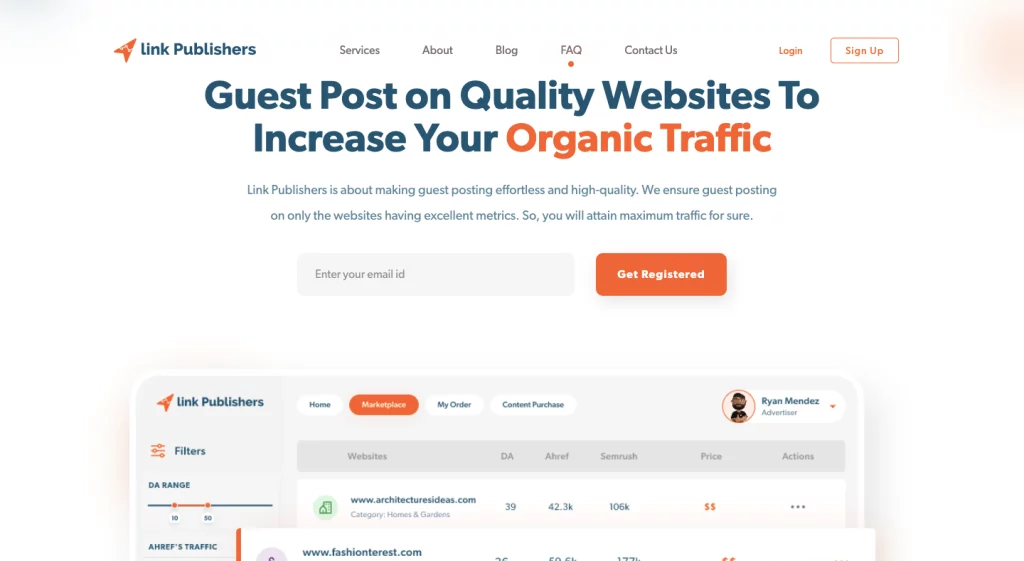 Link Publishers is a premium quality guest post marketplace. The high-end guest post services that we offer are truly exemplary. If you opt for our guest posting services, you will be able to flawlessly enjoy a comprehensive list of high-end guest posting websites with fantastic metrics that have been tested and verified by our experts.
All you need to do is register with us and you will be able to get your guest posts published without any hassle. Also, we sell press releases at a professional level of quality. It is a part of our content writing services. If you hire a content writer from us, you can get awesome guest posts and press releases written by expert hands.
In a Nutshell
Guest Posts and Press Releases are both unique in their ways! You can leverage the benefits of publishing them and take your business identity to the next level. All you need to do is just identify your objectives and craft the content marketing plan accordingly.
So, what are you waiting for?
Start exploring what suits you best – Guest Post or Press Release?