Purchasing a car is way more complex as compared to shopping for clothes. There are multiple steps involved, which might sometimes span weeks or even years. To ensure customers choose your dealership for buying a car or related services, you need to be more visible.
Considering the fact that 90% of buyers research online before visiting a showroom, it's only logical to invest in car dealer SEO and boost your website's visibility. In this blog, we'll discuss what car dealer SEO is, why it is so important, and list 9 tips you can follow to enhance your SEO game. So, read in full.
What is Car Dealer SEO?
Search engine optimization is the process of optimizing your website (off-page, on-page, technical) so it can rank higher on Google search results. When your website ranks higher, you can expect more visitors, which means more sales.
Now, car dealer SEO or automotive SEO is a practice wherein a car dealer's website is optimized for search engine search results. This way, whenever a customer who's interested in purchasing a car or any other services your dealership offers, your website ranks higher, leading to higher sales.
Why is Car Dealer SEO Important?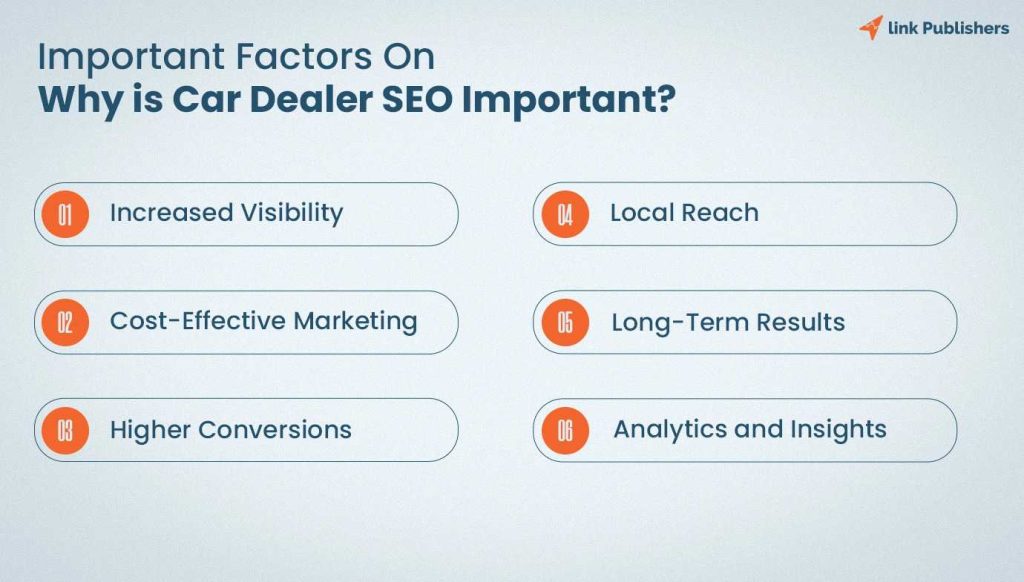 Consumers have evolved a lot over the years. Instead of visiting a clothing outlet, they find a product online, compare it with others and order it. The same goes for car dealerships. Customers do their due diligence way before they visit a dealership to make the purchase, and that too online.
For instance, 72% of the buyers decide on the car brand, and 49% choose the car model, even before visiting a dealership, according to Bain & Company. And all this is based on the information available online.
So, not investing in SEO means your dealership website won't be visible or discoverable online. And this further means you'll lose out on numerous potential car sales. Therefore, it's essential for car dealers and other players in the automotive industry to invest in SEO and boost their SEO ranking.
Wondering how can you do that? Read along to find out!
Top 9 Tips to Boost SEO For Car Dealers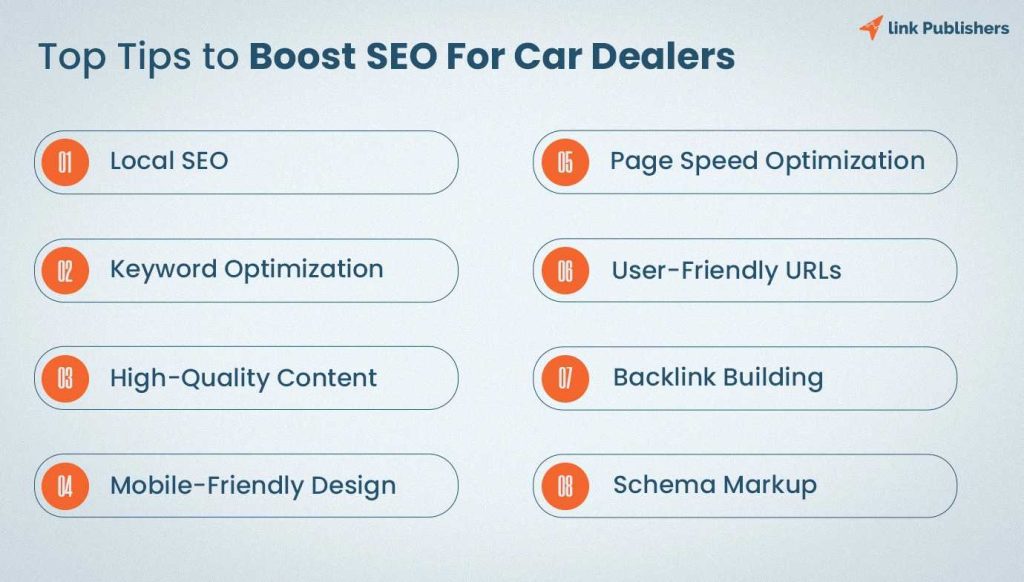 Here are the top 9 tips every car dealer must consider to boost their SEO:
1. Advanced Keyword Research Strategy
Keywords are the search queries users type in to search for something. For instance, if a user searches for "Hyundai dealerships near me," "Hyundai dealerships near me" are the keywords. Here's an example for better understanding: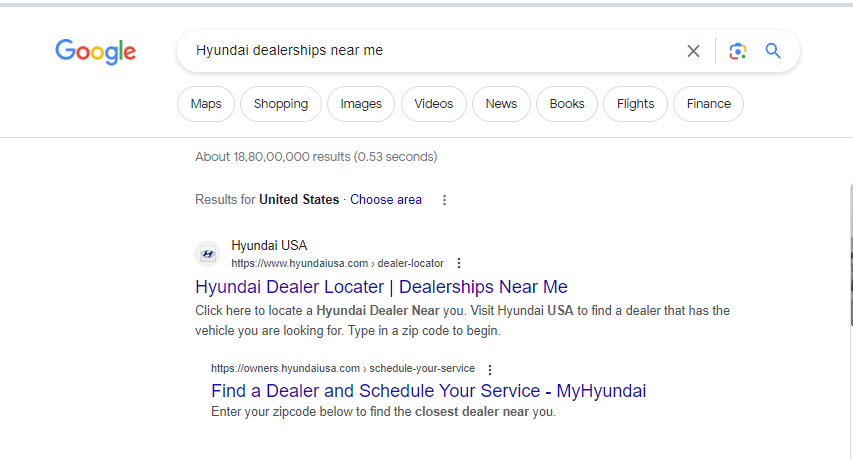 Because the above business had the keywords the user searched for, their website popped up. That's how keywords work.
So, the first step towards SEO for car dealers should be developing a keyword research strategy. However, keywords can be vast. For instance, the keyword "car dealers" may have millions of monthly searches. And this makes it hard to rank.
Therefore, businesses must get specific when researching keywords. Here are the basic types of audiences that you can consider when looking for keywords to be more specific and targeted:
Local Market Keywords
These keywords are location-specific such as "car dealers Oklahoma" or "Hyundai dealerships Montana".
Commonality Keywords
These keywords are common regardless of the location, such as "car dealerships near me" or "car repair near me."
Use Intent Keywords
These keywords vary with the user's goal. If the user is in the awareness stage, they might search for "best cars for family." Once they decide on the car (let's say the car's brand is BMW), they might search for something like "BMW dealerships near me."
Choosing the target keywords carefully can significantly boost your SEO game and help you achieve the desired results.
2. Optimize Meta Title and Meta Description (Meta Data)
Optimizing your metadata is crucial to make Google understand what your website is all about. When you create a website, search engines read the content and index all web pages. And this is done using web crawlers/bots.
When someone searches for specific keywords, search engines choose from the indexed web pages and display the ideal result. To show the results, search engines typically consider search intent, location, relevance, etc. But how to make sure Google knows your dealership website is ideal?
That's when metadata comes in. By updating the meta titles, descriptions, and alt texts, you can signal to the web crawlers what your website is all about. This makes your website more relevant and thus increases your visibility.
3. Optimize the Website for Mobile-Friendly
Google, after 2019, has started following mobile-first indexing. It means Google majorly uses the content of mobile pages for indexing or ranking. Moreover, the majority of customers use mobile devices when searching online.
Therefore, it's essential for car dealers to create a mobile-responsive or mobile-friendly website. A website that works on all devices allows you to cater to your audience better and deliver a good experience.
4. Implement Local SEO Strategies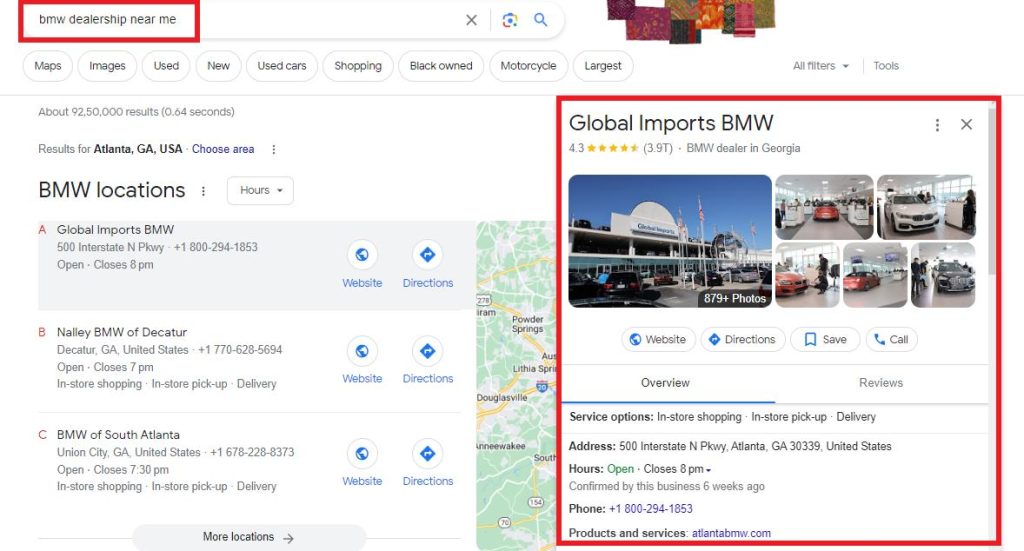 Imagine you are buying a car. Would you buy it from your nearest dealership, or will you travel hundreds of miles to a remote dealership? Of course, from your nearest dealership. And that's why you need to implement local SEO.
When customers search for "BMW dealerships near me," Google will show the results within a certain locality. Refer to this screenshot for more clarity:
Now, Google has returned the dealerships close to my location. If you have worked on local SEO, your business will rank here, leading to more inquiries and, thus, sales. Here's what you can do to enhance your local SEO:
Claim your Google Business Profile: The large square on the right in the above screenshots depicts a Google Business Profile of a dealership. GBP is like a local business card that appears online and gives all the information about your brand, including:
Address
Phone
Website
Directions
Business Details
Contact Number
To claim your GBP, you can check out this link. Enter all the updated details about your business and include all keywords throughout the page. Also, make sure to upload photos and get some reviews. This will push your listing to the top.
GBP is one of the best places to create your business page. But there are other options, too, such as Yelp, Yellow Pages, Foursquare, and more.
Pro Tip: Keep your business information consistent and updated across all pages.
Location-Based Pages: Another thing you can do is create location-based pages for your business. For instance, if you offer services in Florida, you can create pages for Miami, Tampa, Orlando, and so on and rank in those regions as well.
5. Crafting Compelling Car Dealer Content
Crafting quality content as a car dealer, and that too regularly will help you stand out in the crowd. Even search engines reward fresh and quality content on websites. The more content you post, the more relevant you become. And this significantly boosts your visibility.
Where most dealers focus on updating the discount offers and inventories, you can create a blog or news section on your website. However, you cannot just create any type of content. Google appreciates content that aligns with the EEAT concept:
Experience
Your content should include real examples and experiences. For instance, you can include customer feedback or reviews on how they liked the product/service. Real or firsthand experiences are easy to relate to and are thus more valuable.
Expertise
Your content should portray your expertise in the industry. Customers believe and like the content when it comes from industry experts.
Authoritative
The content should demonstrate your authoritativeness in the industry. You can do that by posting about your affiliations or certifications.
Trustworthy
Being transparent about your products and services and including relevant references in your content can make you a trustworthy player in the market.
In general, you can post about the following:
Local events
Car reviews.
New Launches.
Comparison guides.
Discount coupons or offers.
Common service issues.
6. Technical SEO for Car Dealerships
Car dealerships also need to implement technical SEO practices such as:
Fix Broken Links or Pages
Make sure your website has no broken links or pages. Otherwise, it might impact the customer experience negatively.
Site Structure
Your website structure should be SEO friendly so indexing and crawling become easy. Any page on your site should be accessible in four or fewer clicks.
Remove Duplicate Content
Search engines like Google do not favor duplicate or similar content. So, make sure you don't have any on your site.
Mobile Friendly
As stated earlier, your website needs to be mobile-friendly, as most automotive searches happen on mobile devices.
Website Speed
Website Speed is an essential element when it comes to ranking your website. Moreover, poor website speed can frustrate visitors leading to them bouncing off of your website. So, improve website speed by optimizing images, clearing cache, and removing anything that's not required.
7. Building Authoritative Backlinks in the Auto Industry
Now this tip here is essential if you want your website to rank higher. Backlinks are hyperlinks that direct visitors from a different website to your website. Typically, businesses publish guest posts or articles on multiple authoritative websites and hyperlink a keyword to get more traffic. Here's an example:

In this screenshot, "10x more likely" is a backlink that takes the visitor to a different, relevant website.
Why are backlinks important, you may ask? Well, backlinks from authoritative websites are proof for search engines that your content is valuable and worth linking to. If you have backlinks on multiple websites, it'll help you improve discoverability and search ranking. And this, in turn, will help you bring more visitors and thus make more sales.
But how to build backlinks? Well, one way is via guest posting. You can create articles, approach relevant websites in the automotive sector and request them to publish your article. However, this method is quite time-consuming and has a low success rate.
A more efficient method is hiring a link-building company like Link Publishers.
Link Publishers is a link-building company and a guest post marketplace. You can find relevant websites in your niche, upload the content and buy as many relevant backlinks as you want. Even if you don't have an article, they got you covered. They have content writers who'll craft quality articles on your behalf, which you can publish and buy backlinks.
8. Video SEO Optimization
In addition to creating text-based content, you must focus on video content. Research shows 64% of consumers watch videos to inform their purchase decisions. And what's better than YouTube when it comes to creating video content?
YouTube, owned by Google, is the 2nd largest search engine. If relevant, searches made on Google also feature results from YouTube. So, creating video content can substantially boost your brand's visibility. But what type of videos should you create?
Well, you can create car review videos and include test drives, considering how popular they are on YouTube. Even stats say watch time for test drive videos has increased on YouTube. You can also do dealership tours, comparisons etc.
9. Voice Search Optimization
With voice assistants like Siri, Google Assistant, Amazon Alexa, and Cortana becoming popular voices, more people are using voice search when looking for car dealerships or related information. Therefore,
car dealers must work on voice search optimization to cater to their needs.
To optimize for voice search, dealers need to create content that answers common customer queries. It's because voice searches are more like conversations. So, you may have to include specific long-tail keywords for better optimization.
Pro Tip: People often search for their local service providers using voice search. So, prioritize local SEO when optimizing for voice search.
Wrapping Up
Every business needs to be visible online to win customers' trust and make more sales. And car dealers are no exception. So, what are you waiting for? Implement the above-mentioned tips, make your dealership more visible, and boost your revenue.
However, SEO is a continuous process and requires 4-6 months of vigorous efforts to bring you any results. So, consistently putting in the effort is key here. Also, managing SEO is time-consuming and requires expertise. In case you don't have a dedicated team, it's better to outsource SEO for the best results.
FAQs
1. What are the focus keywords for Car Dealer SEO?
For the past several years, "near me" keywords have become quite popular. Here are some examples:
"Dealers near me"
"Car dealerships near me"
"Honda Dealerships near me"
Then there are global focus keywords such as:
"Used car dealerships near me"
"Car dealership"
"Local car dealerships"
Local keywords may include:
"Car dealerships in OKC"
"Car dealerships in Denver"
"Car dealerships in Houston"
"Car dealerships in San Antonio"
The above are some examples of focus keywords for auto dealership SEO. To get the best results, you need to research the keywords based on your location, user intent, and several other factors.
2. What is the role of Local SEO for Car Dealerships?
"Near me" searches are quite popular in numerous industries, including the automotive sector. When someone uses a "near me" keyword, Google shows results close to their proximity. If your dealership is optimized for local SEO, it's likely to be included in the local search results, meaning more visitors and, thus, more sales.
3. How important are Backlinks in Car Dealer SEO?
Backlinks are extremely important for car dealer SEO. Backlinks are a sign for search engines that your content is quality and worth linking to. Because of this, Google and other search engines consider your website high authority and rank your web pages higher than others, leading to more traffic.
4. What Role Does Content Play in Car Dealer SEO?
Content plays a crucial role in almost every business type, including car dealer SEO. By stepping up your content marketing game, you can:
Establish authority.
Build trust.
Reach more potential customers.
Convey your message more clearly.
Add value to potential customers.
Enjoy competitive advantage.
Supercharge your SEO efforts and rank better.
In a nutshell, without content, you cannot expect to get any results out of your car dealer SEO effort. So, make sure to include content creation in your strategy.