Link building is one of the best SEO strategies that help improve your DA (domain authority) search ranking and drive organic traffic to your website. However, amid the ever-increasing competition, businesses need to take some special steps to survive and flourish. And that's where tiered link building comes in.
In this blog, we'll discuss what tiered link-building is and how it can take your link-building and SEO game to the next level. We'll also discuss the best ways to leverage this technique and mistakes to avoid for ideal results. So, read in full.
What is a Tiered Link Building?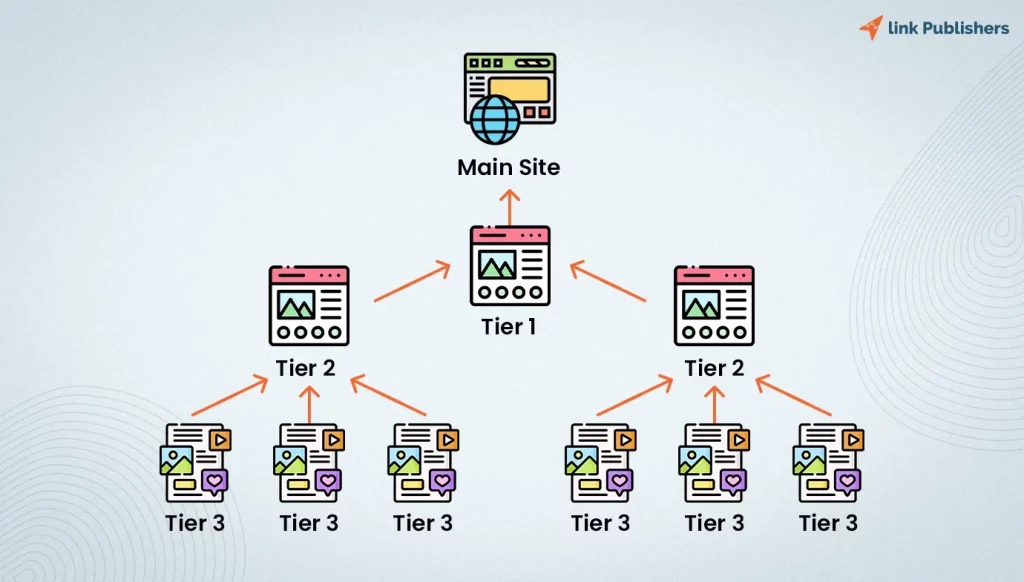 In its simplest terms, tiered link building is about creating/building backlinks for your backlinks. The motive here is to boost the page authority and increase the link juice that travels from your backlink profile to your website. Here's how tier link building works:
Tier 1
Tier 1 links (referring websites) are strictly do-follow links that point directly to your website. These links usually come from extremely high authority relevant websites that have established themselves as industry leaders in your industry. After all, the higher the website quality, the better the link juice they'll transfer to your domain.
Here are some sources of tier 1 links:
Inc.com
Entrepreneur.com
Forbes.com
HubSpot.com
Wikipedia.com
While these links are a little complex to acquire, they're the most valuable.
Tier 2
Tier 2 links are the ones that point to the tier 1 links. They're also less valuable (slightly) in terms of influence, importance, and quality. The purpose of tier 2 links is to pass the link juice to tier 1 web pages and increase their domain authority. When the DA of tier 1 pages increases, the value they transfer to your website intensifies, increasing your SERP ranking.
While you can get both do-follow and no-follow links in tier 2, your primary focus should always be do-follow.
Here are some sources of tier 2 links:
Quality PBN links
Personal blog links
Press release links
Directory links
Tier 3
As you'd have already guessed, tier 3 links point to tier 2. So, basically, it's a level-based system that slowly transfers the link juice to the primary link (tier 1), which in turn transfers it to your website.
At tier 3 and further down the line, the restrictions disappear. It means you can create low-value outbound links that are no-follow by default. In this tier, quality doesn't matter; the quantity does.
While the outbound links (no-follow) won't pass any authority to tier 2 websites, it doesn't mean these links are not valuable at all. Google states that the algorithms consider these links excessively as hints to determine which results to include or exclude in the SERPs. So, technically, tier 3 links increase the relevance of the tier 2 websites in search results.
Here are some sources of tier 2 links:
Forum links
Poor quality PBNs
Profile links
Blog comment links
Directory links
Social media links
What are the Benefits of Tiered Link Building?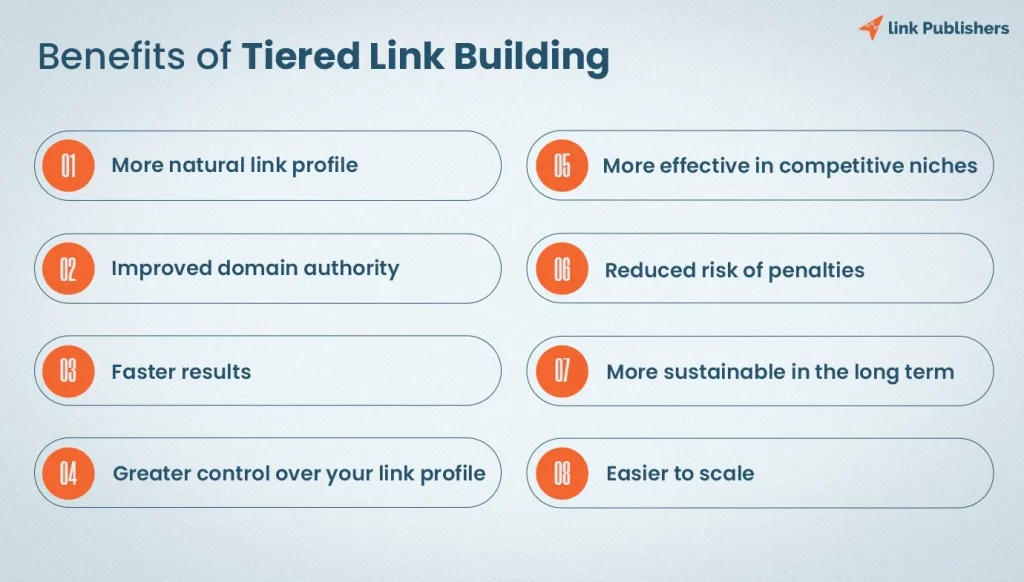 Here are the benefits tiered link building brings:
Capitalizing on Multiple Levels of Link Equity
Almost every other link-building method allows you to create links through a single-layered channel. Tiered link building, on the other hand, will enable you to pass the link juice from multiple levels to your domain.
For instance, the link juice passes from tier 3 links to tier 2 links. And then from tier 2 links to tier 1 and, ultimately, directing the value to your website. This method allows you to get backlinks from diverse sources without raising any suspicion.
Link Equity from Unrelated External Content
Often, SEO experts prefer links from websites whose content is highly relevant to your website. This is because linking unrelated content confuses search engines and reduces the relevance of your website, impacting your ranking.
However, using a tiered link-building service, you can gain equity/value even from websites that are unrelated to your primary website. Here's how:
Let's consider a scenario where tier 1 web pages have content highly related to the target website. However, when you go a step further, i.e., tier 2, the content need not be relevant to your target website. It only needs to relate to the tier 1 web pages. This way, even if the content on tier 2 is irrelevant to your website, the cumulative equity of all the tiers passes down to the target website.
More Room for Error
With tiered link building, especially at tier 3 and lower, you can focus just on the quantity. For instance, for generating tier 3 or tier 4 links, you can use automated link building and still not face any consequences. Why?
Well, in tiered link building, other than the tier 1 links, no other links are pointing directly to your website. So, even if Google finds some implications (at lower levels), your website won't get impacted, at least not immediately.
What it means is you can experiment with your link-building strategies and scale your efforts by posting comments, automated link-building, etc. You can then determine what works and what doesn't and proceed accordingly.
Building a Believable Backlink Profile
Google hates artificial link building. So, it becomes extremely challenging for businesses practicing artificial link building to stay off Google's radar. However, tier link building makes it possible.
Using tiered link building, you can get a variety of high-quality, low-quality, do-follow, and no-follow links from multiple sources, such as:
Forums
Blogs
Social Networks
Directories
PBNs
And more.
This diverse nature of tiered link building makes your backlink profile more realistic and less suspicious.
What Risks Associated with Tiered Link Building?
While this tiered link building has numerous benefits, there are some risks associated with it that you need to know about. Here are some of them:
Risk of Penalties from Google
Google rolls out several algorithm updates each year. This makes it better to identify issues that tiered link builders have been getting away with in the past.
Say you use low-quality PBNs to generate multiple tiered links for quick ranking. While this option offers you quick results, Google is bound to catch this in the near future and penalize your website, jeopardizing your ranking.
Another risky technique is automated link building using bots. Common examples include GSA and RankerX, which help you get thousands of links. However, they also leave your site exposed to penalties from Google.
Pro Tip: Never use risky link-building techniques at higher tiers such as tiers 1 and 2. If you want to experiment using automation tools and no-follow links, do that in tier 3 and lower. This will help minimize the risk of penalties.
Time-Consuming Process
Google takes anywhere between a few days to 6 months to index one backlink. To see the impact on your SEO ranking by a single position takes around 10 weeks. If that sounds like quite a lot of time, think about the time you'd be spending generating backlinks if you go down to tier 4 or 5.
Here's the effort or time it requires at each tier:
Tier 1: This is the most time-consuming as you'd be creating high-quality content. Once done, you'll have to approach multiple publishers and wait for their reply. The entire process can take several months.
Tier 2: While you can expect a higher and faster response rate for tier 2, it will take time. After all, you'll have to find links for each of the tier 1 pages.
Tier 3: You can use multiple techniques to supercharge your link creation. However, you'll still have to invest a lot of time in distributing thousands of links across multiple platforms.
Pro Tip: One of the best ways to generate high-quality tier 1, 2, and 3 links is by buying guest posts from a reliable link-building marketplace. You can select your niche, choose the right website (based on DA and other filters,) upload the content, and buy as many guest posts or backlinks ethically and quickly.
Return on investment
You need to invest a lot of time and manpower into creating backlinks at multiple tiers. However, the impact of 2nd, 3rd, and other tiers down the line on your website is marginal. So, you can spend a lot of time creating and then maintaining tiered backlinks but may not get the best returns on your investment.
Safe (White Hat) Tiered Link Building Tactics You Can Try!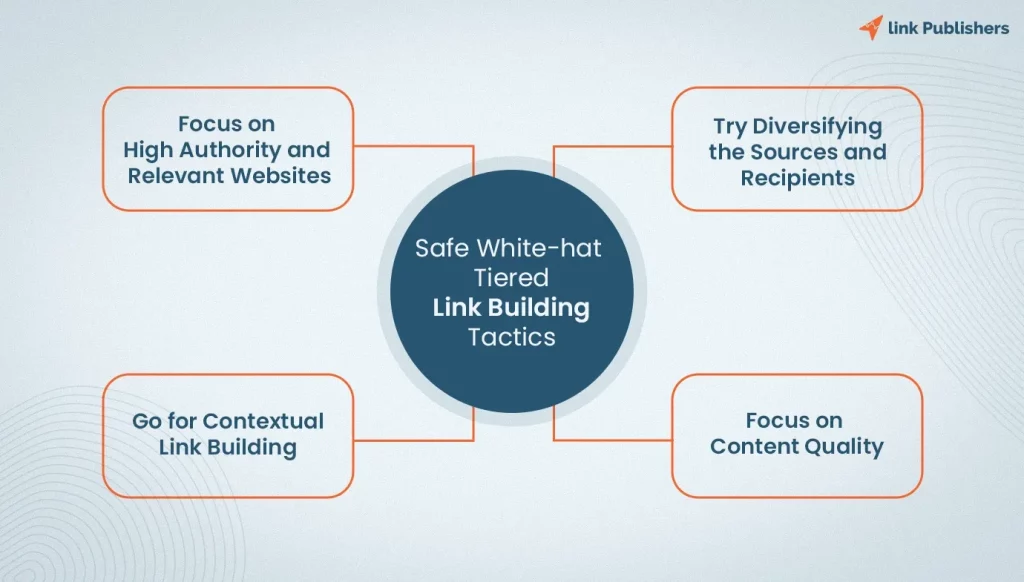 Here are some tiered link-building tactics to keep penalties at bay:
1. Focus on High Authority and Relevant Websites
When building backlinks (tier 1 and tier 2), your primary focus should be high-authority websites. Also, the content on these websites should be relevant to the content you're linking it to. While the process may be a little tough and time-consuming, it's worth it.
Pro Tip: If you want a more efficient approach, you can always buy guest posts (high authority links) from guest post marketplaces. While it's recommended to go for websites with 70-80 DA and 60-70 DA for their 1 and tier 2 links you can adjust according to your SEO competition.
2. Try Diversifying the Sources and Recipients
While it's obvious to get backlinks from publishers in your niche, you should also explore different sources. Because too many links coming from the same source might make Google's algorithms active and suspicious.
So, if your first backlink comes from a publisher in your niche, you can approach a news website for the 2nd one. Similarly, for tier two links, you can approach article directories, blogs, etc. Finally, for the tier 3 links, you can go for blog comments, forums, and social media groups.
Pro Tip: Try to point the backlinks to multiple pages on your website instead of targeting a single page.
3. Go for Contextual Link Building
If the anchor text or the content on your website is irrelevant to the content on the referring website, Google might flag it as spam. So, when you're building links, make sure they're contextual, i.e., the content on the referring domains relates to the content on your website.
The logic here is simple. If someone is on a high authority website reading a blog, they might want to click on a relevant anchor text. And if the anchor text takes them to a related or valuable resource, they're highly likely to take the desired action, sending positive signals to Google.
4. Focus on Content Quality
When creating content for guest posts, make sure they're high quality. Google's algorithm can detect the depth and language of the content. And if your content is not high quality, it may send a wrong signal to Google (google may think you're creating poor content just to insert links).
Also, try to avoid rephrasing the original content over and over again. Google loves original content and can easily detect similarities between content. So, original and high-quality content should be your priority.
Wrapping Up
While Tiered link building is a complex concept, it has the potential to boost your SEO rankings. Not only do you get to drive the link juice from high-authority websites but from average and low-authority websites as well. Considering the benefits it brings, tiered link-building is not something you can ignore.
However, when implementing this strategy, make sure you're vigilant, as you might end up using black hat techniques, leading to penalties. So, consider this blog as your guide and leverage tiered link building in the best way possible.
FAQs
Does tiered link building still work?
Despite all the optimizations Google has introduced to its algorithms, tiered link building is still a relevant SEO strategy. When implemented correctly and in moderation, it can help you transfer the link juice from multiple tiers to your primary website.
What is Tier 2 link building?
Tier 2 link building is when you create backlinks for your referring website. Let's say you have a backlink (tier 1) from a high authority website pointing to one of your web pages. When you create a backlink that points to the tier 1 link, it's called a tier 2 backlink.
Is it safe to build Tier 2 links to your main site?
First of all, 2nd tier links point to tier 1 websites and not directly to your website. And as long as you build high-quality do-follow tier 2 links, it's completely safe. Common sources of 2nd tier backlinks include web 2.0 posts, social bookmarks, profile links, directories, and high-quality PBNs.