In the world of digital marketing, the competition is stiff, and understanding the difference between backlinks vs referring domains is important if you want to make sure you get your page ranked on Google. Getting ranked is not hard, but being on the first page is tough, and as the adage goes, "if something is not on the first page of Google, it doesn't exist!"
Referring Domains Vs Backlinks – What's the major difference? To get you started, I will say, off the bat, that Google uses backlinks to rank websites. And the more links you have from other websites back to yours would increase the ranking. Referring domains are the other side of the spectrum, and these are classified as hyperlinks leading to different websites. But let's dive a bit deeper and find out what backlinks and referring domains mean for your website!
What Is A Backlink?
Backlinks are some of the most important aspects of your website. They have a significant effect on the ranking of your site. The better quality you produce, the more writers like myself would link to your content in the hopes of enhancing or even explaining certain aspects of your content.
In simple terms, a backlink would mean that a different website from yours, has deemed your content of such high quality. It means they would like their readers to refer back to your content. And read the desired article or whatever you have posted.
I often see backlinks as feedback from other content creators on the web. As I have just mentioned, other people would be able to "judge" the content. They also judge the quality of your website. The goal is to have websites that perceive your content as valuable. Valuable content means a better ranking your website would garner on Google.
How Do Backlinks Impact SEO?
SEO or Search Engine Optimization is a set of practices used by website owners and businesses. The idea is to get more organic traffic to their websites. It means that you optimize your content or webpage in such a way that it helps to drive more traffic through various search engines like Google and Bing, for instance.
You should understand how backlinks would impact SEO on your website. To do this we have to simplify the process. It should help you understand why backlinks are important. As I have previously stated, the backlinks are a solid vote of confidence from other websites. It means that they would rate your content to be at a high level.
One of the essential parts of off-site SEO is to ensure that your content is of such a high level. It should also provide value to readers and other websites. Eventually you earn the right to be linked from their sites.
Not only does the process of having links to your site drive organic traffic from other sites. But it also helps search engines recognize the quality of your content and would rank it much higher.
Not all backlinks are good, though!
While backlinks are great for your site, not all of them are good. You might have heard of toxic backlinks? These could negatively impact the quality of your site. This can be broken down into three different categories:
Low Domain Trust Score: Unfortunately you cannot control who links to your site. However, you often have to be careful when doing it yourself. Links from pages with a low domain score could seriously harm the quality of your site.
Similar/ Mirror Pages: A common link-building scheme from bad SEO specialists is to link from the same anchor text on multiple sites. The problem with doing so is that search engines can perceive this as a link buildings scheme.
Bad Page Layout: Bad page layouts refer to a bad ratio of visible text to HTML. Pages like this could be bad for your SEO ranking. As you can see, the major goal is to make sure you get organic links to your site. The idea is to produce the best possible content, which does not copy from other pages and provides something unique.
What Is A Referring Domain?
Referring domains and backlinks are often confused. However, they are often the same thing, which has been cut from a different cloth. From what I understand, backlinks are the physical links from another page to your site. Additionally, the referring domain mentions that the domain linking to your site is referring your domain as another great place for content.
To better understand the concept, we should mention an example; If you have a backlink to your site from a page like the Washington Post, this would mean you have one referring domain. However, if you receive another backlink from, let's say, Forbes, this would mean that you have two referring domains. Having two links from Forbes would still mean you only have one referring domain.
How Does Referring Domains Impact SEO?
Referring domains and backlinks signal the same thing to search engines. I have briefly gone over what search engine optimization means, but referring domains also has a major impact on SEO.
Much like your backlinks are a vote of confidence from other writers and websites. The referring domain is a vote of confidence from a different domain. When thinking of referring domains vs backlinks. You would want to focus on both of them to ensure that you have the best results.
In summary, the referring domain is another way to get a vote of confidence from other websites. And search engines would recognize this and consider your content to be valuable. Since Google always tries to rank the best content as high as possible. This would be a surefire way to the top of the Google rankings.
Referring Domains Vs Backlinks : Do you know how they're different?
The Major Difference Between Referring Domains Vs Backlinks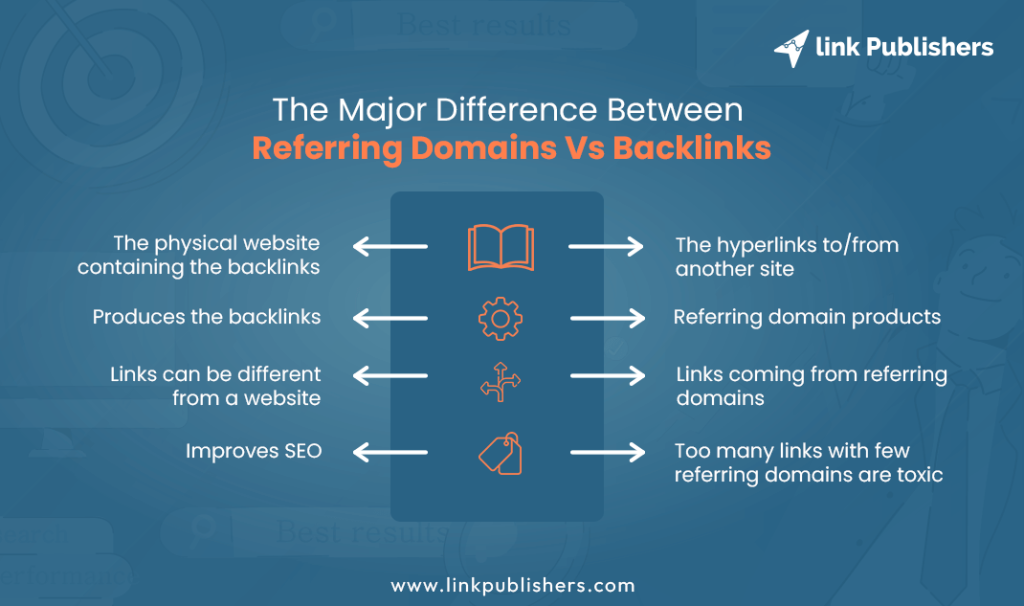 To understand the difference between referring domains Vs backlinks, we should break it down into four easily understandable concepts. These four concepts are the meaning behind each, the function of each, the direction, and the value or quality it adds to your page.
These are the four major differences between the two. However, you might notice that they are also very similar in many ways. The only notable difference is that you want to make sure you have a good ratio between backlinks and referring domains to ensure your content does not garner a toxic rating.
Best Practices For Building Referring Domains And Quality Backlinks
I hope that you took note of the fact that certain backlinks can be toxic to your website. The main idea is to help you make sure that you can avoid this and build high-quality backlinks to your website. Which would ultimately result in a much better ranking on Google. Here's how I approach it:
1. Creating RELEVANT Content
Unless you are willing to pay for backlinks, the best practice would be to get free high-quality backlinks to your site.
However, you will need to make sure that you create valuable content, which provides some form of value to your targeted audience and the world. Much like you need to become a person who provides value to society, your content should be similar.
The better your content, the more people would read it, and if they produce something in line with your content, this could lead to a few backlinks from different domains.
Alternatively, you might be able to reach out to different websites and ask for backlinks. I have not had a problem with website owners providing backlinks if the quality of the content I produce is in line with theirs and if it adds real value to their sites.
Tapping into the social media hub is another great way to get backlinks and this would work wonders when you are trying to promote your content. However, you should not spam this as too many backlinks from the same domain could be considered toxic by the algorithms.
2. High-Quality Sites Guest Posts
One of the trickier aspects is finding a high-quality site. The idea is that you spend some time using tools like Google Sheets and Ahrefs. Which could help you find sites with a high Domain Authority.
You should reach out to these websites and ask if you can create a guest post for the site. Most sites would allow you to enter your website in the author bio. Which should be a great way of getting a referring domain and backlink from a high-quality site.
3. Infographics Are Rare And Valuable If You Have The Skills
Few writers have the skills to create infographics that could add a visually appealing side to their side. I am not talking about copying and pasting infographics from other sites, but rather creating your very own. You can easily create infographics to support your content by making use of data and statistics you find for your content.
Due to the visual appeal, you are more than likely to gain some interest and have people link back to your sites.
4. You Can Repurpose Content For Different Uses
You should understand that I am by no means encouraging you to regurgitate the same content and post it on a different site.
However, you can repurpose some of your content by turning it into a video, podcast, or even infographics to be posted on various image websites. Many of these sites like YouTube already have a massive domain ranking and this could significantly help to boost the backlinks and referring domains of your website.
How To Check Backlinks And Referring Domains For Your Site?
Since some backlinks can be toxic and this is something you want to avoid, you should always look at some of how you can check backlinks and referring domains for your site. Here are a few of the best ways how you should be able to do so:
Ahrefs
One of the best tools you can use is Ahrefs, which is the second most active web crawler on the internet after Google itself. Ahrefs would give you access to all the specific data that you would need, including the Domain rating and other specifics that could help you determine the quality of your own websites and the links coming to them.
Google Search Console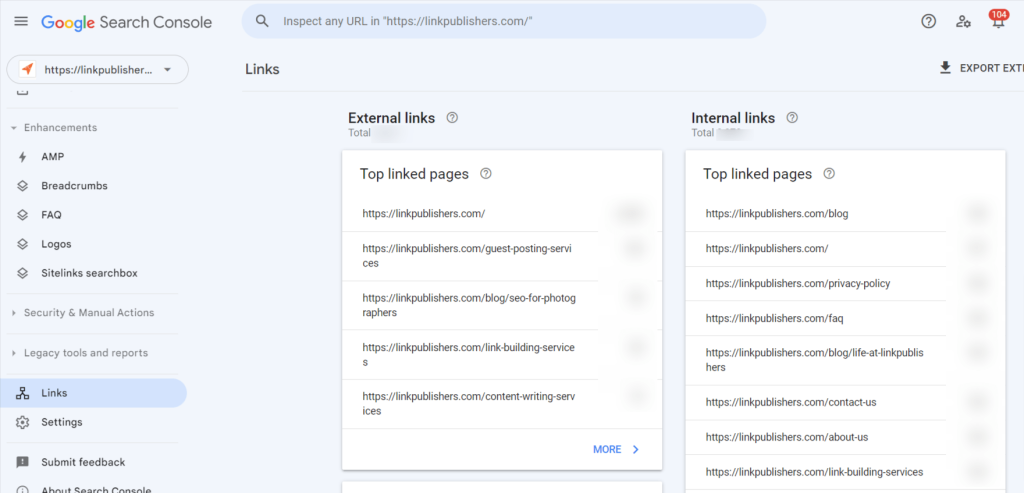 GSC or Google Search Console is another great tool that you can use and this is the most in-depth website analyzer in the world. It would give you all the specifics of your website and other websites to help you understand the quality and ranking that each website would bring.
Conclusion
Referring domains and backlinks can be very similar to one another and you must understand some of the differences. I have used both these to help propel websites to the first page of Google. Now, I would love to see some of your feedback or even questions you might have when it comes to backlinks and referring domains.
Referring Domains Vs Backlinks Frequently Asked Questions
With most of the questions out of the way, there are still a few things that people might have on their minds. I have done some searching to help me find some of the most common questions that other website owners and newbies have had:
Are Referring Domains And Backlinks The Same?
While they might seem the same on the face of it, they are slightly different. A referring domain refers to the different domains linking to your site and the backlink is the physical link.
How Do I Check Referring Domains?
Using a site like Ahrefs is a good start to give you an idea of the quality of sites linking back to your site. However, each link from a different website to your site would refer to one domain.
How Do You Build More Referring Domains To Increase SEO Rankings?
You can refer back to the section on how to create high-quality backlinks as referring domains are similar. The only difference is that instead of getting great links from sites. You want to diversify the sites linking to your website to have more referring domains.
What Are Lost Referring Domains?
A lost referring domain would mean that you have lost the backlink from this particular site within the past three months. This can be due to changes in the pages or content from the said domain. However, Google could still consider the value of the domain when calculating your ranking and give you time to recover the lost domain.