Gone are the days when people used the Yellow Pages to find landscapers!
Nowadays, everyone searches on Google!
Do you know that 93% of online searches start with a search engine?
This means that you need to have your landscaping business on the first page of Google. Plus, if you don't want to miss out on an opportunity or attract more customers, you need to learn how to do it right!
And the Key to this is SEO!
In today's digital age, having a strong online presence is crucial for any business, including landscaping companies. And SEO, or search engine optimization, is one of the best ways to do it!
With more and more people turning to search engines like Google to find local services and businesses, optimizing your website for SEO has never been more important. SEO for landscapers can significantly help drive organic traffic to their website and ultimately attract potential customers.
If you own a landscaping business and want to stand out from your competitors, it's crucial for you to master the art of search engine optimization (SEO).
Fortunately, optimizing your landscaping website isn't as challenging as it seems. By learning and implementing the right SEO landscaping strategies, anyone can easily gain organic traffic to their website.
Today in this post, we will uncover eight game-changing SEO tips and strategies specifically tailored for landscapers. We've also explained the benefits of landscaping SEO in 2023.
Whether you're a seasoned landscaper or just starting out, this guide will help you to increase your online visibility, attract more customers, and cultivate a flourishing digital presence.
Let's dive in.
What is Landscaping SEO?
Landscaping SEO is the process of optimizing the ranking of a landscaping website in search engine results pages (SERPs) such as Google, Bing, or Yahoo. When done correctly, SEO can help improve the website's online visibility, and ultimately your landscaping business attracts more visitors and generates more leads.
Landscaping SEO aims to ensure your website is on the top results of a search engine when a user searches for landscaping-related keywords or phrases. This can increase organic (non-paid) traffic, and your landscaping business will grow more.
Benefits of SEO for Landscaping Companies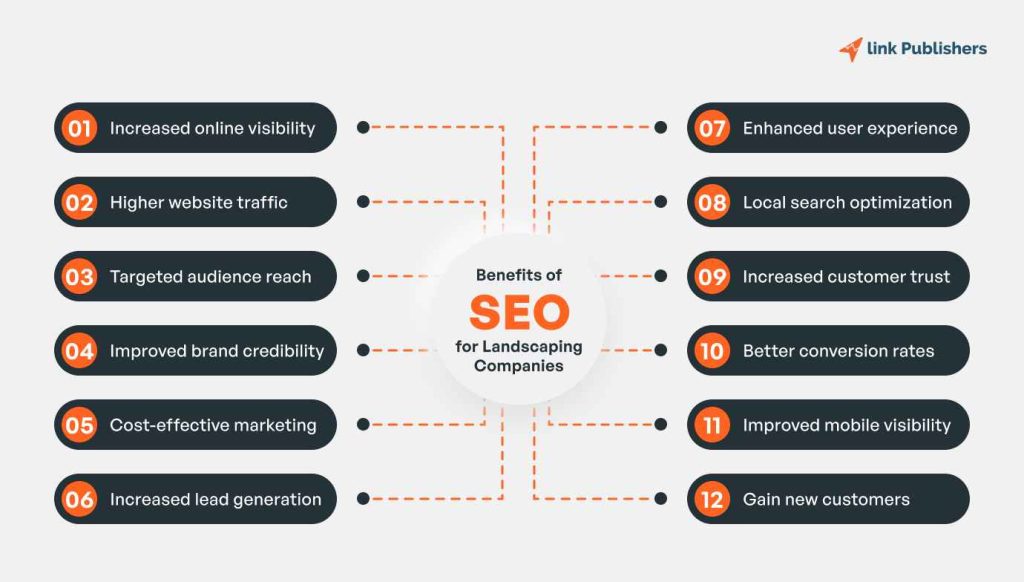 As a Landscaper, you may have already heard about SEO, but it is worth your time and effort.
The real question is: How does SEO benefit your business?
Implementing SEO strategies to your website can actually bring several benefits to your gardening or landscaping company, such as attracting more clients, closing more sales, growing your business, and many more.
Here are some key benefits of SEO for landscaping companies.
Improve Visibility in Search Engines
One of the significant advantages is that it drastically improves the website's visibility. This helps to draw potential clients. How? When a user searches a landscape-related query on search engines, your website will come on the top results on the SERPs. This way, more and more users can easily see and reach your landscaping website.
Attract Targeted Traffic
Who doesn't want to increase targeted traffic to their website? Everyone does! However, bringing traffic isn't enough; you've to bring the targeted traffic to your website.
SEO for landscaping companies allows landscapers to target specific keywords and phrases that help bring people who are actually interested in the landscaping services you offer.
Build Trust and Credibility
When your landscaping website ranks high in SERPs, it builds trust and credibility among users. It will also improve your brand reputation and attract more customers.
After reading here, you now know what landscaping is for SEO and how it can benefit your landscaping business. So, it's finally time to learn the best strategies for SEO for landscapers.
8 Powerful Strategies For Better SEO For Landscapers
Whether you're struggling to find new customers or new to the landscaping business, learning SEO for landscapers is imperative. With so much competition in the garden and landscaping industry, you can also get help from landscaping SEO agencies like Link Publishers for landscaping SEO services.
They will analyze your website and provide the right SEO strategies to boost your business's online visibility and attract more web traffic and leads.
Here are some valuable tips and strategies for better SEO for landscapers.
1. Do Keyword Research and Find Relevant Keywords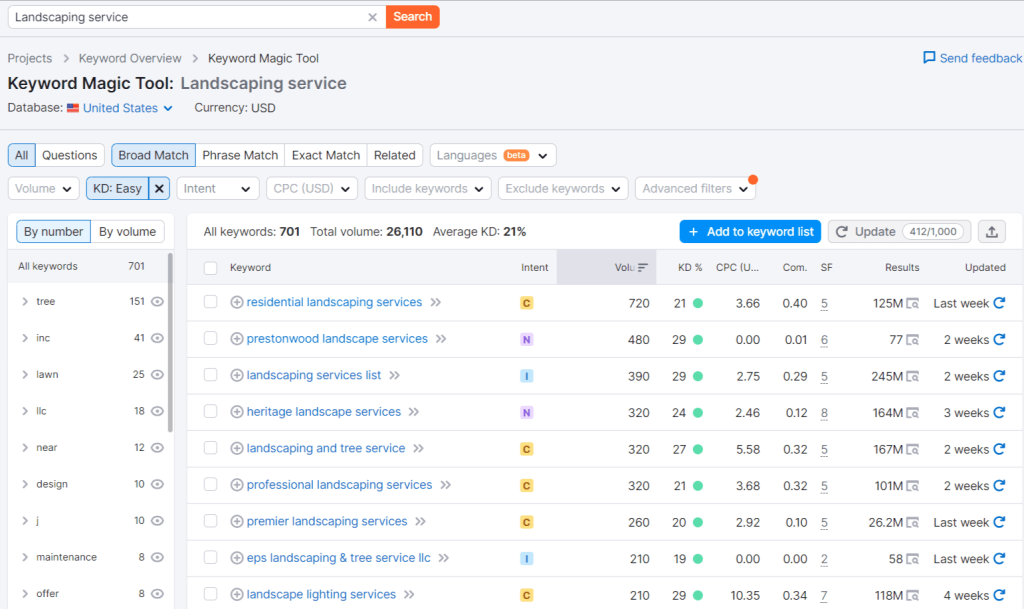 The most basic and most important SEO strategy is keyword research. Conduct in-depth keyword research to identify the terms and phrases your potential customers use to search for landscaping services.
You can use tools like Google Keyword Planner, Moz Keyword Explorer, Semrush, or Ahrefs to find valuable keywords with reasonable search volumes and low competition. With the assistance of these tools, you can easily find various types of keywords, such as General keywords, Specific keywords, Question-based keywords, long-tail keywords, and Structured keywords.
Try to include these keywords in various content for your website, including page titles, headings, meta descriptions, and body text.
2. Optimize Title Tags and Meta Descriptions
The next on SEO for landscapers is the title tag and meta description optimization. A page title is a clickable link, and a meta description appears underneath the page title. These two are important because these are the first things users see in search results.
So, whether a user clicks on your website link or passes it over completely depends on how catchy and optimized your page title and meta description are.
This is why it's crucial to use keyword-rich titles and meta descriptions.
Here's an example of a page title and meta description of a landscaping company: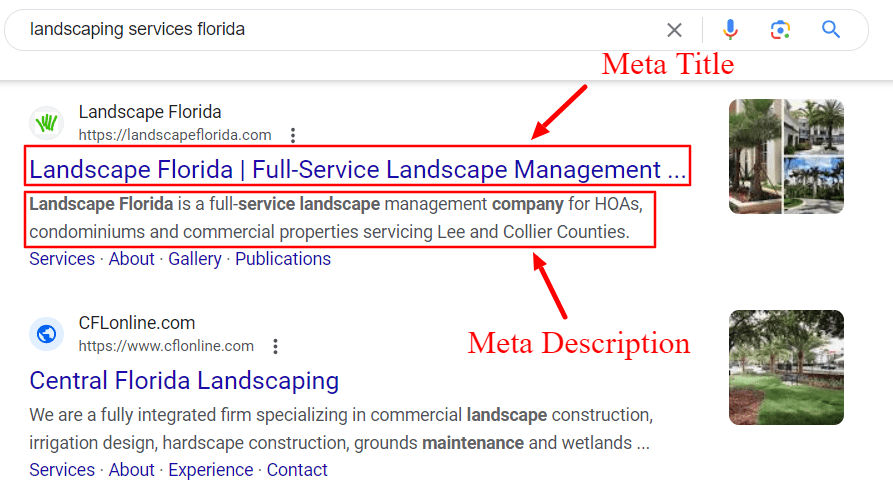 3. Create High Quality & Valuable Content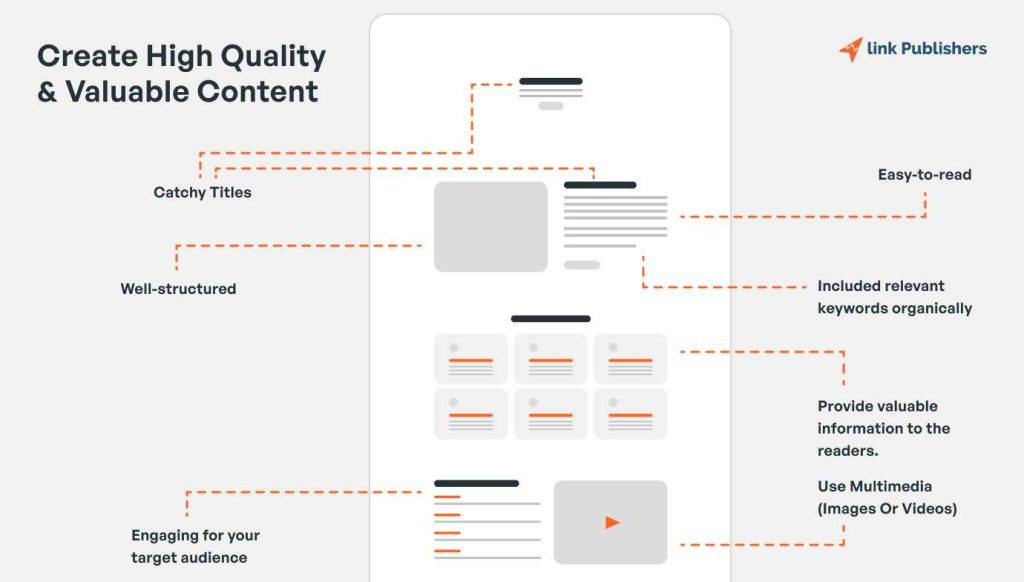 Is your website not getting enough traffic even after creating good page titles and meta descriptions?
One of the main reasons behind this is that readers don't find your website content relevant or informative.
From establishing your expertise in the landscaping industry to attracting web traffic to your website, creative and effective content related to landscaping can benefit your business in many ways.
If you want to rank your website on SERPs, focus on producing high-quality and relevant content. As we have already heard a million times, Content is KING when it comes to SEO.
Create a blog section on your website and compelling pages that offer valuable information about your landscaping services. Try to regularly publish articles, blogs, guides, E-Books, and tips related to landscaping topics, such as gardening tips and lawn care advice.
Your blog or website content should be
Well-structured
Easy-to-read
Included relevant keywords organically
Provide valuable information to the readers.
Engaging for your target audience
When you provide informative information to your readers, it will drive valuable leads to your site. This is why putting more effort into producing good content relevant to your business is vital.
4. Optimize Your Website's Structure and Navigation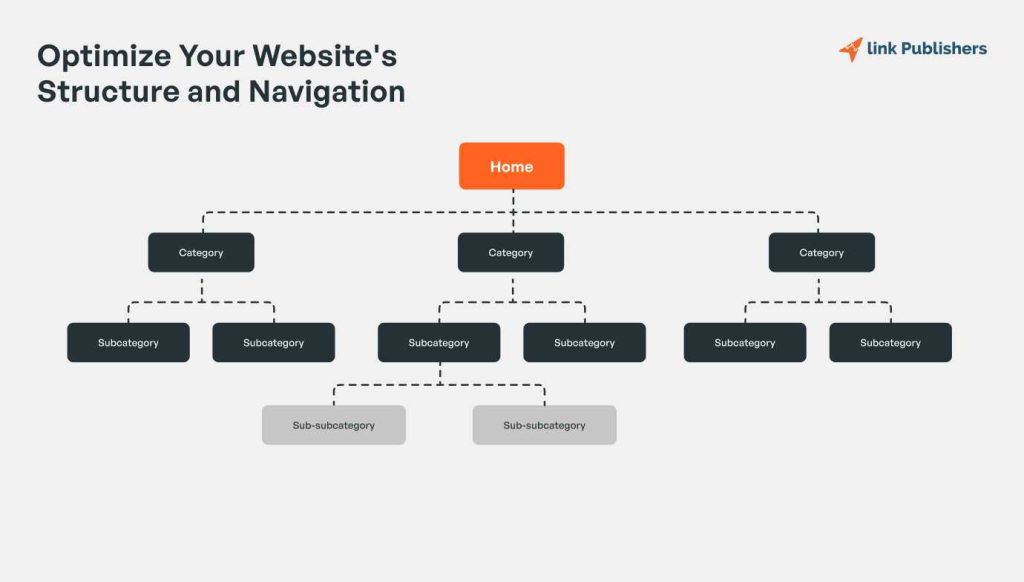 One of the most crucial aspects of SEO for landscapers is optimizing their site's structure and content. A well-structured and user-friendly website not only enhances the user experience but also improves search engine rankings.
Here are some tips for optimizing your site's structure to boost your SEO efforts:
Ensure that your website has a clear and logical hierarchy. Each page should be accessible within a few clicks from the homepage.
Use clear, descriptive, and SEO-friendly URLs.
Use keyword-rich titles and descriptions for your pages.
Optimize your images with relevant keywords.
It is vital for landscaping companies to optimize their website. This step can drastically improve your site's ranking in search results, leading to more traffic and customers for their business.
5. Improve Your Landscaping Local SEO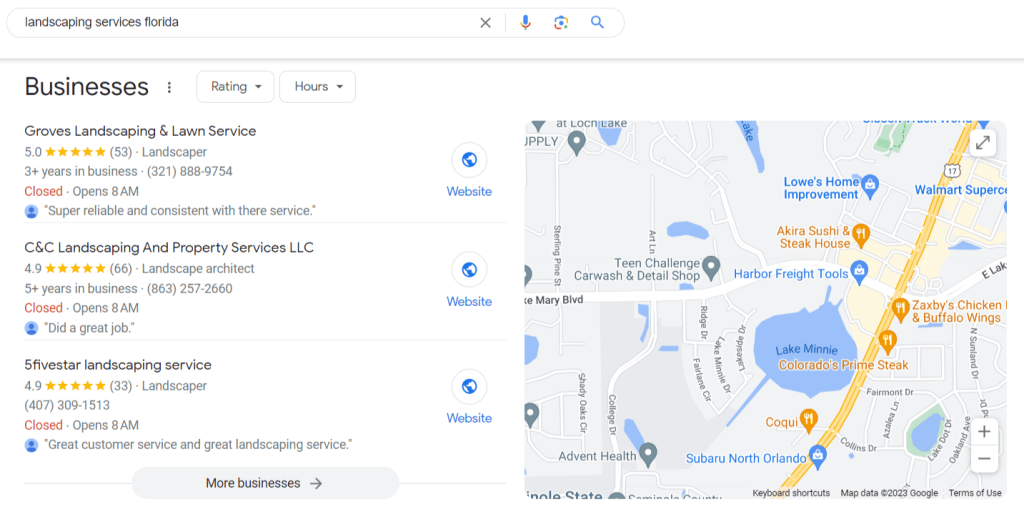 97% of people search on Google for local businesses and services, including local landscaping companies. So, your landscaping business should be on Google to get more customers. Here comes the Local SEO for landscapers!
Local SEO is a subcategory of SEO that targets and optimizes a landscaping business's online presence for local search queries.
So, if your business isn't showing on Google or not getting enough traffic, the reason might be local SEO.
Local SEO for landscaping companies focuses on increasing visibility and attracting customers from a specific geographic area instead of boosting visibility to everyone. This is one of the most important local SEO strategies for landscaping companies.
For example, Local SEO consists of keywords and phrases like "landscaping companies near me," "landscaping companies around me," "Florida landscaping companies," and "landscapers in Florida."
6. Build High-Quality Backlinks

Backlinks, also known as external links, one-way links, or inbound links, are links from different websites to a page on your website. These backlinks are one of the most crucial factors in SEO and Google's ranking algorithm.
This is why it's essential to put your focus on acquiring high-quality backlinks from reputable websites in the landscaping and home improvement niche.
Reach out to local businesses, suppliers, and industry influencers to collaborate on creating informative content, guest blogging, or infographics. You can also participate in online forums and communities related to your landscaping business.
However, remember, when it comes to building backlinks, choose quality over quantity!
Several link building service providers are available in the market, however, to get the best inbound links for your landscaping website, contact Link Publishers.
It is a popular guest post marketplace that offers Guest Posting Services and many other SEO services, including Content writing, Link Building, Content marketing, SEO Reseller Services, etc.
7. Optimize Your Website for Mobile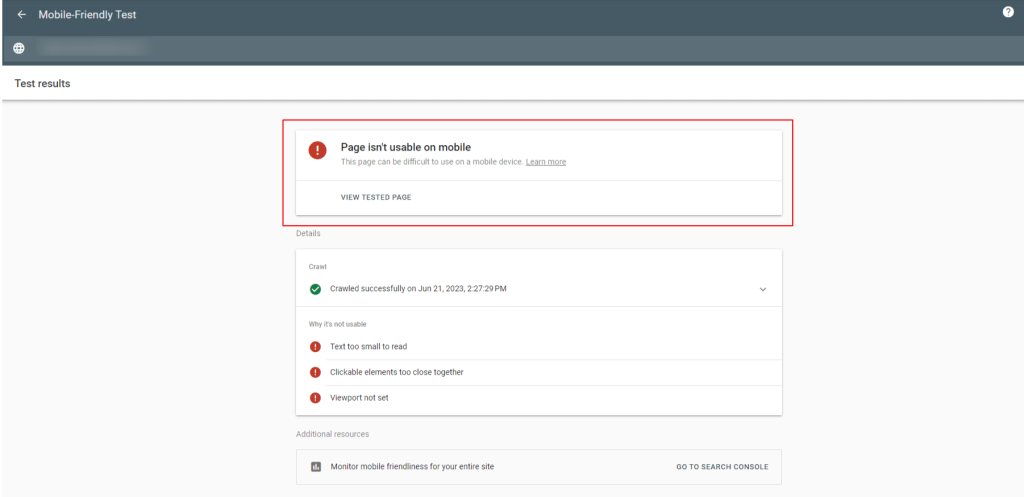 Another useful tip for landscapers is to optimize the website for mobile devices.
Why?
Look at this data…
Today there are over 4.32 billion active mobile internet users worldwide. On average, a user spends about 3 hours and 15 minutes on their smartphone per day.
With the rapid increase in the use of smartphones and tablets, boosting your landscaping website has become a necessity – not an option! People no longer use traditional methods to search for information; instead, they search online.
Moreover, Google also considers mobile-friendliness as a ranking factor. So your site should be user-friendly and mobile-friendly to keep leads engaged.
Use a simplified and responsive website design for small screens. Make sure of the page load speed, font sizes, and ease of navigation. This is why it's easier for your audience to search for and access your landscaping company on mobile devices.
8. Monitor and Analyze Your SEO Efforts
Even after implementing the above-mentioned strategies, your work is still unfinished.
The last step of SEO for landscapers is to monitor the effectiveness of your SEO strategies.
‍
You have to carefully track and regularly analyze your website's performance and identify the areas for improvement. Take help from online tools like Google Analytics and Google Search Console to track essential metrics such as organic traffic, keyword rankings, bounce rate, and user behavior.
These things will help you to gain insights into what is working and what can be optimized further. Later, you can adjust your SEO strategies to improve your website's search engine visibility and generate more leads.
Get Started With SEO For Landscapers!
SEO has become a crucial part of any landscaping business's marketing strategy. Optimizing your website for search engines is a long-term investment that can yield significant benefits for your landscaping business.
Whether you're doing it on your own or seeking assistance from landscaping SEO services, optimizing your landscaping website for local search is crucial for increasing your online visibility and attracting potential customers in your target area.
Implement the tips and strategies to start SEO For Landscapers mentioned in this blog to gain success in the digital landscape. You can improve your SEO for landscaping companies, attract organic traffic to your website, and ultimately convert visitors into potential customers.
Remember, SEO is an ongoing process, so stay up-to-date with the latest SEO trends and algorithms. Finally, adapt your SEO strategies accordingly to stay ahead of the competition.
SEO For Landscapers FAQs
Why is SEO important for landscaping companies?
SEO is crucial for landscaping companies because it helps them gain a competitive edge in the online marketplace. With effective SEO practices, landscaping businesses can appear higher in search engine rankings, making it more likely for potential customers to find them when searching for landscaping services.
This increased visibility can lead to higher website traffic, more inquiries, and, ultimately, more business opportunities.
How long does it take to see SEO results for a landscaping website?
The entire SEO process can take weeks to months to show improvements in search engine rankings and organic traffic to your landscaping website. The time it takes to see SEO results for a landscaping website can vary depending on several factors, including the competitiveness of your industry, the current state of your website, the effectiveness of your SEO strategies, and the algorithms of search engines.
However, it's important to note that SEO is an ongoing process, and consistent efforts are required to maintain and improve your rankings over time.
Can social media impact my landscaping SEO efforts?
Yes, social media can impact your landscaping SEO efforts. While social media signals themselves (likes, shares, etc.) do not directly affect search engine rankings, social media can indirectly influence SEO in numerous ways.
It can increase brand visibility and awareness, drive traffic to your website, and attract potential customers who may engage with your content and link back to your website. Additionally, a strong social media presence can contribute to building your brand authority and online reputation, which can positively impact your overall SEO efforts.