With more than 660,000 restaurants in the United States, the culinary industry has become one of the most competitive. Every day, at least one or two new restaurants pop up, creating fierce competition. Fortunately, restaurant SEO can help you edge out a top spot and enable you to draw in more customers than the competition.
Why Is SEO For Restaurants Important?
In one of the most competitive industries in the world, getting a minor edge can help increase sales significantly. It is estimated that 47% of all American eat at a restaurant at least once a week. SEO tips for restaurants are a way of tapping into this market and making sure dinner service is always full.
As a restaurateur, SEO might seem complicated, but we are here to assist you. In this article, I will dive deep into the SERP process. I also look at how search engines operate to use SEO, helping you rank better when people are looking for their next restaurant. I will share some insight and advice on how to make your restaurant more accessible to a large online audience.
Why SEO For Restaurants Is Important?
The culinary industry is highly competitive. More and more entrepreneurs are starting their own chains and fine-dining restaurants each year. With such a clog in the market, it is easy for restaurants to get lost in the sea of the internet.
With the ease of the internet now making it much more sufficient for people to find an eatery, those not targeting the online market are at a significant loss. If you don't rank for the most popular keywords, no one would even know you exist.
The great thing about the internet is that you can manipulate search engines and make sure your restaurant is always the first one people see when they get on the internet. Instead of struggling with posters or relying on word of mouth, the internet can help you draw fresh leads.
Why Should A Local Restaurant Even Consider SEO?
Guests!
No restaurant can survive without guests attending the restaurant.
In such a competitive industry, you are competing for clients. People can only eat once or twice per day, and you want them to choose your restaurant over the competition. Top this with some great food and service, and SEO also helps you generate recurring clientele.
To draw from a personal example:
When lunchtime arrives, I often ask my secretary where the best place to eat is. She immediately jumps on the internet to check out the local restaurants.
If your restaurant does not turn up on her Google search, we would probably never visit. Keep in mind that many people are trapped in jobs that keep them busy, so a Google search is the optimal way to quickly find a spot for lunch or dinner.
Local SEO for restaurants is even more important. When searching for a good restaurant, I often use phrases like "good restaurants around me". Google spews out a few good options and I can pick and choose. Since many restaurants have their contact details attached, a simple phone call is all it takes to make a booking.
If you are currently struggling to get your dinner service booked, you might need local SEO to help stave off this issue, but a bit more on that later!
Best SEO Strategy For Restaurants –Essence Of Earning More Clients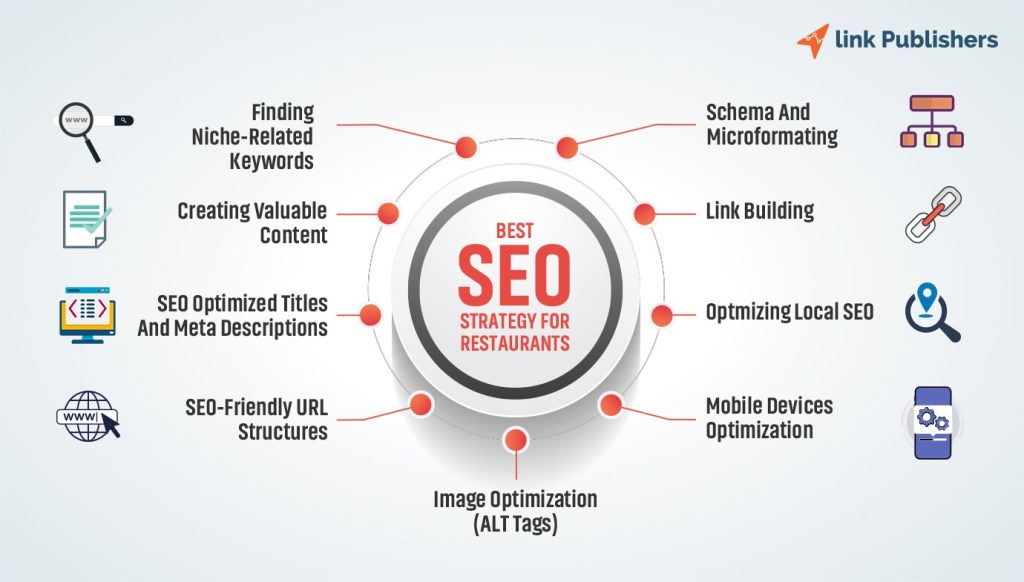 Whilst you don't need to physically study each concept, a broad understanding of these concepts would be useful. Once you have mastered the art of these strategies, you can tap into useful SEO strategies. These strategies will show you the importance of SEO for restaurants and improve your stake in the market:
Content Optimization (Creating Valuable Content)
Content optimization might be tricky for restaurants as content is not the most important thing you will have on your website. However, each recipe or dish on your menu can be described and this should provide REAL VALUE to the reader.
You can use tactics such as answering food-related questions that people might have or how to create specific dishes. The key is to entice visitors to come back each time they have a food-related query. This ensures high-quality content leading to recurring visits.
If you are focusing on content optimization for your website, you can produce content that describes the recipes for each dish you make.
The recipe for a perfectly cooked steak could include things like the perfect cooking temperatures, the basting process, and how long to let the steak rest. It should allow any reader to have a complete understanding of how to cook the perfect steak.
Keyword Research (Finding Niche-Related Keywords)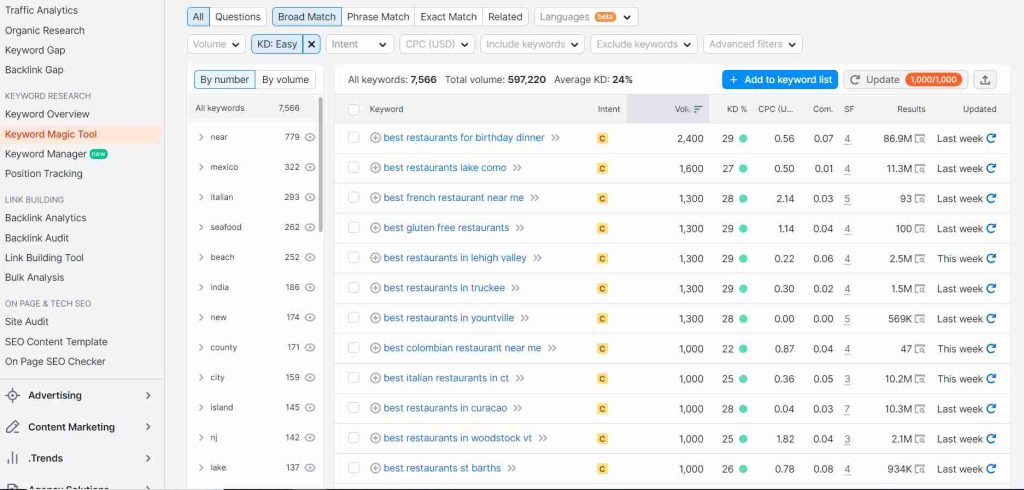 Unfortunately, your content will be swamped in an ocean of content if you don't apply the correct keywords. It would be valuable to do in-depth keyword research and find out what people are searching for, to begin with.
Terms like "restaurants around me" and "how to cook the perfect steak" get millions of searches each year.
Before dropping your high-value content, make sure that the topic you choose is something desirable to an audience. This would significantly increase your leads.
Depending on the niche of your restaurant, you want to target not only local keywords but keywords related to your niche.
For an Italian restaurant, a few good keywords would be; "Best chicken alfredo in New York" or "How to create Italian pasta from scratch." You should use keywords directly related to your niche.
Schema And Microformating (Structuring Content For Google)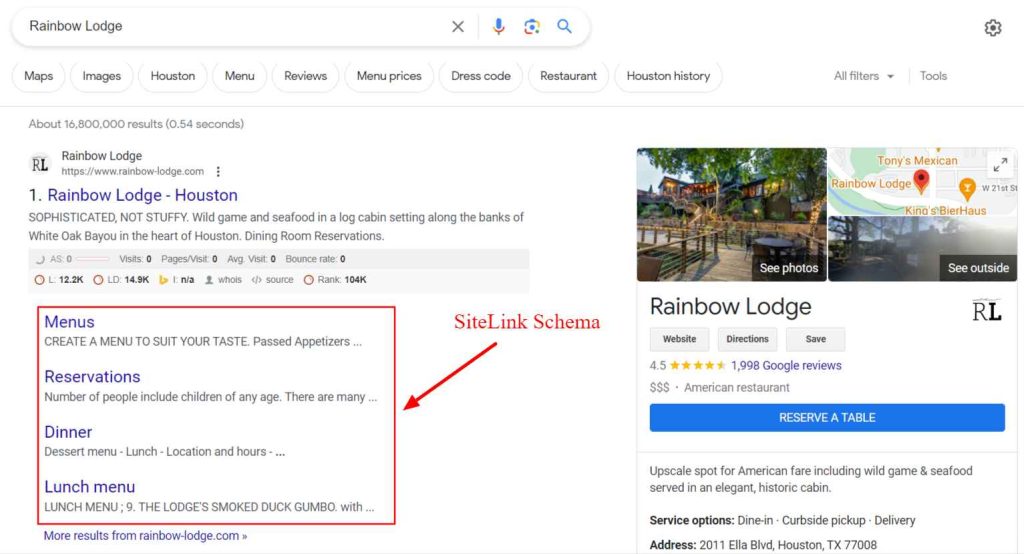 Whilst humans can understand the content, Google often needs it simplified to correctly understand the content. Schema and microformating is a way of making content easy for Google to understand.
As a restaurant, Google will constantly be trying to learn more about your restaurant, especially through things like operating hours and the food niche you are in.
To simplify the process for search engines, you can make use of microformatting (HTML Formatting). This enables Google to differentiate between a menu, reviews, and traditional blog posts. By using the language specifically designed for Google, you can easily create sections on Google, allowing people to quickly scan your menu and see your operating hours.
Since Google tries to lay out your content in the most relevant and logical way, you need to make it easier for Google to understand. With Schema and Microformatting, you can use HTML formatting that creates sections for Google to display.
One section could be for the menu, whilst another will focus solely on your amenities. This gives a clear and direct indication for Google on how to describe your restaurant.
Leveraging The Way Google Is Finding And Verifying Your Restaurant's Data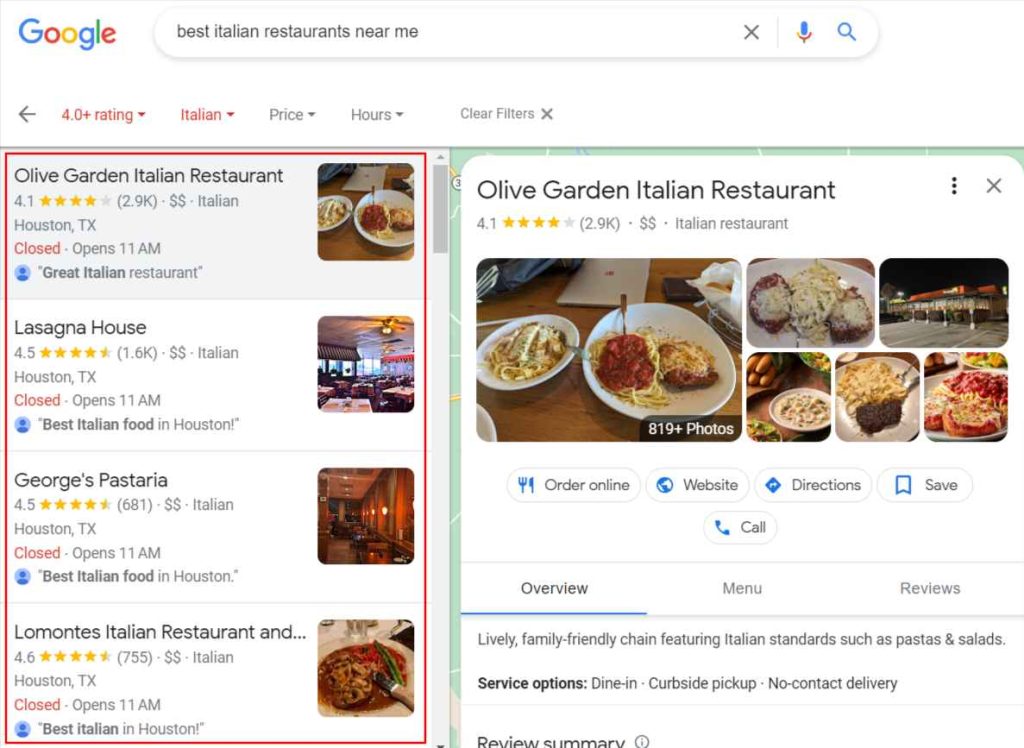 Google uses what is called knowledge panels, which constantly gather and update information about your site. This is integrated into the keywords and enables Google to rank you where appropriate. Fortunately, Google uses numerous methods to gather your information, you can tap into all of these.
Google My Business is one of the best ways to manage your business information on Google. It can be used to give a brief description of your business, as well as the services you offer. You can update and change this information whenever needed.
Google Local Guides (Local Contributors):
Have you ever received a notification that asks you to rate a restaurant? This is what Google uses to encourage people to leave reviews or share pictures of local restaurants.
This can be a great way to ask local contributors to say something about your website. Unfortunately, crowdsourced data is notoriously unreliable.
Different third-party directories are used by Google to cross-reference some of the data on your website. By using a tool like Moz Local, you can ensure information is up to date.
Link Building
A solid backlink serves as a nod of approval from other content creators. Having authoritative backlinks shows Google that your content is relatable and provides actual value to the reader. This carries a hefty amount of weight when it comes to ranking.
One of the best ways to ensure you have solid links is through guest posts. A simple Google search would reveal plenty of guest post services you can rely on. However, Link Publishers is one of the most accessible and usable services.
Link Publishers offer a portal for content creators to connect with high-quality websites from around the world. Through the guest post service, you can submit some of your top posts and Link Publishers will do the work of finding the best websites. This can significantly increase traffic internationally and locally.
You can access Link Publishers and either create or hire someone to write a guest post. The guest post should be relevant to your niche. Once completed, you submit the guest post to Link Publishers and a team of editors will look at the quality and formatting.
Once accepted, the guest post is available for different websites to use, including a backlink to your website, which drives traffic.
Read Also: Backlinks Vs Referring Domains
Tapping Into Local Markets With Local SEO
For any restaurant, local SEO is arguably the most important strategy to apply. People don't like driving hundreds of miles for a meal, not with the current gas prices anyway. Local SEO allows you to directly target the locals and get them visiting your website or order food from you.
Local SEO entails all the principles of standard SEO. However, the keywords are geared towards the local environment by using names of local areas and local attractions.
Instead of focusing on creating the chowder, you can focus on creating the perfect Boston Chowder, if you happen to be from around the area. This directly targets the locals.
Allow People To Find You On Their Mobile Devices
I have briefly touched on this, but most people use their mobile devices when using the internet. Nowadays, some mobile devices are better and more efficient than a PC. For this reason, your website should be just as accessible on mobile as it is on a PC.
With more than 92% of all internet traffic coming from mobile devices, you could miss out. Make sure your website is mobile-friendly.
Your website should be compatible with mobile and desktop users. You might need to hire someone to ensure your website is usable on mobile.
Once done, you can access your website from a mobile device and find out how it works. Consider the experience you have when using it on mobile, as this will be the same for the customers.
Utilizing Social Media
Platforms like Facebook and YouTube have almost 3 Billion visitors each month. This is almost half of the population on Earth.
By creating a solid social media presence on various platforms, you are not only relying on Google to help people find you. Many of these social media sites will automatically suggest your website when someone searches for terms like "Things to do around me". This is virtually free marketing and when you link to your website, it directly drives traffic to your site.
Just remember to actively engage with customers as well!
Social media sites like Facebook and Instagram allow anyone to create a free page. One benefit of social media is that billions of people use it. You simply need to create any free page, with a description and continually update things like new dishes, specials, and events. This will be like free marketing.
User Experience (UX)
A vital aspect of service is user experience. People want to feel like they had a good time visiting your website. In layman's terms, the experience should be fruitful. This means not having a slow website or complicated layout for people to navigate. As part of restaurant SEO services, creating an enjoyable experience for users is important.
Your website should make it easy for users to find what they are looking for. The use of a menu button on your website can serve as a directory.
It enables users to easily click on the menu tab and find the different pages. Ideally, it shouldn't take more than 3 minutes for someone to find what they are looking for on your website.
Image Optimization (ALT Tags)
What is food without pictures? Most people eat with their eyes and when you lack pictures, people will never truly see the dish you created. One way to improve your website SEO is to ensure that your images are SEO-friendly when you upload them.
Through ALT tags you can label and describe your picture. SEO keywords for restaurants should make it easy to describe each image.
Pictures are worth a thousand words. When uploading these pictures you take, you can add keywords to the ALT tags. If you have created content about the "best beef wellington recipe", using the same keyword in the ALT tags is a surefire way to improve your SEO. Accessing the ALT tags is easy when uploading images.
Meta Descriptions And SEO Optimized Titles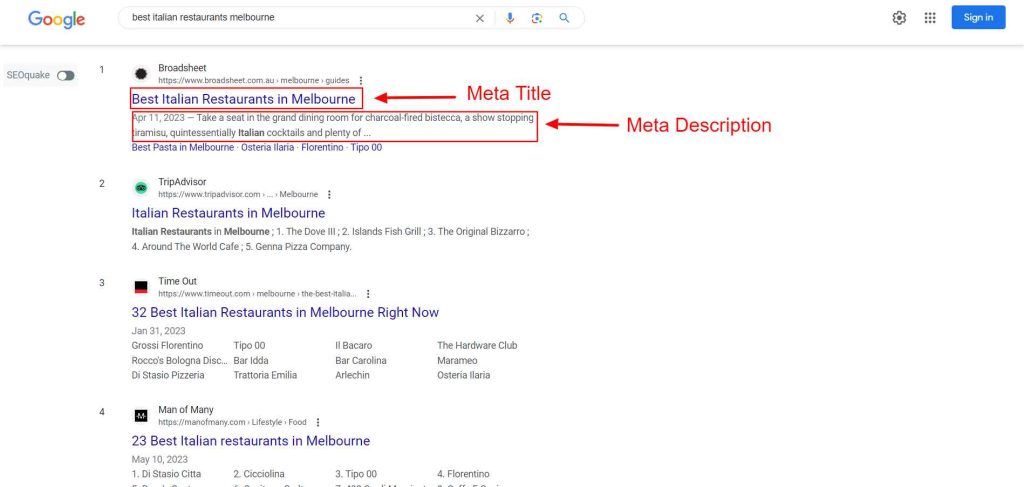 One of the great things about the restaurant and culinary industry is that any recipe you create will already have an optimized title. When people search for recipes, they often type in the name of the dish, which can serve as a keyword. It would be valuable to use these specific keywords when creating titles for your content.
Additionally, the meta description gives users a sneak-peak of your page. If you have created a recipe on the best English pudding, it would be a great idea to incorporate this in the meta description. The meta description is a treasure trove for integrating relevant keywords.
One example would be to use the main keyword like "Best English Pudding" in the title and meta descriptions. You could create a title in the form of "How To Create The Best English Pudding" or "7 Tips For Creating The Best English Pudding".
SEO-Friendly URL Structures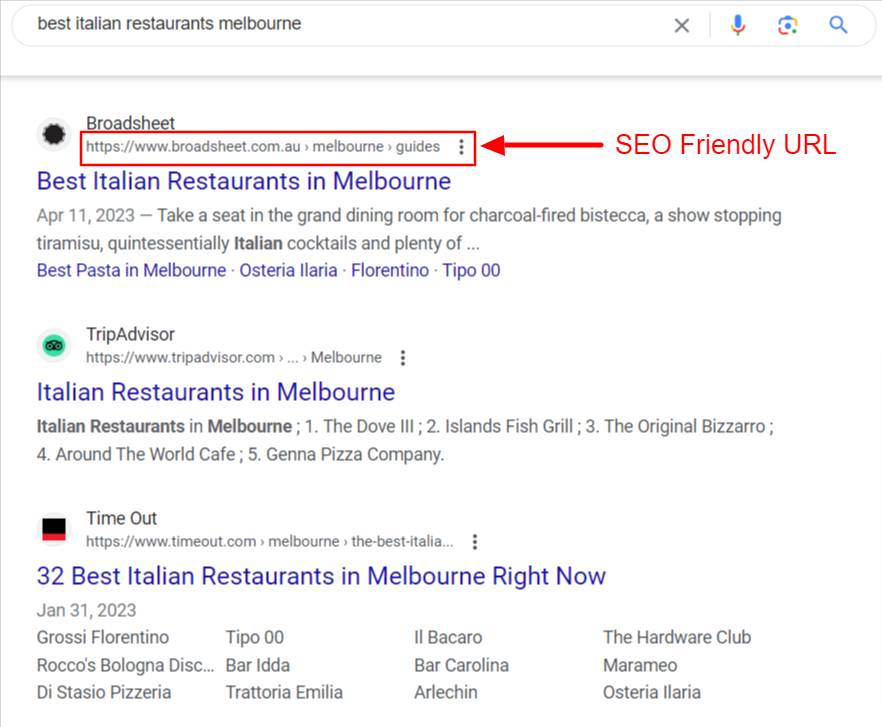 Each webpage is found through what is called a URL. The URL serves as the address for the specific page, much like your address at home. When creating a URL, integrating relevant keywords for your restaurant would give you an authentic URL.
In your URL structure, it would be a great idea to fully add the keyword you are trying to rank for. The URL is the address of your website and keywords can be added to help SEO and give a description.
Here is a URL for a Pizzeria: "https://Pizzeria.com/how-to-make-the-perfect-pizza"
Data Tracking And Analytics
If you neglect tracking and self-analyzing, you will never know when something is wrong. Additionally, you could be missing out on numerous opportunities. Tools like Ahrefs, SEMrush, and Ubersuggests are excellent. These tools keep an eye on the website and monitor user activities and interactions.
Not only will they help analyze issues, but they could identify new keyword opportunities and give you a better understanding of your clients. Armed with this information, you can adapt your website for a more fluid and enjoyable user experience.
The addition of tools like Google Analytics 4 (GA4) and Search Console will get more in-depth data, which allows you to constantly update your website and make efficient tweaks to enhance SEO.
GA4 enables you to perfectly study the data and human behavior of your clients. The sleek interface will ensure easy data capturing and you can use it to help you get ideas of client behavior.
If someone is constantly looking for the menu, but struggling, you need that your restaurant menu needs to be more accessible.
SEO For Restaurant Challenges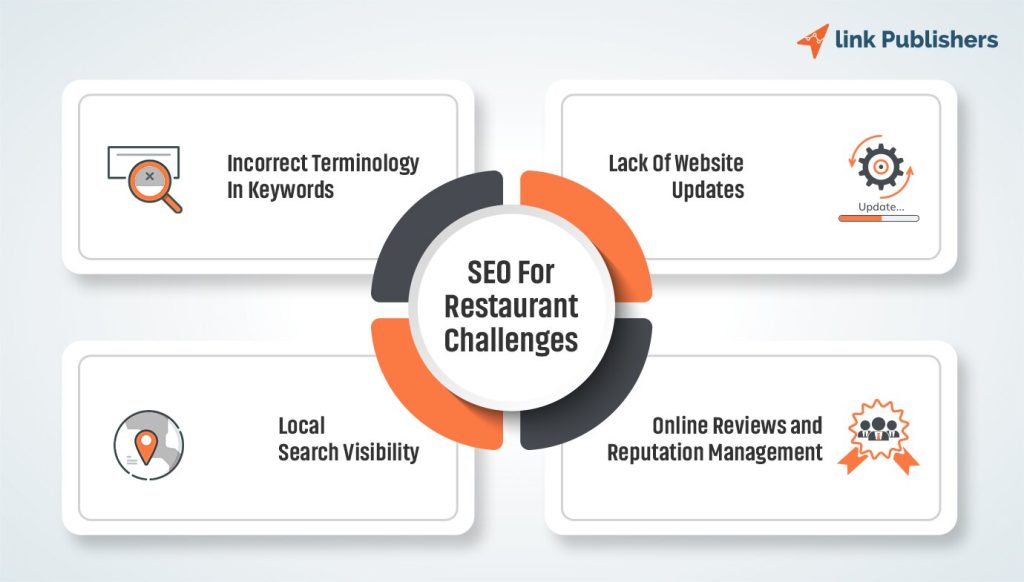 Unfortunately, restaurant SEO never smooth sailing and issues will arise. Fortunately, I have been doing this for the better part of a decade and have seen almost every issue. The following challenges are the most common when it comes to restaurant SEO:
Incorrect Terminology In Keywords:
You might be a qualified chef and you know the difference between prawn and shrimp. Unfortunately, the general public doesn't. if people are searching for shrimp, and you have the prawn phrase, you are missing out. Understanding the general concepts used by the public is of big value.
International SEO:
If you are creating something unique like flavored marshmallows, the availability of it might not be the same elsewhere in the world. Many small restaurants have grown to reach international audiences by targeting different markets through international SEO. It could significantly expand your target market.
Lack Of Website Updates:
Seasonal specials and deals will vary. However, many websites never update this. Unfortunately, this means people never know about new deals and specials. If you are serving a brand new dish, be sure to add it to the website, you might be creating something someone has been asking for.
Online Reputation Management:
One of the real struggles for any restaurant is managing their online reputation. One slip-up can lead to a bad review, which crashes your reputation. Responding to complaints and following up on reviews is a great way to help improve the restaurant's reputation.
Local Search Visibility:
If you are one of 5 burger joints in your local area, you need to focus heavily on standing out. This means using the above-mentioned tips and techniques like social media for promoting yourself. With plenty of local restaurants, you could need a solid hook to keep your guests.
If you are new to SEO, dealing with these nuances is frustrating. Fortunately, an SEO agency for restaurant websites I trust can help identify these and allow you to focus on cooking and service delivery.
Link Publishers is accessible from all over the world and these experts will audit and improve your website, guaranteeing traffic and leads.
Wrap-Up
Whether you have been in the culinary industry for years, or just starting, SEO for restaurants is important. These SEO tips for restaurants can significantly improve your customer base and audience. Now, I would love to hear your thoughts on the importance of SEO for restaurants, or if it has helped you.
Frequently Asked Questions
A lack of SEO is detrimental to your website and with more people understanding this, I often see questions online. If you are one of the people looking for these answers, this section is for you. Here are a few of the commonly asked questions about restaurant SEO:
How Should I Do SEO For My New Restaurant?
You can choose one of two methods. Either you can study SEO and learn the concepts to apply them yourself. Unfortunately, this could take time, which costs money. Additionally, the SEO for Restaurant agency LinkPublishers can cost you the same and get things done much faster.
Do Restaurants Need SEO?
Restaurants definitely need to tap into SEO. Without SEO your website will be lost in the ocean of culinary institutes we find on Google. SEO will be the unique identity that makes you stand out to the world.
How Can A Restaurant Benefit From SEO?
Once you have SEO applied to your site, you will be able to see a larger sea of traffic. More traffic means more potential leads, which turn into customers. Finally, these customers all want something to eat, leading to more income and sales.